Another high quality homage from Bill Yao's MKII. The Kingston obviously refers to the capital of Jamaica where James Bond tries to hunt down Dr. No while wearing a Rolex Submariner 6538. There aren't many watches that can compete with its cult status and there have been so many tributes to it. I got my hands on the so called "plank kit" which basically consisted of two watches but you only received one of them with a movement. The only parts missing were an extra movement and a case back and you could have had two working watches. The one I had was fitted with the dial and hands with a mint green luminova. There was off course an extra dial
for the other watch

in the kit. It had white lume which I preferred and wanted to use instead but the spare hand set, which also should have had white lume, must have accidentally been replaced for another pair with green lume so I was stuck with the green lume dial. I tried to contact MKII watches to order a new set of hands but they never replied. All I did was to exchange the red triangle bezel insert for the regular insert.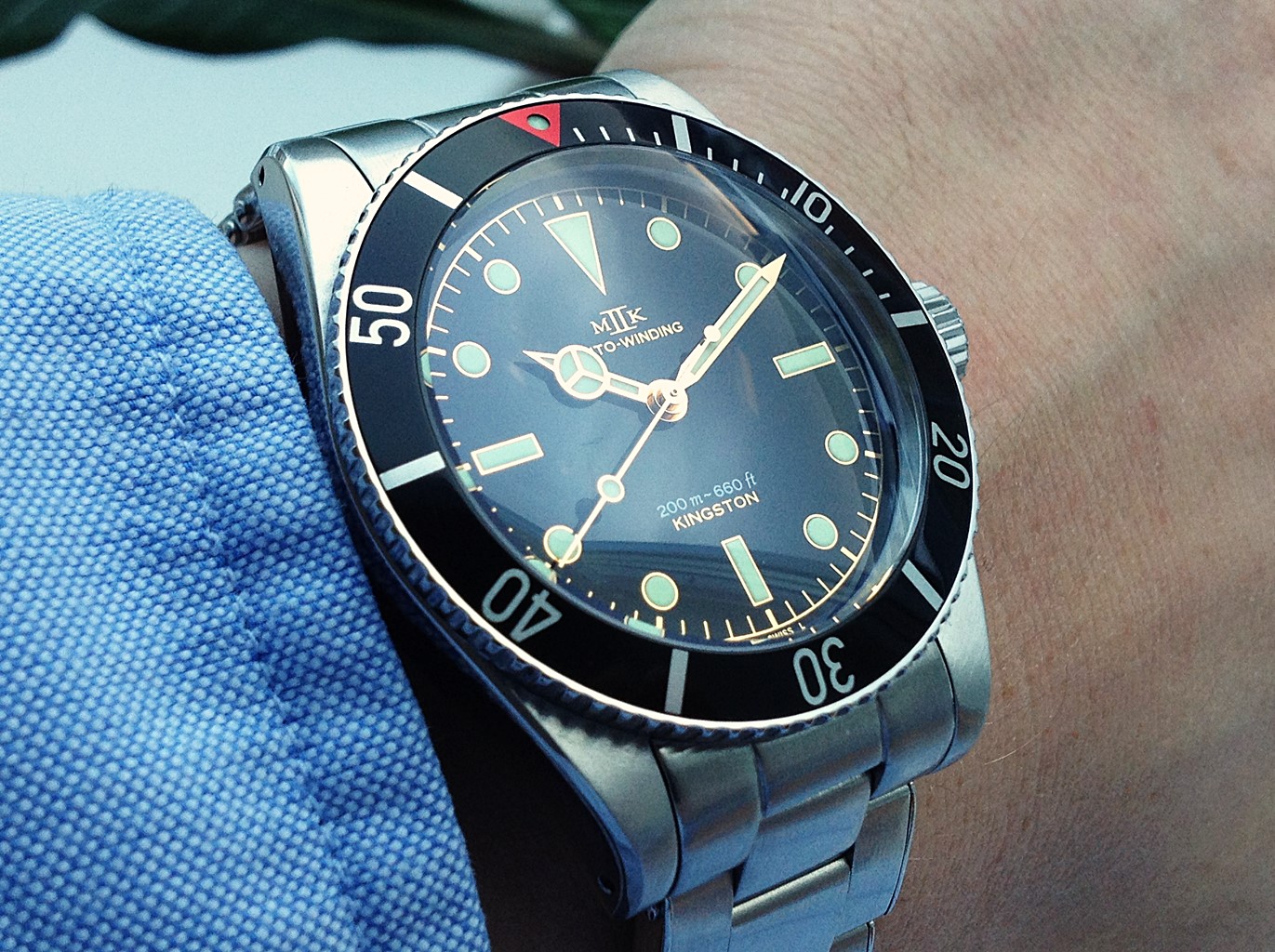 #117 - The MKII Kingston. MKII's homage to the Rolex Submariner 6538.

The quality of the watch was great. Nothing to complain about. The modern take on the vintage bracelet had the right looks and the right feel to it without feeling too loose and not too solid either. The ETA movement ran super well just as with all other MKII's I've had in the past. The case had nice bevels and the size of 39mm was just perfect. The fact that I couldn't switch dial bothered me though and made my decision parting with it much easier.
I remember I went to a party wearing this watch and there was this guy wearing a Rolex GMT 16710 with black bezel insert. He came up to me saying "Hey, I'm glad to see someone else here with a good taste in watches. Which Rolex Submariner is that?" I was all enthusiastic believing I've found a watch brother and started to tell him about MKII watches and their philosophy. After a while he coughs and adds this self-important accent saying "OK, so that's not a Rolex?" and then he leaves. I was like "Oh yeah, take this asshole!" and smashed my beer bottle in the back of his head…

It feels like I've written this about all the MKII watches but prices for used Kingston's are really ridiculous and I think that they today sell for about twice as much as they were sold for in the first place. I would say they are fun but not that fun.
© All pictures by a Watch Flipper's Diary unless noted.