Quite a story behind this watch. Once again it was mid-February 2012 (a lot of watches came and went during

that

month apparently). One wet night out with some watch friends we were a couple of guys that ended up at an old Chinese restaurant for cheap Vodka shots. One of the guys lived next door and when I mentioned I had got the hots for gold and might be interested in buying a two tone Rolex he left and came back a couple of minutes later with a Rolex Datejust 16233 from 1990 and a Rolex GMT Master II 16713 from 1999. The GMT was a so called "Rootbeer" and I'd only seen pictures of them before and really hadn't given them much attention. But now when it suddenly was sitting on my wrist it just blew me away and I felt just like Clint Eastwood. What a goddamn watch! It was beautiful. Both watches were full sets but the GMT was twice as expensive as the Datejust. The Datejust was also very nice with its blue dial but it wasn't as spectacular as the GMT. The Datejust set came with two additional dials; one deep blue with gold stick index and one silver/grey dial with gold roman index. I really wanted the GMT but I couldn't afford it so I went for the Datejust. I just didn't want to leave empty handed.
Except for a quite large scratch in the sapphire it was in beautiful condition. The jubilee hardly had any stretch to it and the overall condition of the watch was terrific. I loved it and it was bling! But I couldn't get that damn Rootbeer out of my head so I ended up selling the 16233 to save up funds for the GMT instead.

It

wasn't ex

actly

super easy to sell but I finally sold it to a man in his fifties who was about to leave for a cruise in the Caribbean together with his wife. I bet he fit in perfectly among the clientel

e on that ship

!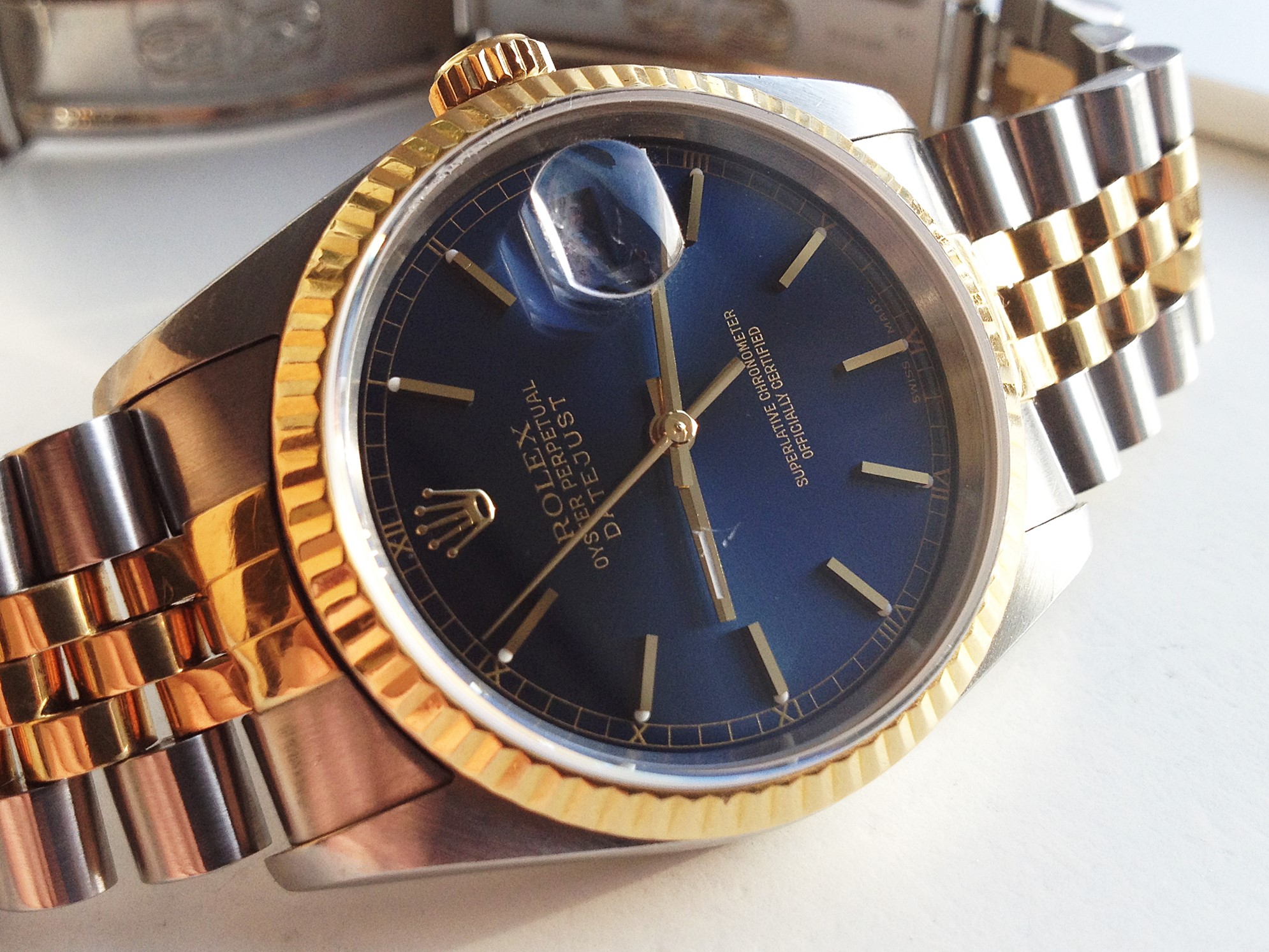 #123 - The Rolex Datejust ref. 16233.
Two and a half year later I had a Datejust 16013 with a gold linen dial that I wasn't very fond of. I kept searching for a more unusual dial for it and then suddenly I came to think of my old 16233 which had come with the two spare dials. I'd never cared for them and when I sold the watch back in 2012 I still let them be a part of the set instead of

keeping them

. I figured that the grey dial with gold roman indexes might look pretty cool in the 16013 so I wrote the guy an e-mail to see if he still had the watch and if he by any chance could part with one of the dials. He answered back saying he still had it and that I could have the dial if I wanted it, no problem. So he sent it to me and I upgraded the 16013 (more about that one later). A couple of days later I received an e-mail from the guy asking me if I would be interested in buying the watch because he hadn't used it at all since he

returned from the cruise. I figured h

is intention

might be

two

earn a buck or two but before I even asked him about the price he offered me to take it back for the same price he'd paid for it and he also offered to deduct what I'd paid him for the dial I'd already bought. I didn't even want another Datejust but how could I pass on a deal like that? I could easliy sel

l it for a lot more but

then I came to think of my dad who wanted to bu

y

a watch for my mom whose sixtieth birthday was coming up and what could be better than a Rolex? Said and done, I bought it back.
Later the same week I was working from home. I was on standby because my wife was super pregnant. An advice-note showed up in the mail saying I had a package to pick up at the post office. I snuck out in the afternoon to go get it. Once back on the bus on my way home again, sitting with the package in my lap thinking about maybe to pick up some food while I was already out, this old man with a huge keychain with hundreds of keys walks up to me and stares right into my eyes

and

say

s

"You should hurry home son

.

" He spoke with such authority that instead of asking why I needed to hurry I just nodded and answered "I will"

and when I got off at the next stop he put his head out the bus doors and shouted "Hurry! Run!" When I got home it turned out my wife was in labor and we had to rush to the hospital. While getting everything together waiting for the cab to show up I tore the package open just to make sure the watch was inside and that I hadn't been ripped off. The familiar scratch in the sapphire greeted me and I quickly put it on the wrist before we hurried off thinking I could inspect it closer later.
I'm not a believer or in any

way

religious but th

e

event on the bus that day really made me think twice about

that.
This watch is now very special to me because it's the one I wore when I got to hold my son in my arms for the first time and for a while I felt like maybe I should have kept it for him instead but I already had plans made for his watch (more about that one later as well) and also I had promised my dad he could have it. But before he handed it over to my mom I had the watched serviced and the old sapphire was replaced. I also had it upgraded with a diamond dial from a newer ref. 116233 which made it a perfect mom's watch. She absolutely loved it and it feels good it's staying in the family.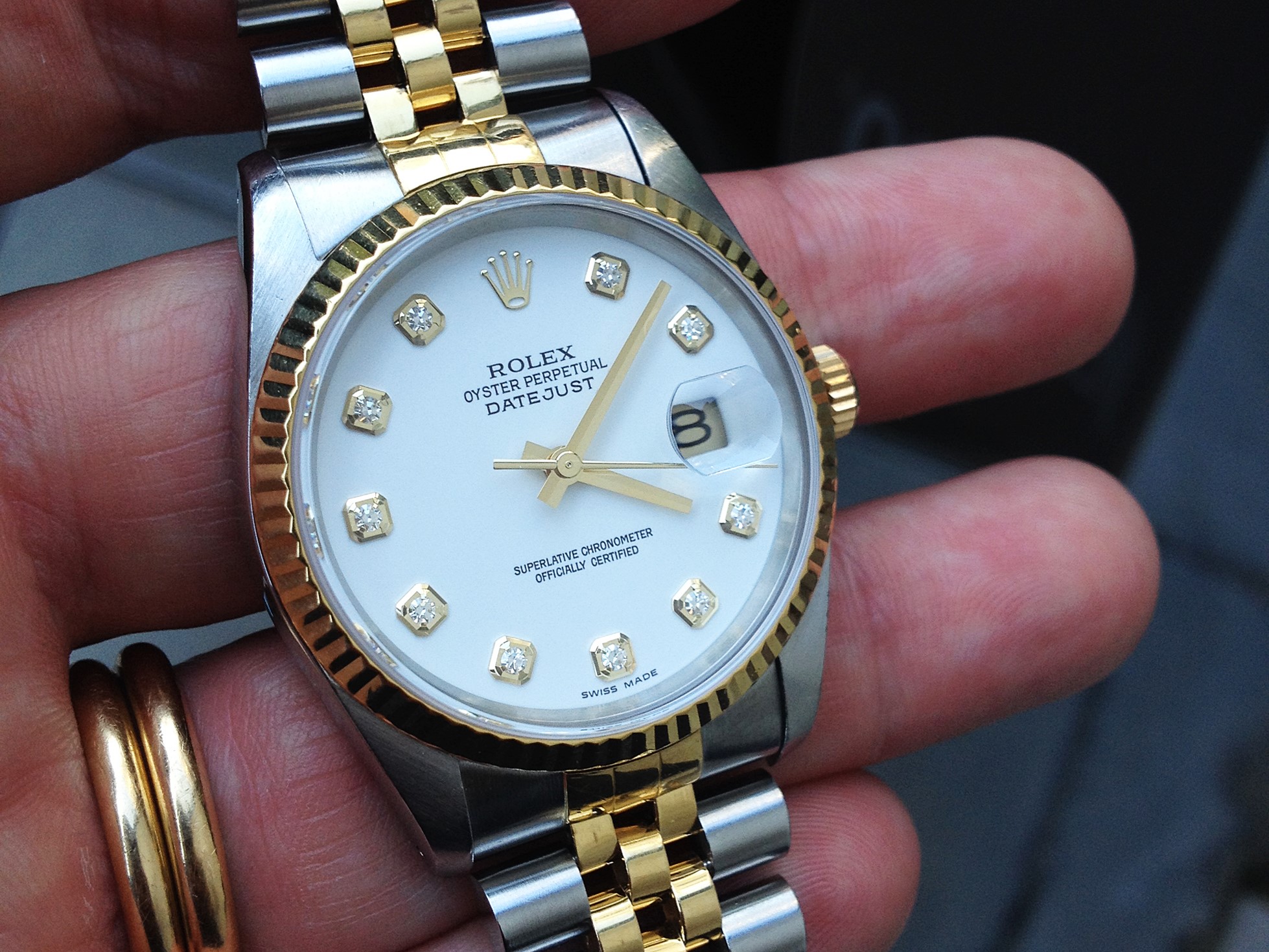 After the upgrade before it was given to my mom.
© All pictures by a Watch Flipper's Diary unless noted.