OK, so it's in the middle of April 2012 and I'm on my way home from Chicago. Someone might remember the story from the post about the Doxa 750T; when I was wait

ing

every day for a week for a Doxa 600T to arrive, which turned out to be lost at the Fedex hub in Memphis and instead of being delivered to my hotel it showed up at the seller's house who'd by mistake got it in return. I was furious when I understood what had happened and when I realized I was going to fly home empty handed. Back at the O'Hare airport, waiting for our delayed flight, I spent what felt like hours walking back and forth in that endless boring white corridor (I think it was terminal 5). I'm usually in a bad mood when travelling

and

a

dding the fact that I'd missed out on a watch I really wanted and a delayed flight, to my already bad mood, must have turned me into an awful

travel companion

. My wife must have hated me. But

s

omewhere in that depressing hallway I finally managed to get a hold of a decent Wi-Fi connection and when I found this 1200T Professional for sale I didn't care about the off proportions (or any other reasons why I actually didn't like

the 1200T)

. I just wanted an orange faced Doxa. To my

great luck it was

located in Stockholm and I even

managed

to arrange that I could

buy

it just a couple of hours after we'd landed. The fact that I had a watch waiting for me at home made the return flight bearable. If that's not a sign of a serious addiction I don't know what is.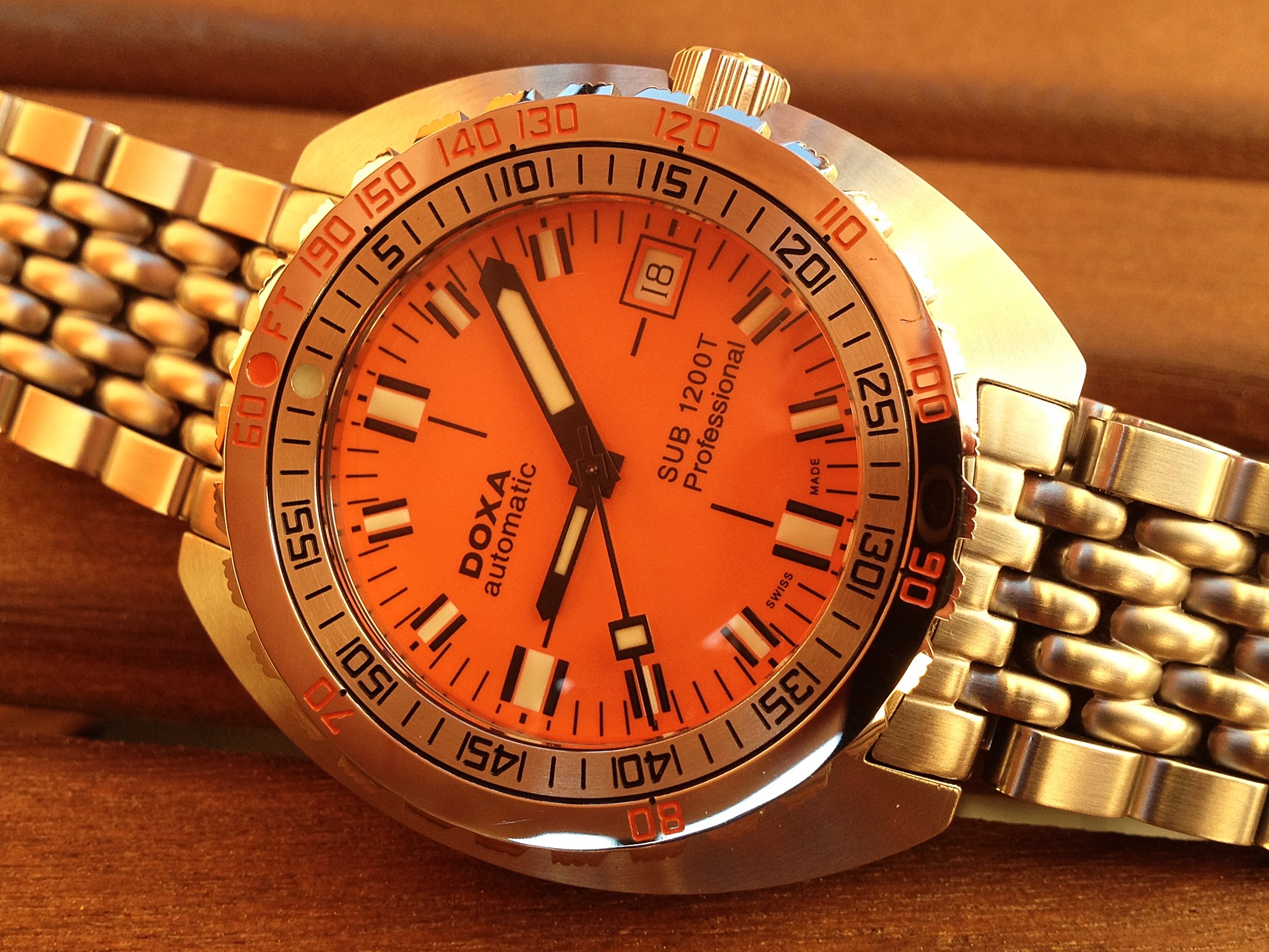 #127 - The Doxa SUB 1200T Professional.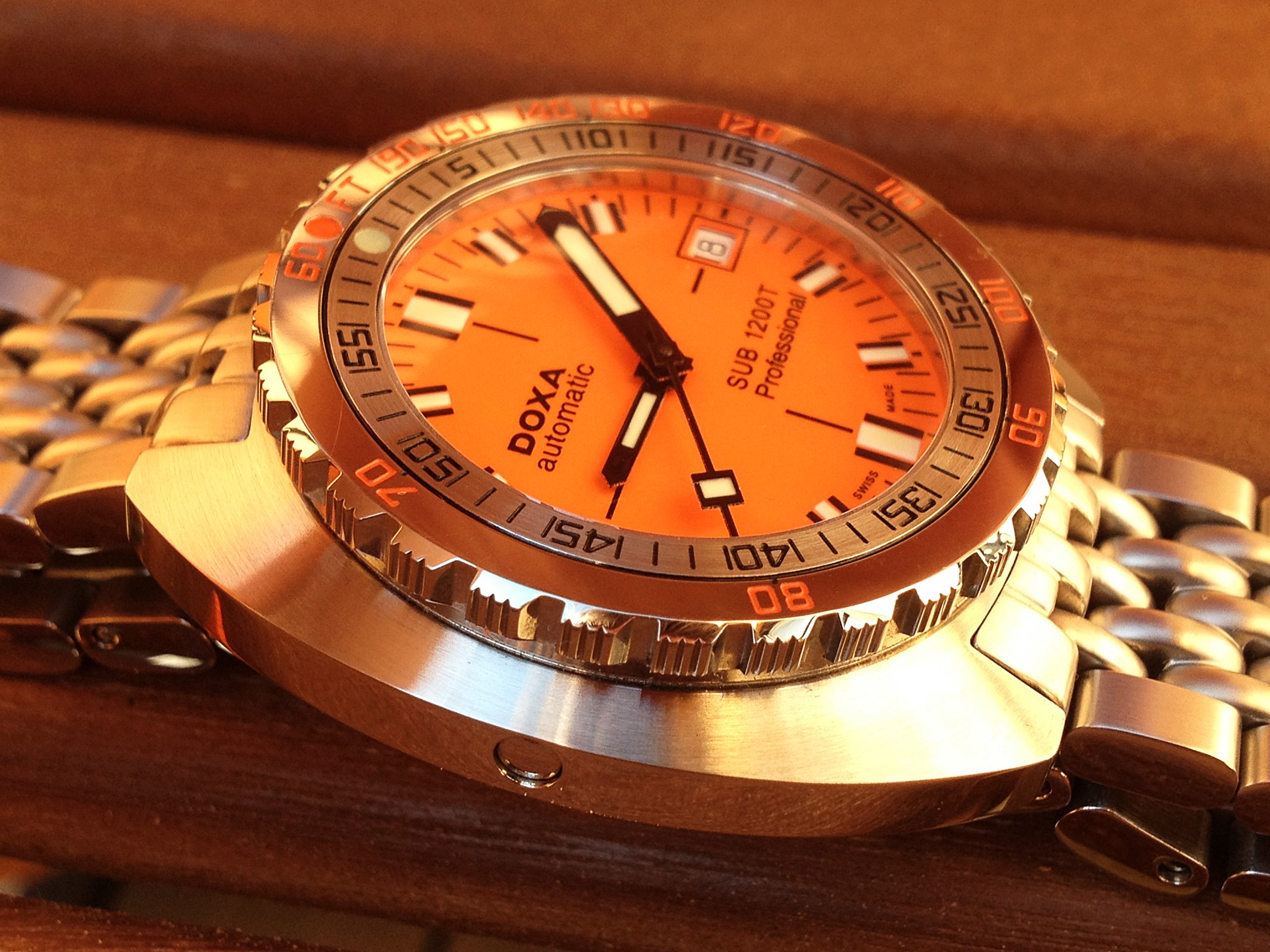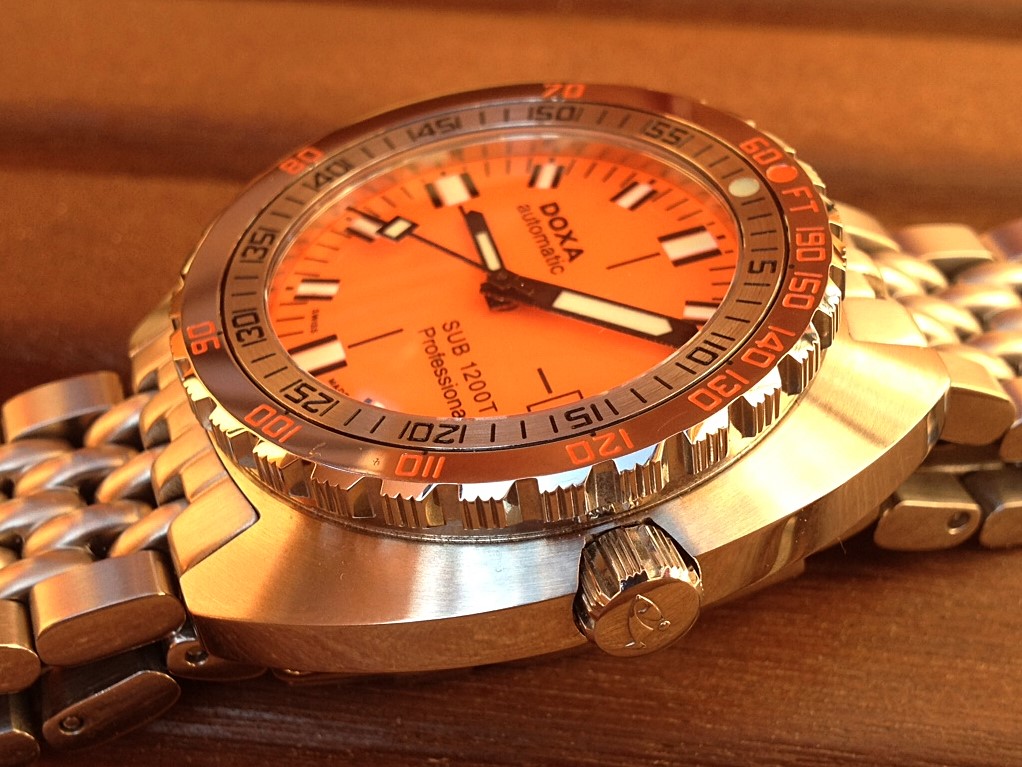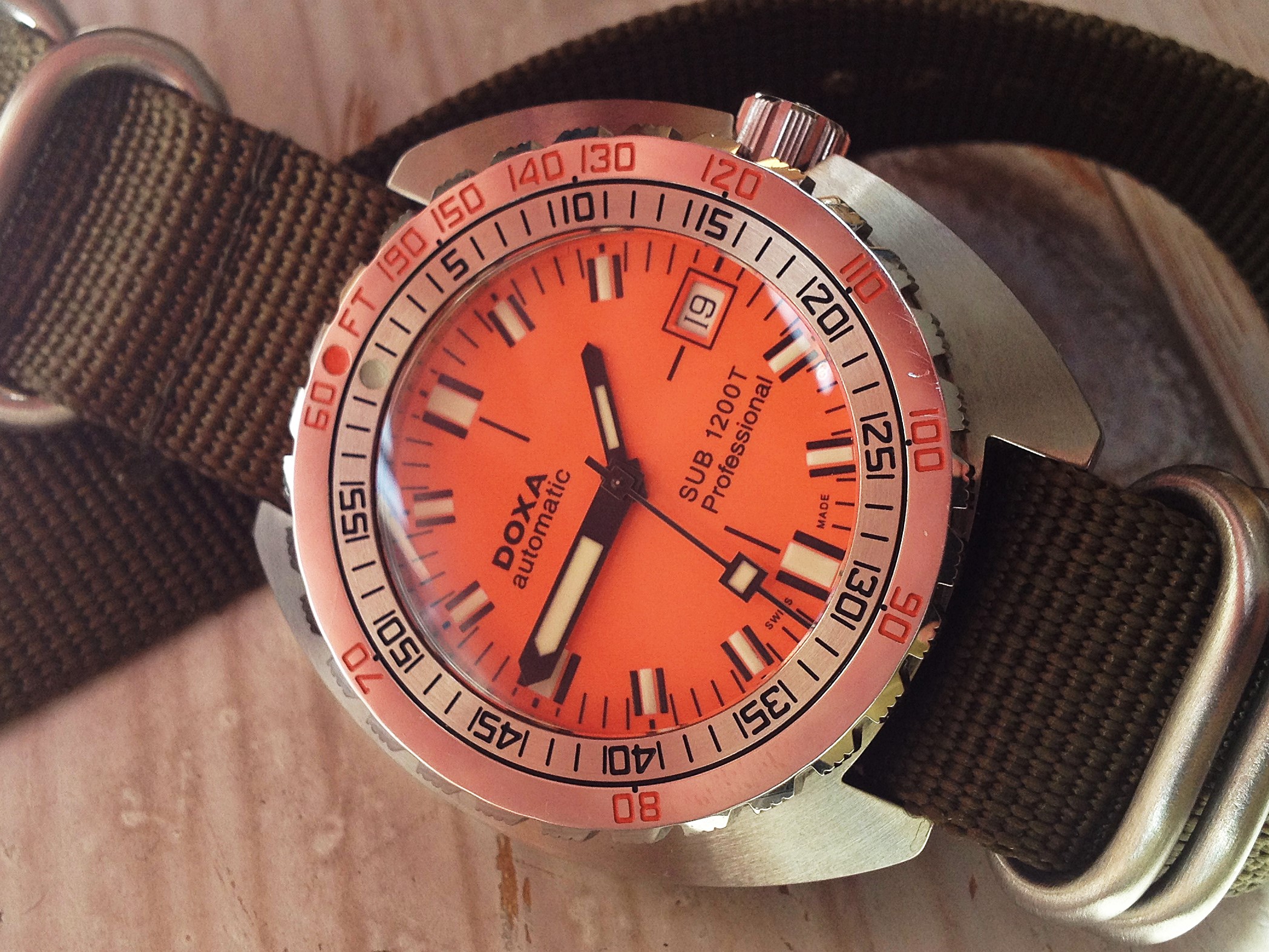 Wore way too high on a heavy duty zulu.
But worked just fine on a blue regular nato.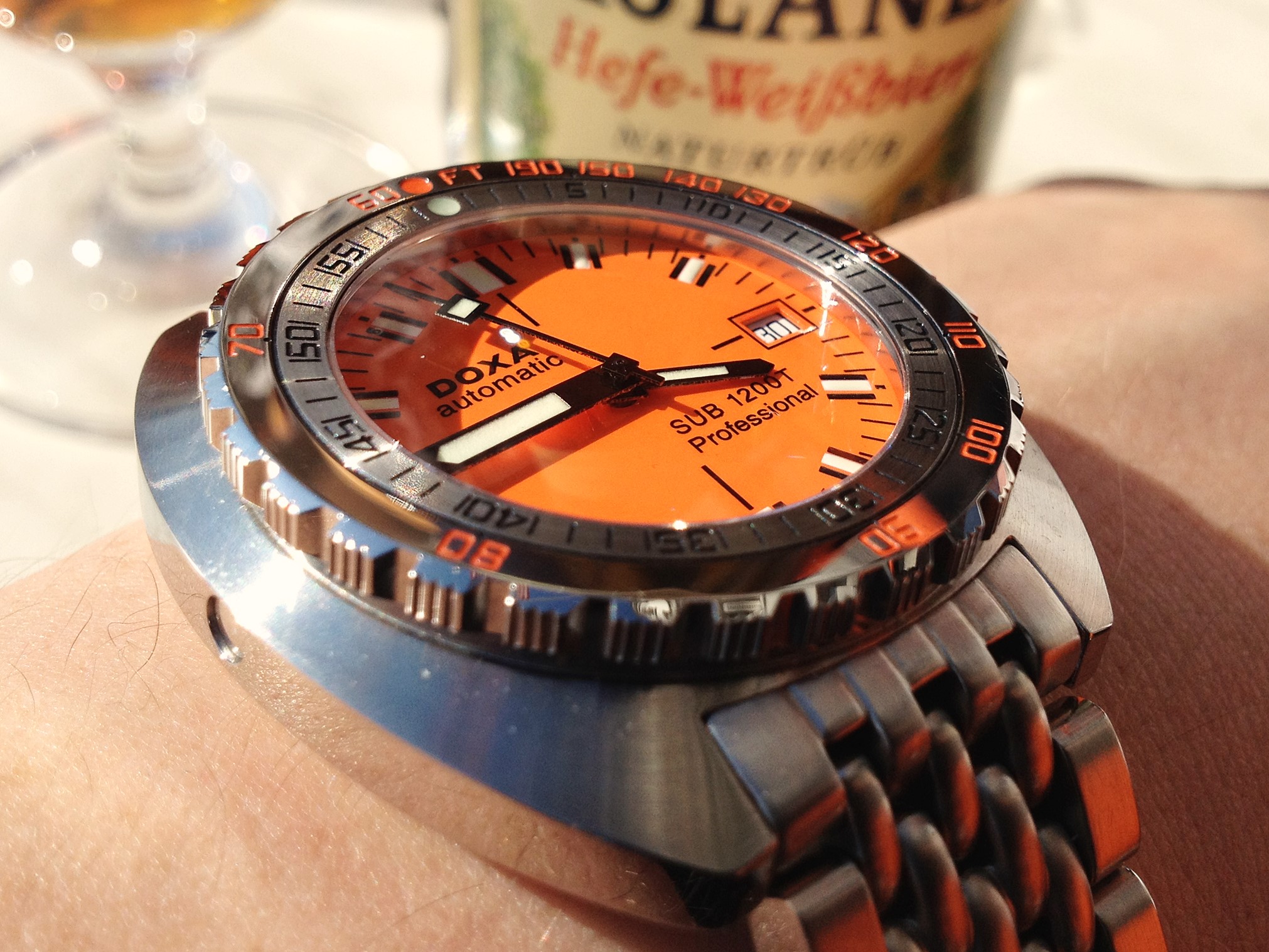 Having a beer in the sun.
The 1200T is a great looking watch but as I've mentioned before in my other Doxa posts, the thickness of the 1200T makes it a little too high and it doesn't sit as good on the wrist as the 600T

or

the 1000T. Another detail I've discovered I don't like is the design of the crown (

a flaw it shares with the 1000T

). The crown on the 600T though is perfect. Just how it's supposed to look. I kept my first 1200T for about two months before I sold it. It was a full set in great condition.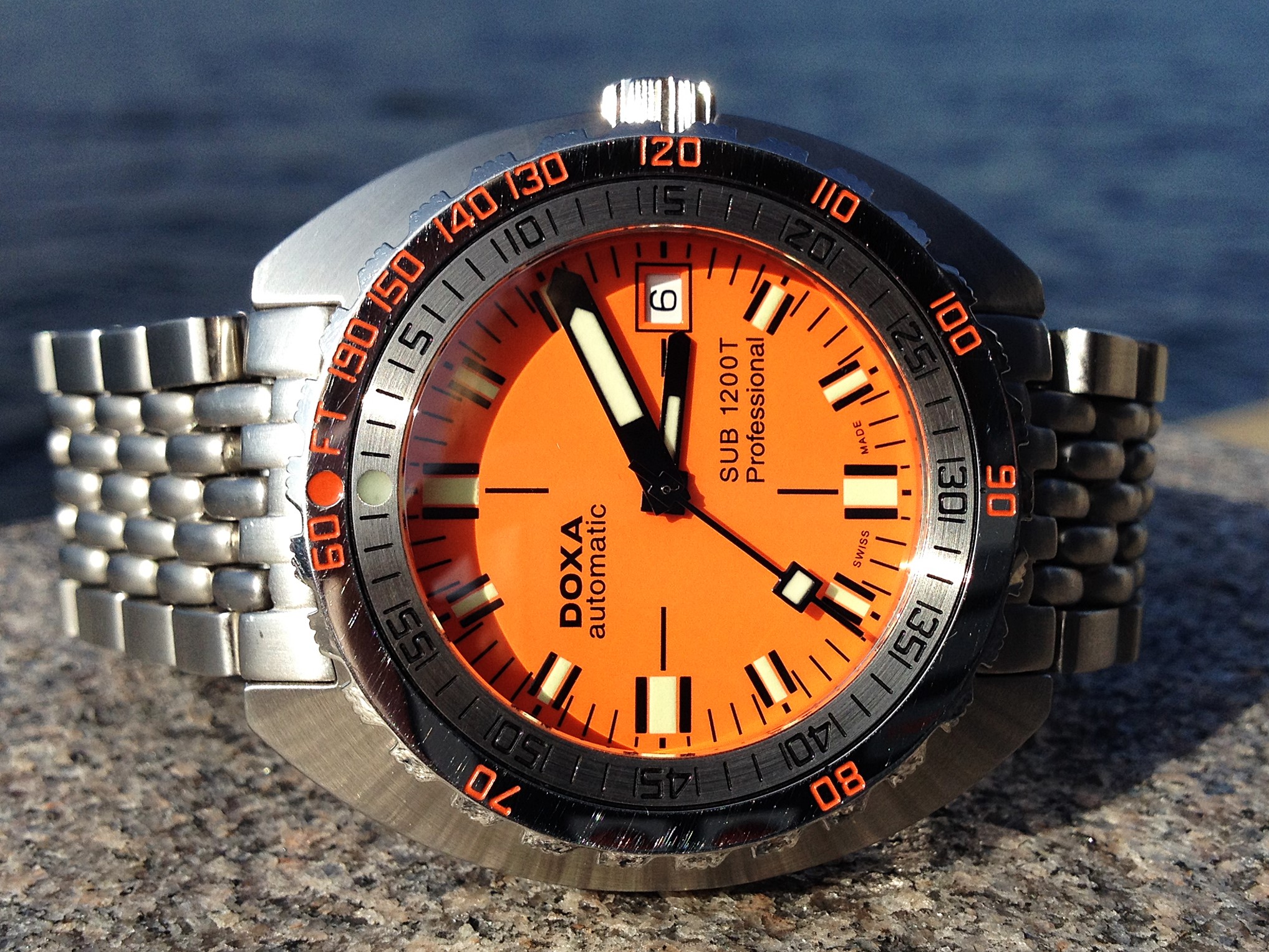 #234 - The second 1200T Pro.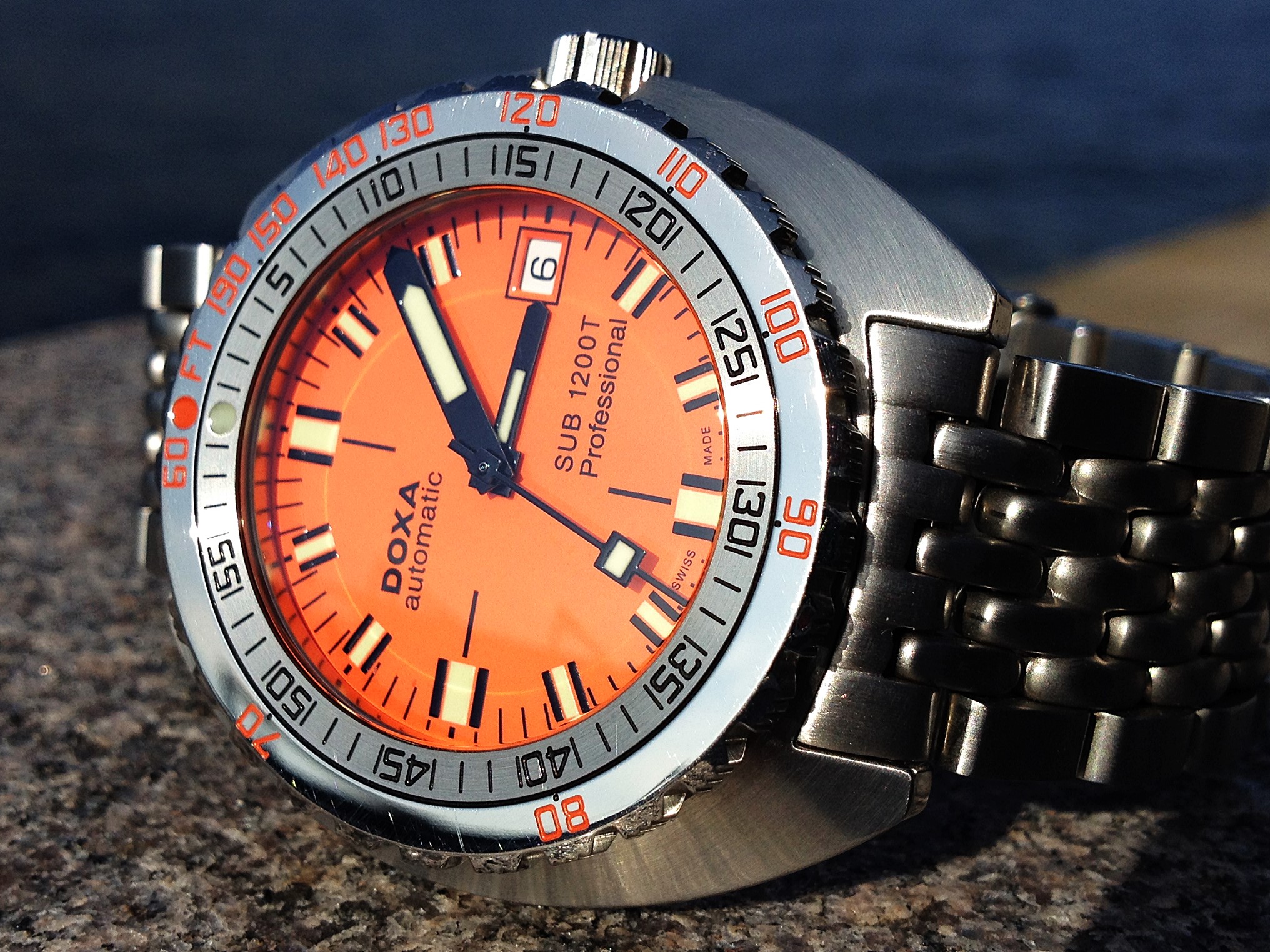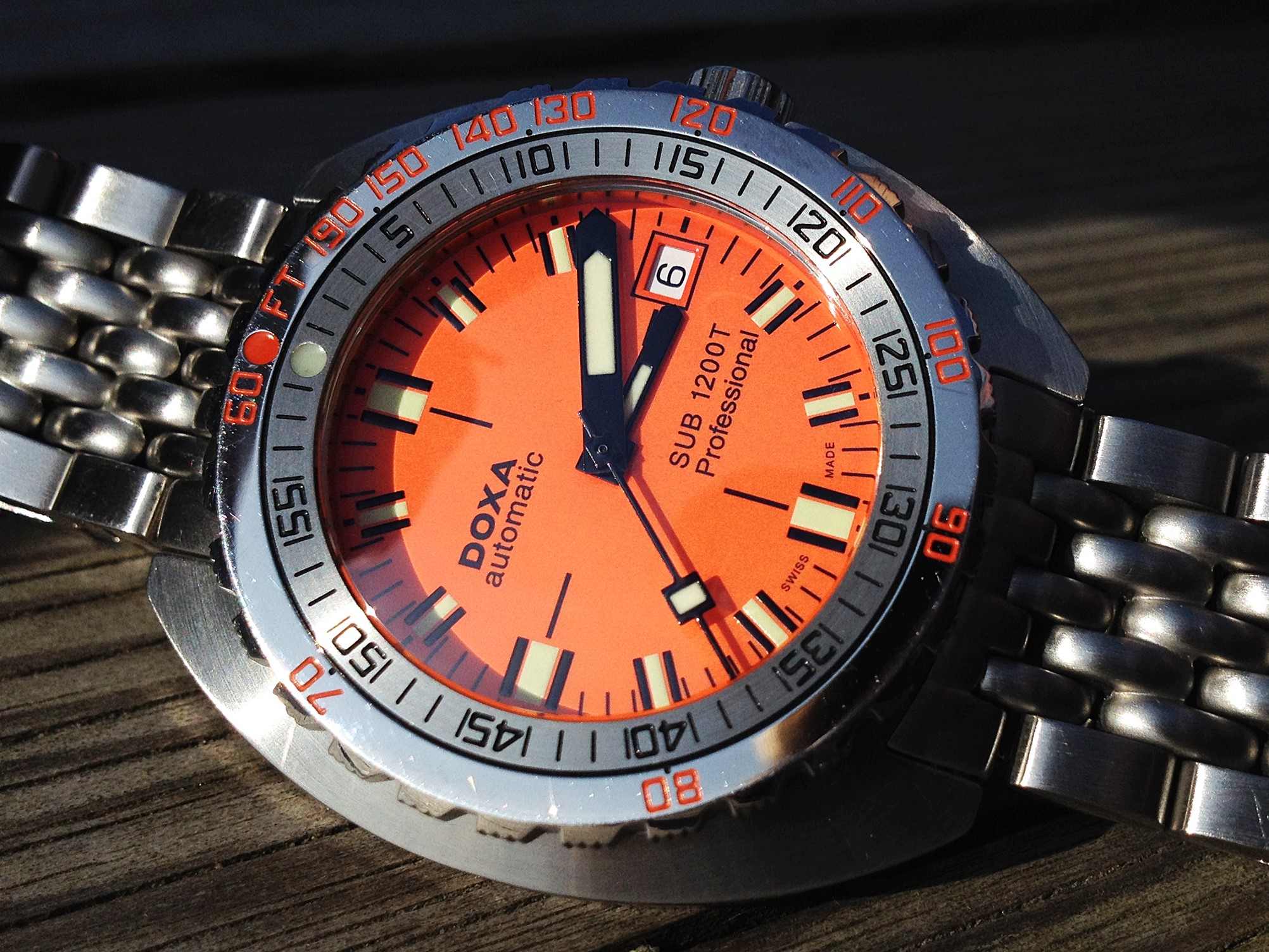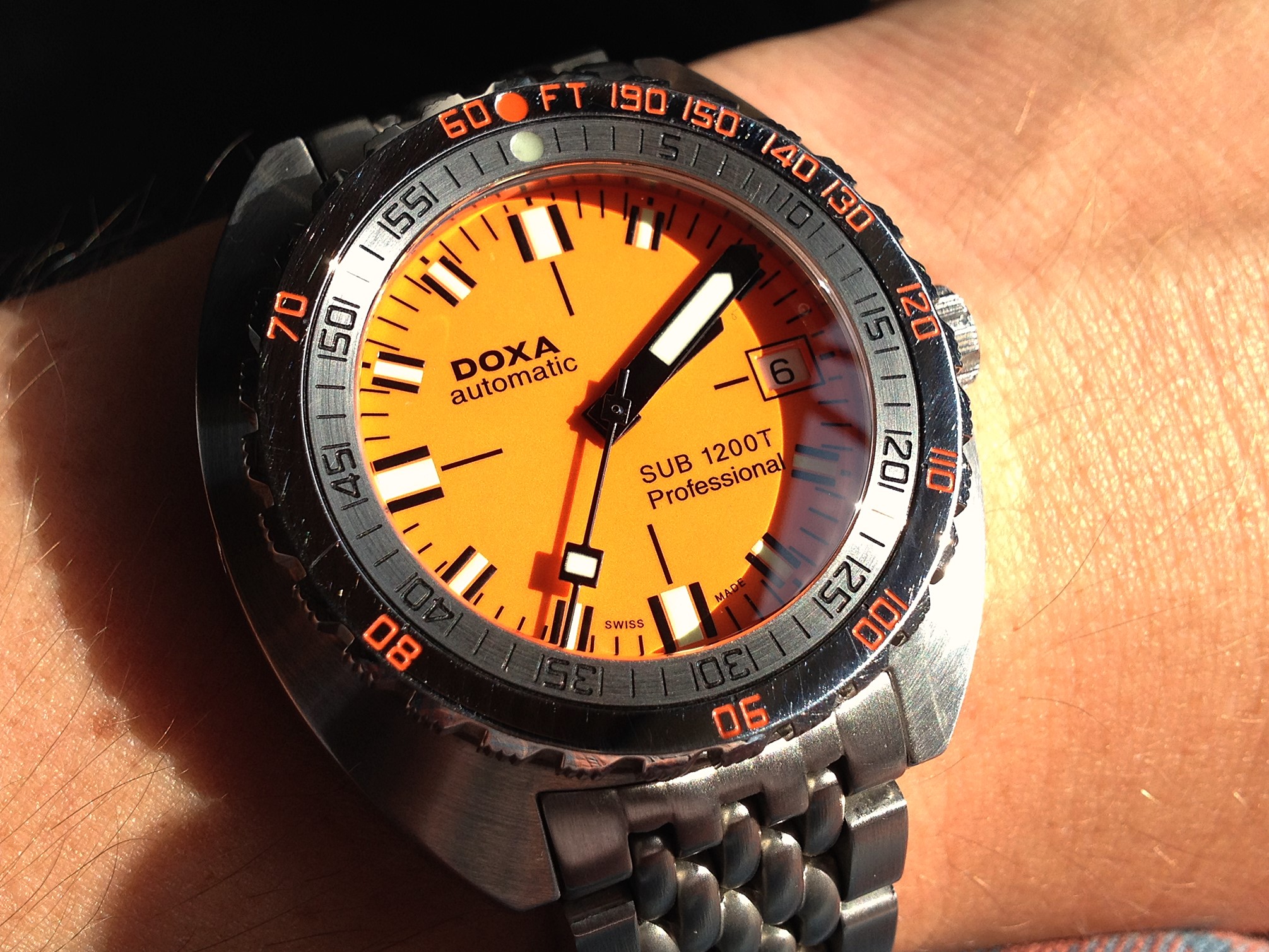 A yellowish tone in sun.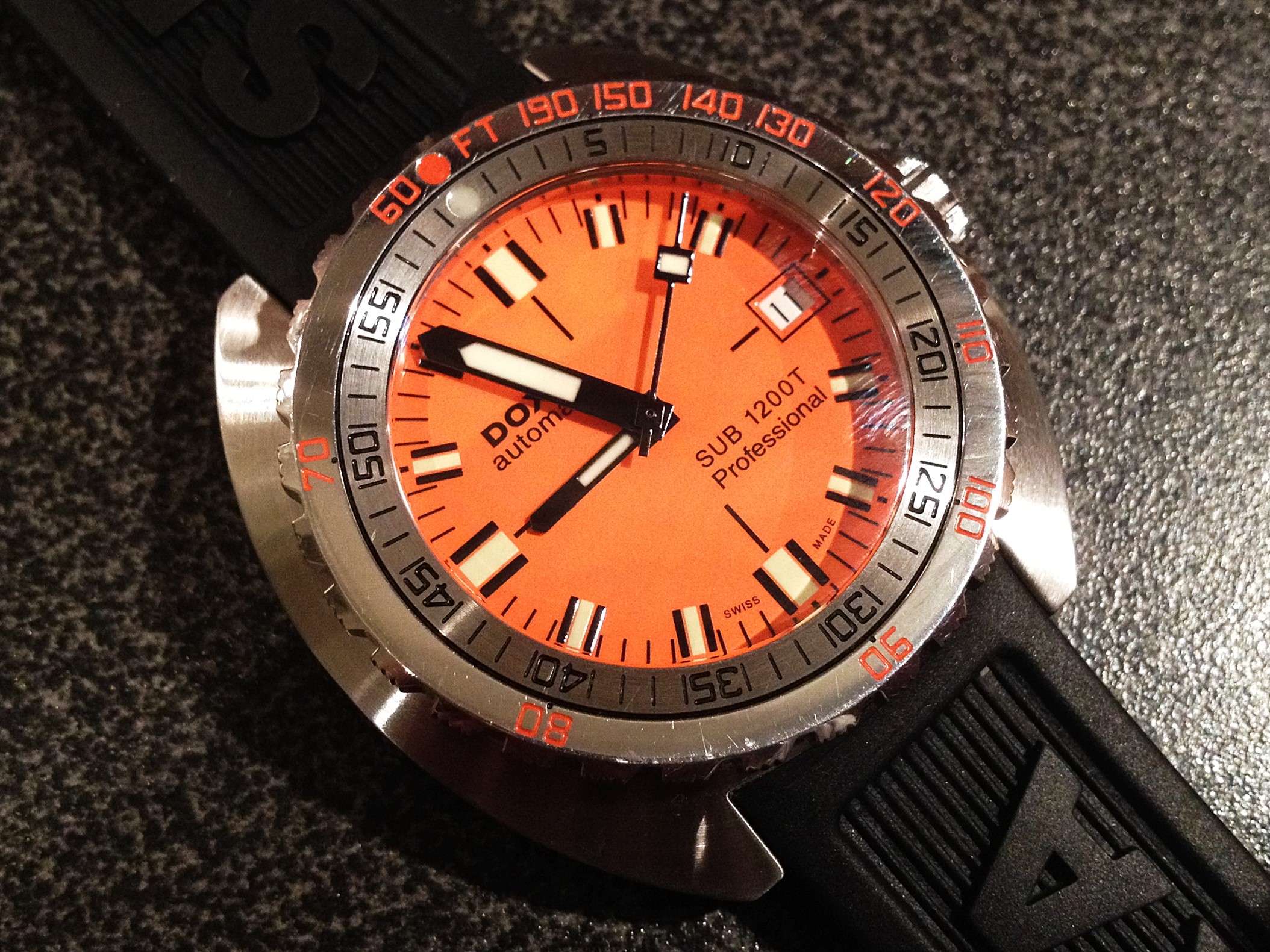 On the Doxa hershey rubber.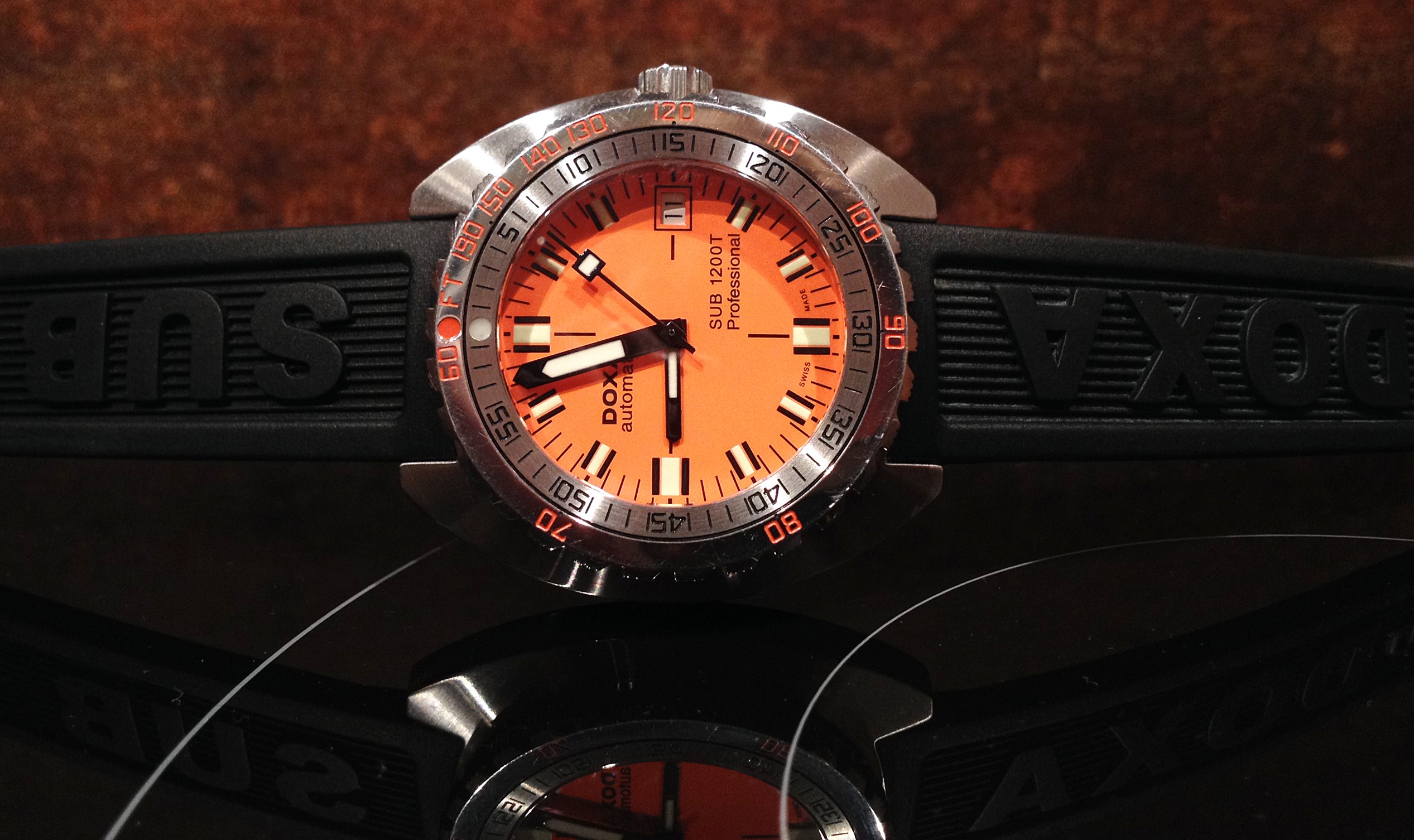 Beautiful off the wrist.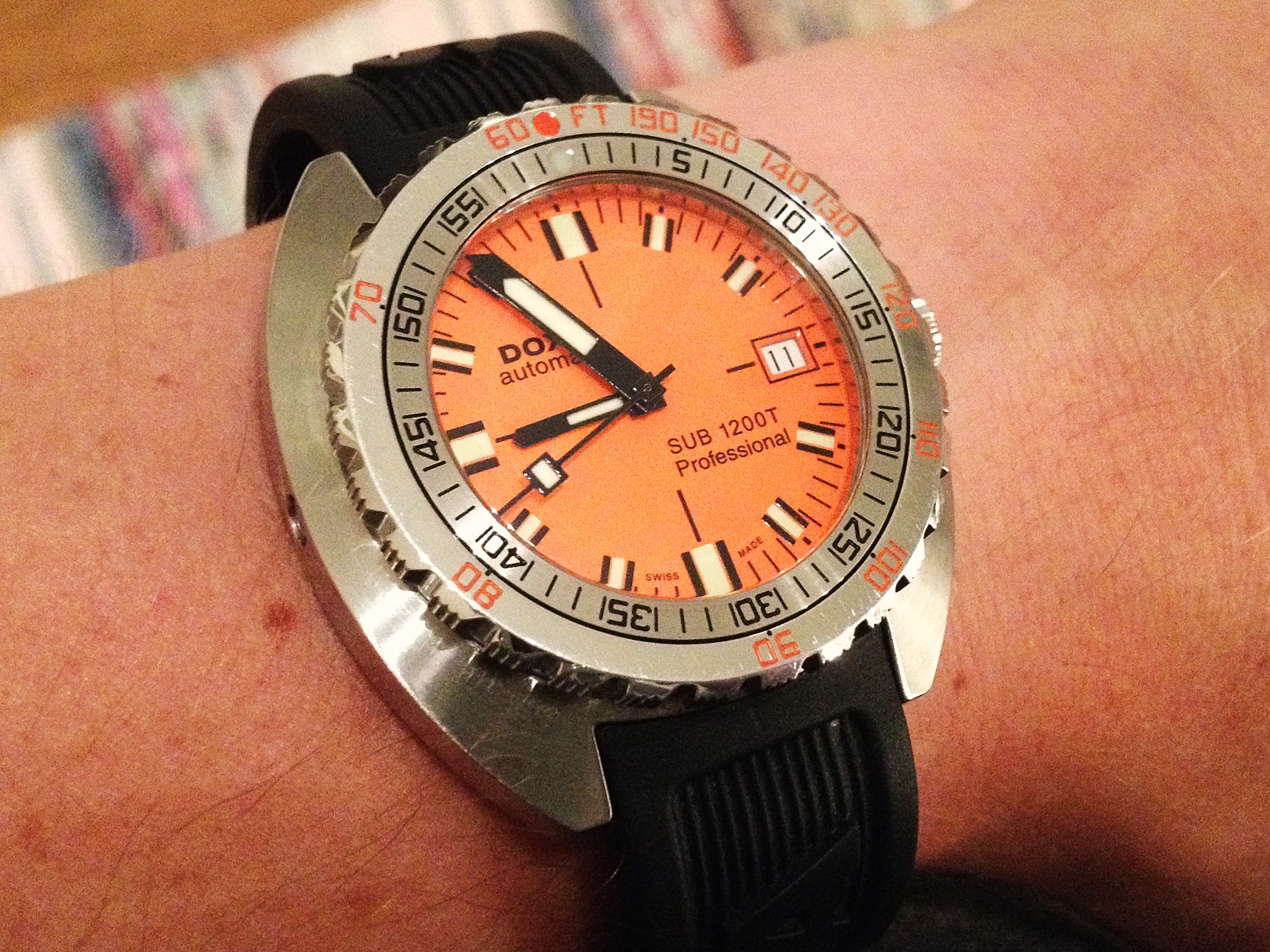 But terrible on the wrist. Look at the crazy fit! What were they thinking?
I

b

ought my second one just because I'd gotten an idea about how good a Doxa would look on their hershey rubber. This was back in September 2014. I found a 1200T for sale in Sweden and ordered the strap from United States. Talk about a downer when it was mounted and

done

. It looked so good on the pictures I'd seen but on the wrist it was horrible. A totally worthless fit. At least on my wrist, which isn't that skinny, but for this rubber to look alright you should have quite a wide wrist to get rid of the otherwise large gap that appears between the wrist a

nd

the rubber. My second 1200T was also a full set (

it even had the CD)

but this time it took

just one month before I gave it up. The 1200T's and I were officially done after this.
UPDATE - April 1st 2016.
Came across these photos t

oday

of the Doxa NUMA 1200T Professional which I wore for a we

e

k in November 2012 in a so called "Passaround" where a couple of forum members chip in an equal share to finance a watch that everyone get's to try for a limited time which then is given to one of the

participants in a raffle.

Loved the all

white hands. Cool watch.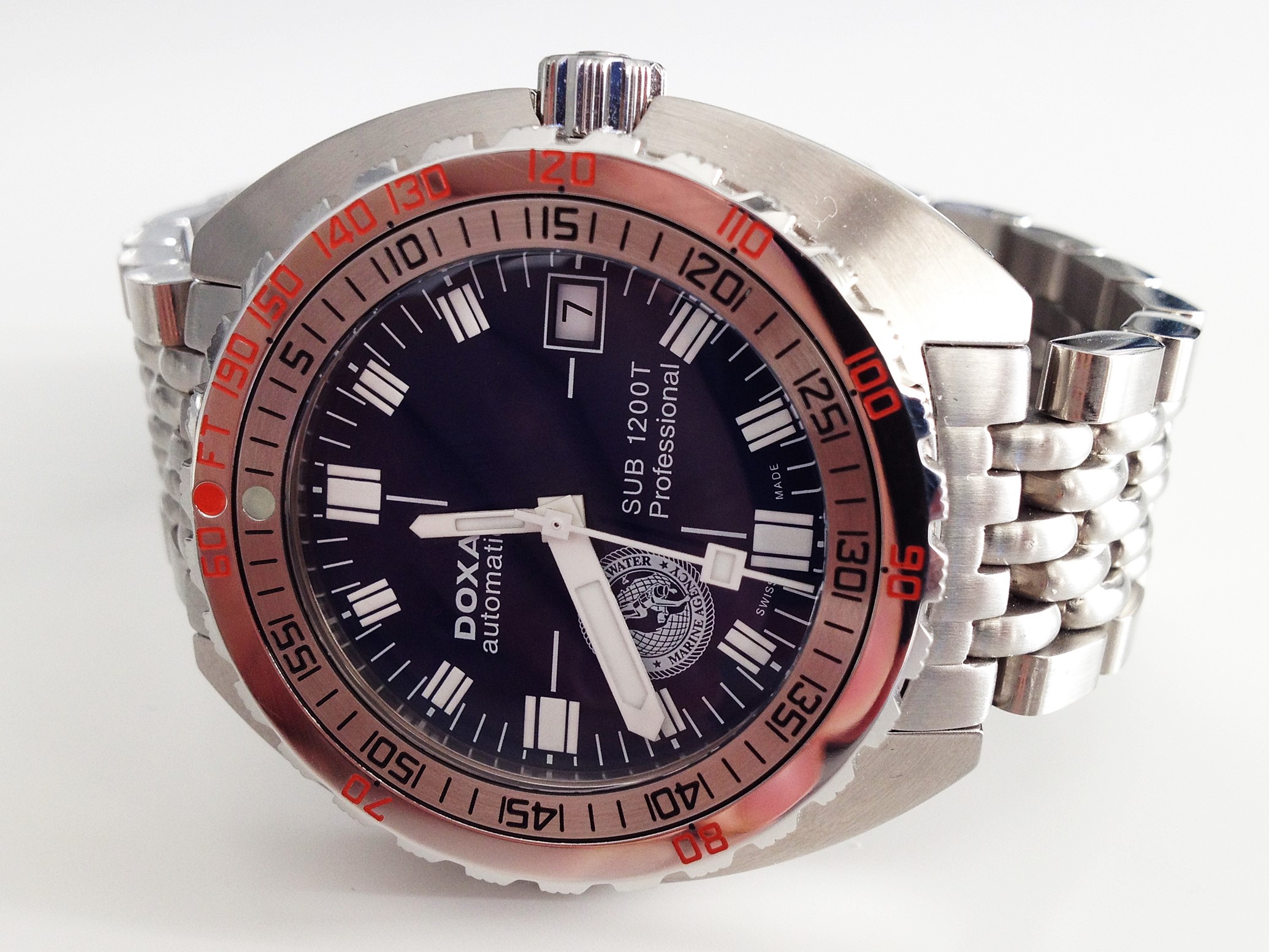 NUMA - National Underwater Marine Agency.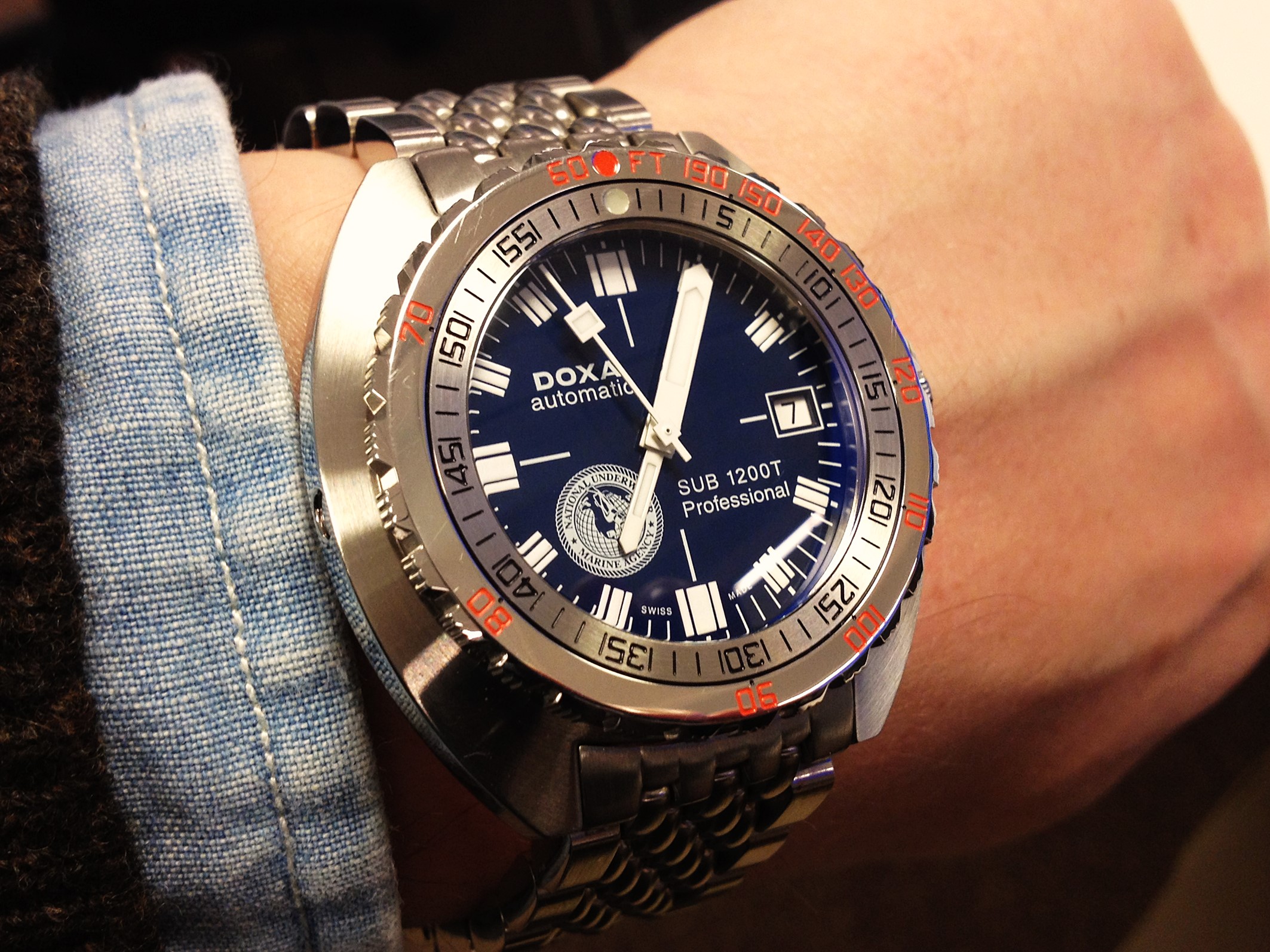 © All pictures by a Watch Flipper's Diary unless noted

.