Back in 2008 I made a couple of trips to London to visit my girlfriend (who five years later became my wife) who was studying her final year in law school. I'd started to buy watch magazines every now and then and it usually was when I was flying somewhere because the airports always had a wide selection to choose from. I remember one time on the plane on one of those trips to London when I came across an ad for a Bell & Ross watch with a square case looking like an instrument from an airplane and thought it was really cool. A couple of pages later I was met by another ad of a cool watch looking like some sort of pressure gauge which turned out to be the Manometro from Giuliano Mazzuoli. Luckily both brands were located at the same AD in London. I don't remember the name of the store but I remember it was located somewhere near SOHO and after some research it looks like it could have been the store Frost of London. The name doesn't sound familiar at all but judging from the location and the line of brands they carry it must be that store. I went to visit the store just to discover the watches were way more expensive than I would have been willing to pay up at that time in my life. I came home with some catalogues though and that's where I first saw the Bell & Ross Professional series; Type Demineur, Type Marine and the Hydromax.

I of course first fell in love with the Hydromax. "Wow! How the hell can a watch be water resistant to 11100m? That's so insane!" Then I learned about the oil-filled watch case which seemed like a cool feature in theory but that perhaps was going to be too much trouble at such a small thing as a battery change. Time went on and I eventually forgot about my Bell & Ross plans and it wasn't until four years later in mid-February 2012 when a Type Demineur showed up for sale out of nowhere. It didn't matter that it only came with the rubber and velcro and not the bracelet. I wanted it anyway and I bought it.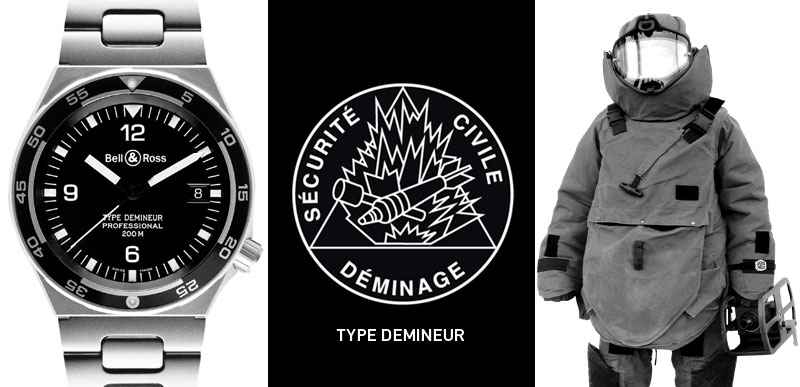 Product picture of the Type Demineur. The French Bomb Squad watch. (borrowed picture)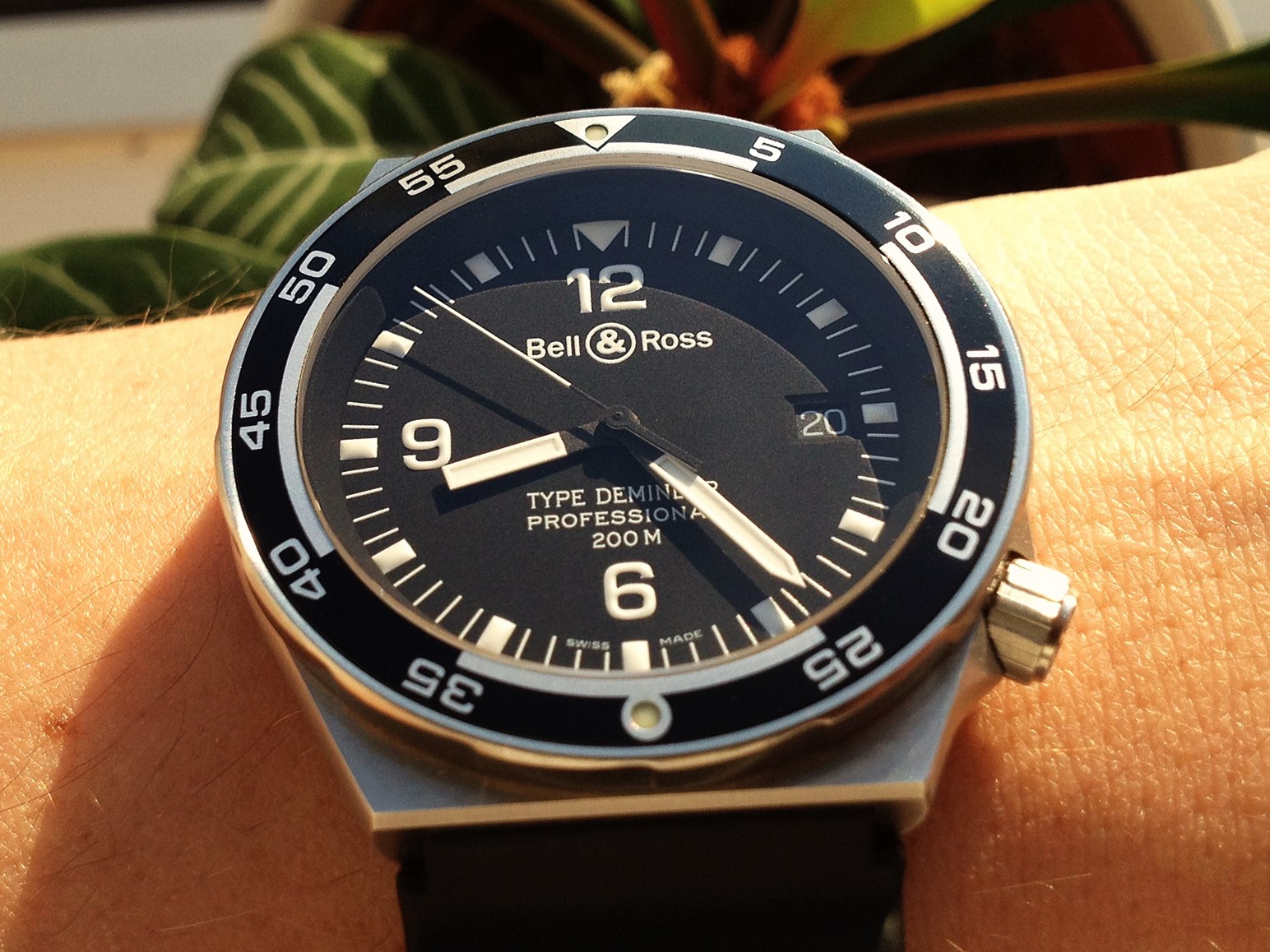 #121 - The Bell & Ross Type Demineur.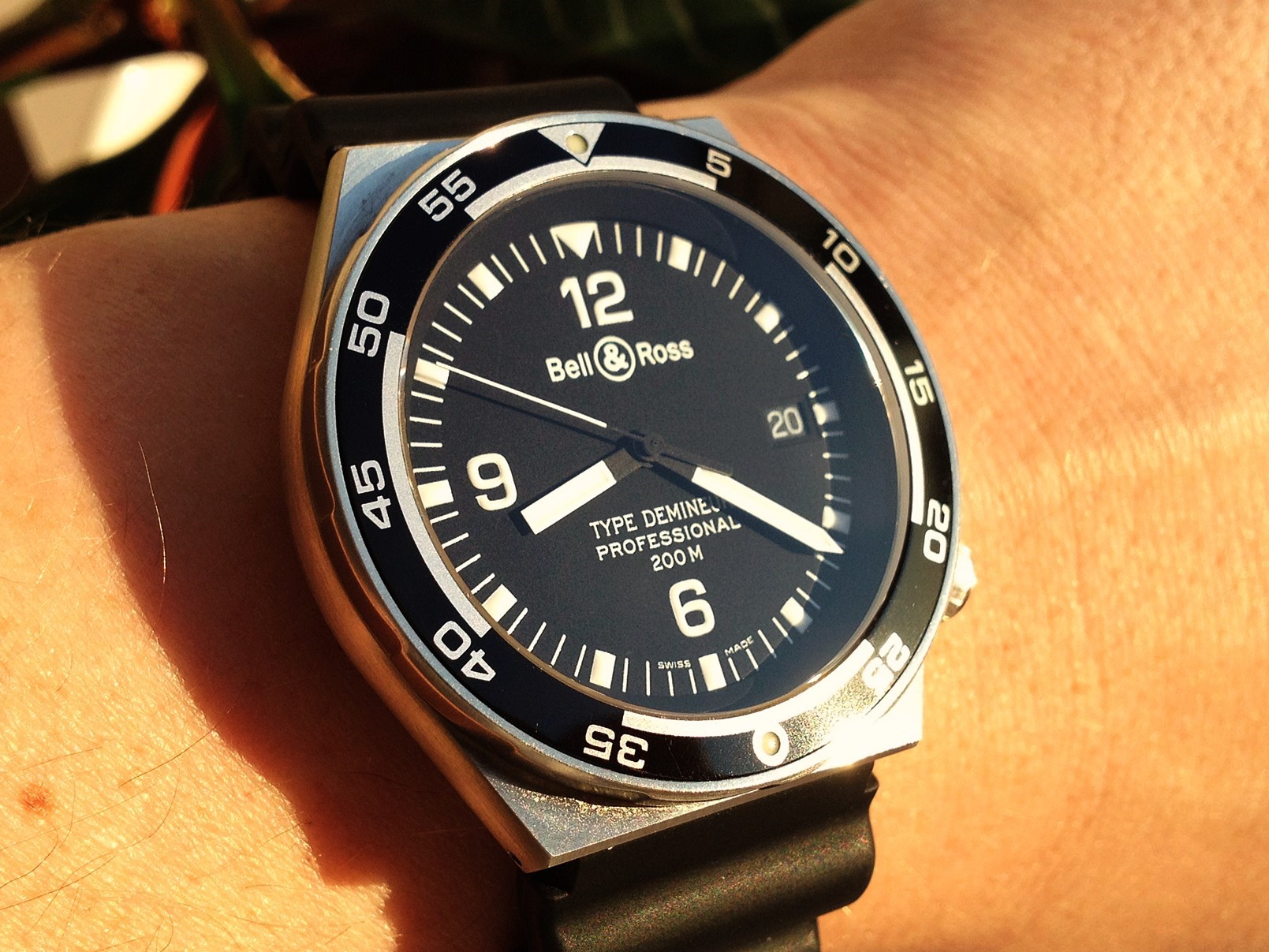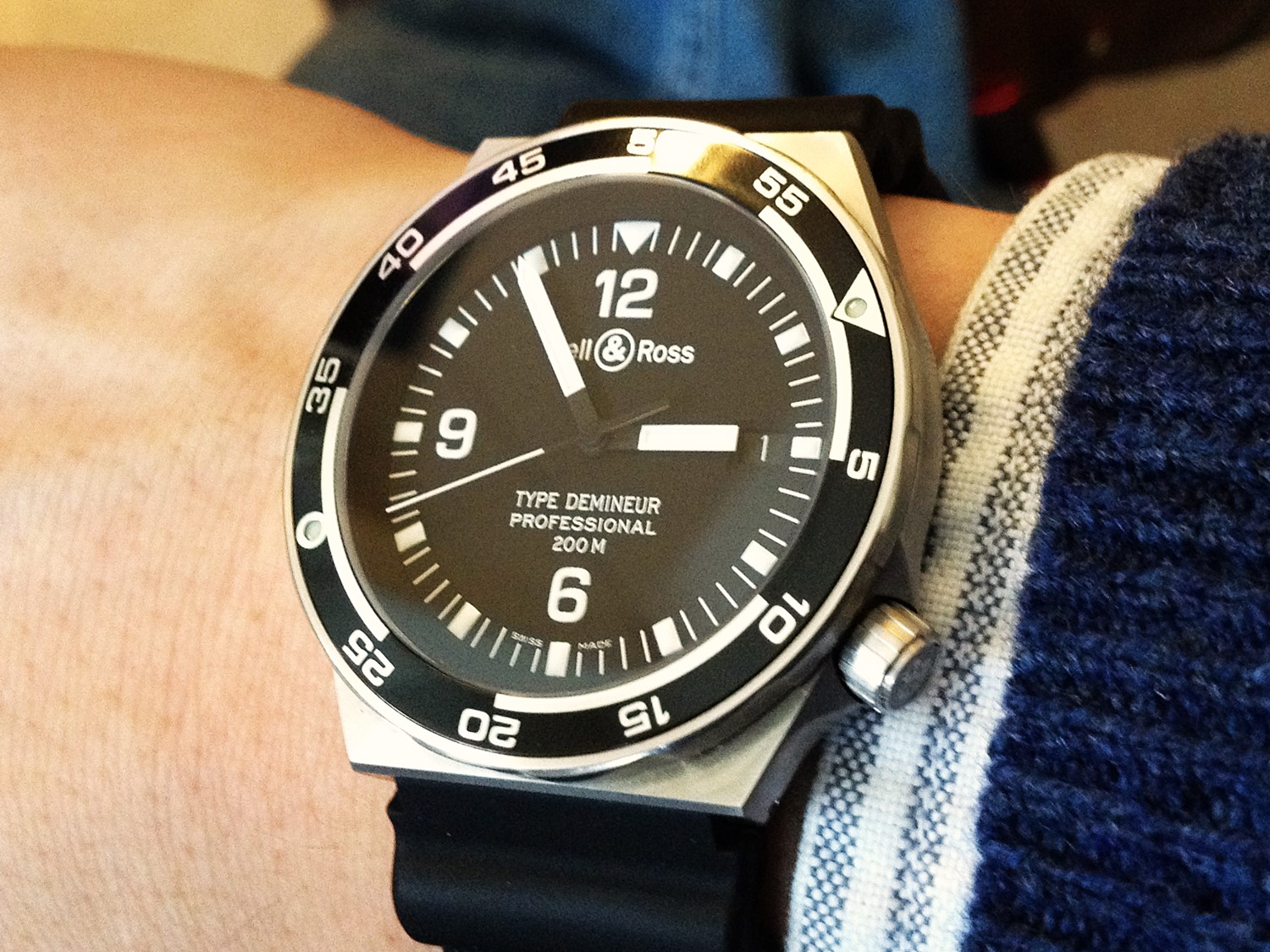 Initially I just loved it. Perfect size of 39mm. Super legible. Quartz movement. The only downside was the lack of the bracelet. The original rubber wasn't super comfortable. It was too rigid and the folding clasp was bulky. I never even tried it on the velcro strap. Not my style. The tight space between the watch case and the spring bars made it limited to the use of nato or zulu straps and a rubber strap couldn't be too thick either. No, not having the bracelet was a huge minus. Especially since it had my favorite design I couldn't stop thinking about how much I wanted it. So after about a month I finally decided to let it go.
In the last month or so I've seen two used Demineur's for sale on the bracelet but the price seems to have doubled up since I sold mine. I would definitely buy one again if I find one the bracelet to a good price. The latest watches from Bell & Ross haven't done it for me. The only exception might be something out of their Vintage series like the BR 123 GMT which I think is kind of nice.
© All pictures by a Watch Flipper's Diary unless noted.