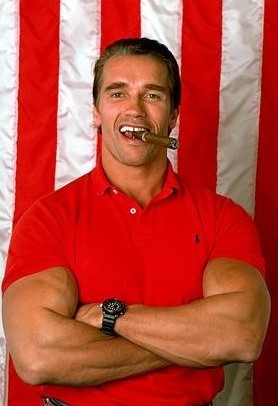 Arnold Schwarzenegger proudly posing with his Seiko H558-5000. (picture borrowed. unknown source)
Made famous when being worn by Arnold Schwarzenegger in some classic 80's movies like Raw Deal, Predator and Commando and therefore nicknamed "Arnie". Ever since

the Arnie

came to my attention I kept an extra eye out looking for one and in January 2012 it finally showed up and surprisingly it was located on home ground.
It was quite wide

(45mm excl. crown)

and wore almost like a Tuna but without being as thick. It had a small crack in the plastic shroud at 6 o'clock but I never bothered to

have

it replaced. It still held together and fulfilled its purpose of protecting the bezel. However I changed the battery and bought a new flat vent Z-22 rubber for it because I think I might have received it on a black zulu. Yuck! It functioned perfectly and even think the little backlight for the digital display started to work after the battery change. I was a little disappointed when I learned that the depth meter scale wasn't actually an analog depth meter like on an Aqualand. Instead it was a scale of how to calculate your speed when ascending

from

a dive. Boring

!
#113 - The Seiko H558-5000 a.k.a. Arnie.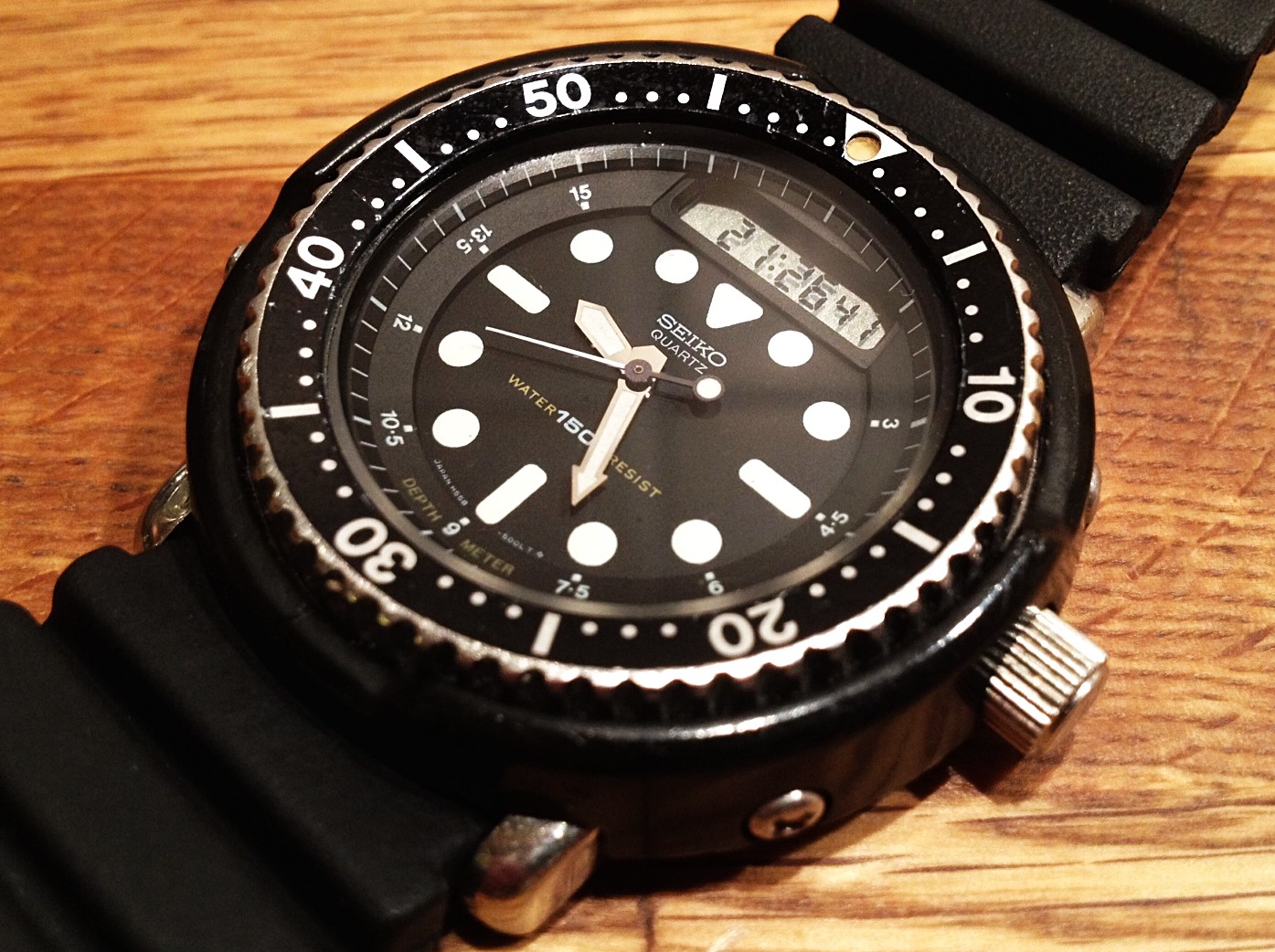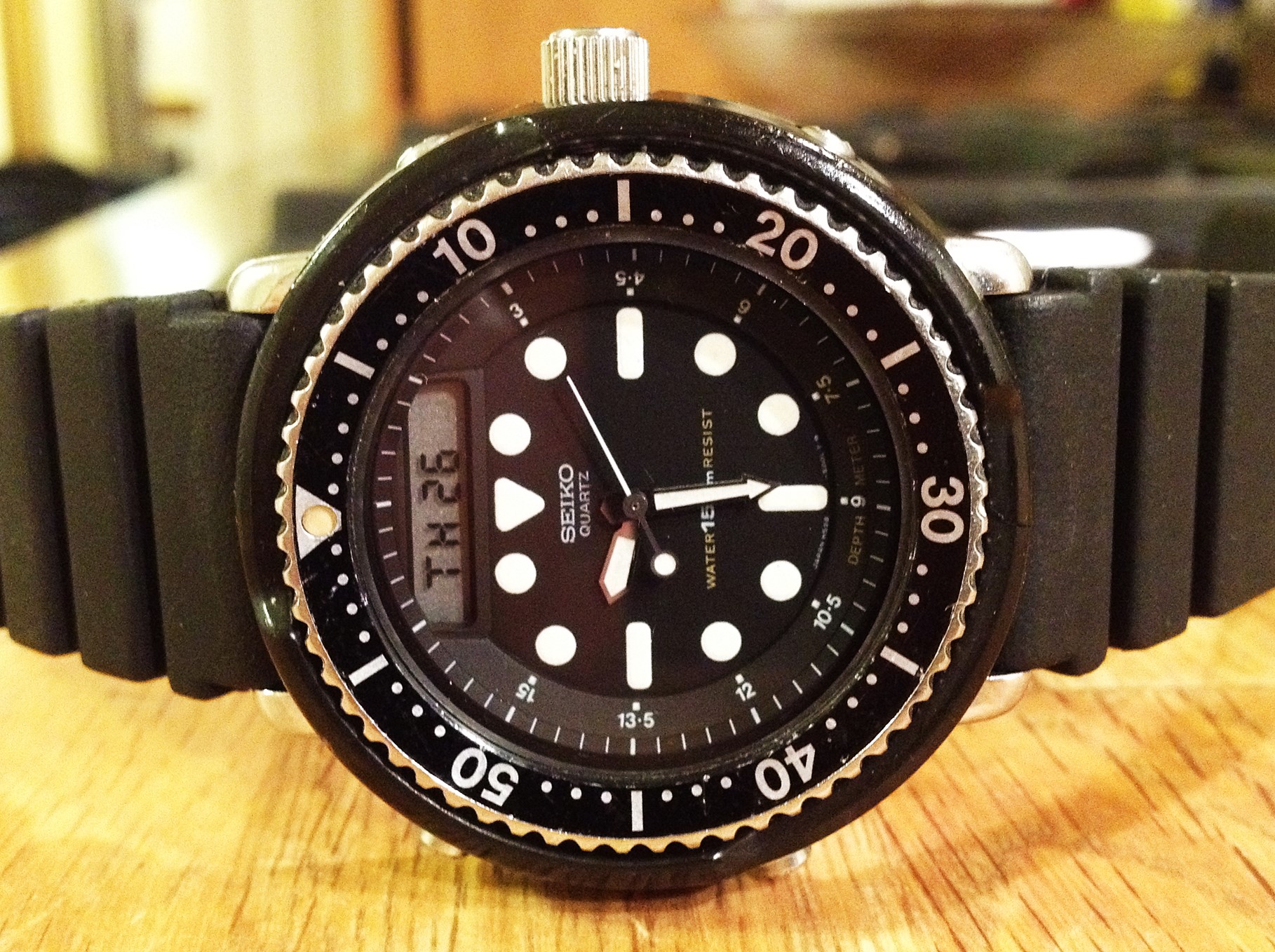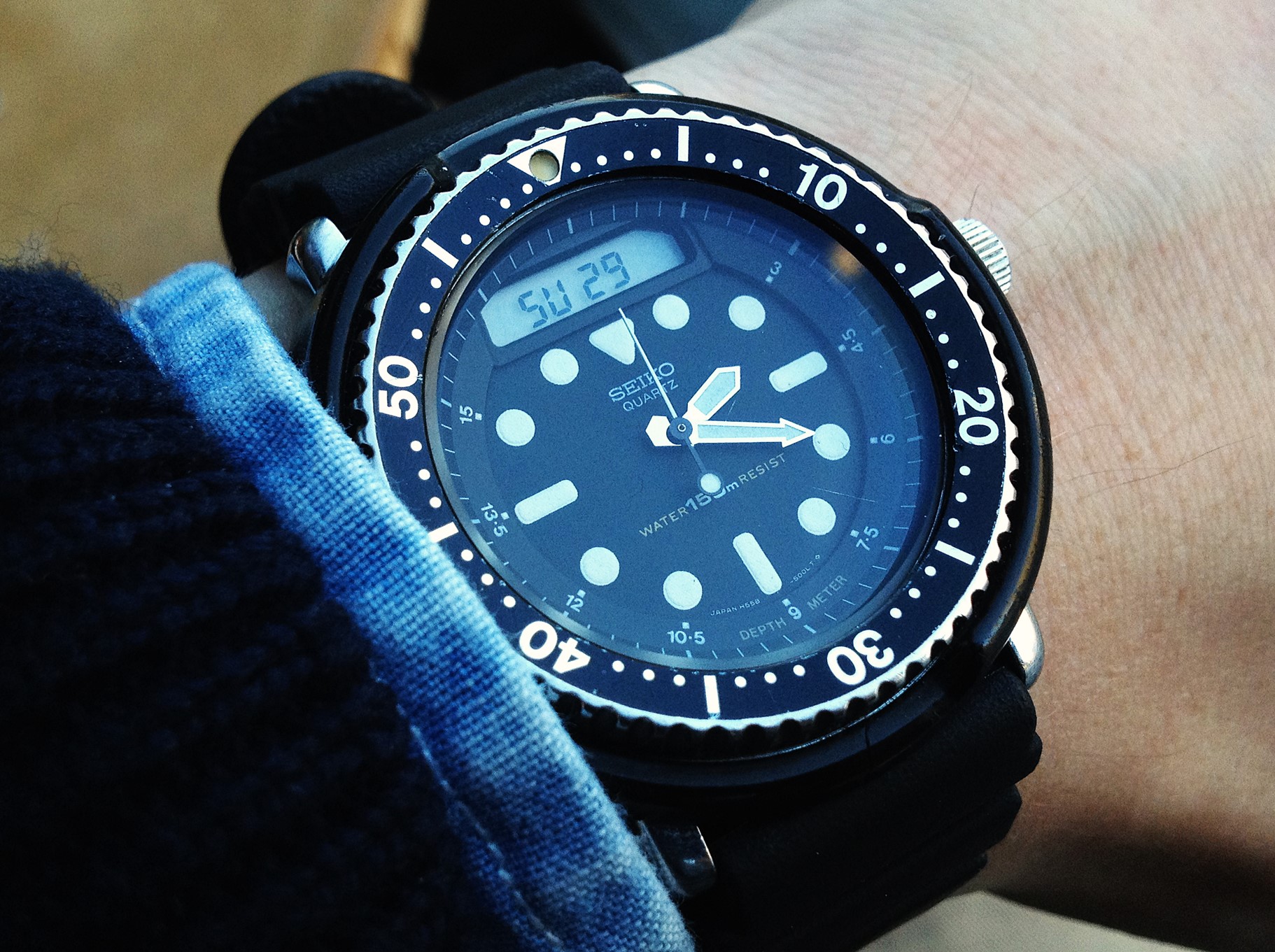 I can't believe it took me about three months selling this watch. I wasn't even asking much for it. I just wanted my money in return which was about $300-350 something. Today it would have been gone like that! Finally my dear bro Ricrob sacrificed himself and embraced it with open arms (well almost anyway

!

The little cheapskate still

had to shave off a couple of dollars to close the deal). Prices ha

ve

gone up a little since then but not as crazy as e.g. the Giugiaro's from the Alien movies has increased. Extra

f

un to own one if you're a Schwarzenegger fan but even if you're not it's still a cool piece to have in your collection.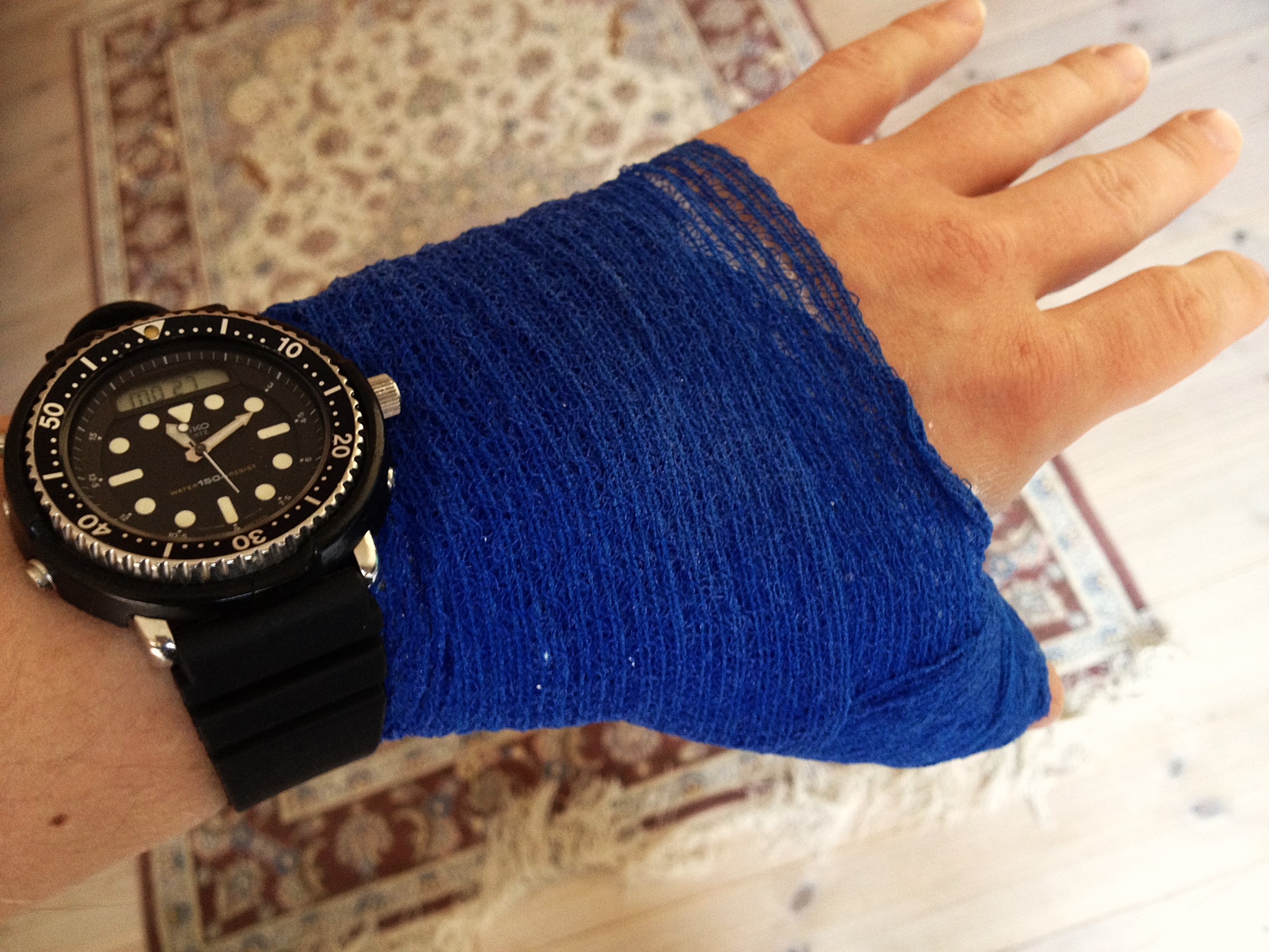 Wrist shot after a skiing accident in February 2012. Got away with only a minor concussion, a hip fracture, a blue battered body and a torn ligament in my left thumb.
UPDATE - January 10th 2017.
Last year in the end of November I managed to get a hold of the orange version in a trade. The condition was absolutely stunning and it had recently gone through a service. All gaskets had been replaced and it was waterproof to 150m. The movement worked flawlessly and the watch was just perfect in general. I instantly had people asking me when I was going to flipp it and I eventually ended up selling it to another crazy Seiko flipper, Seikosthlm on Instagram, who perhaps some of you might know.
#332 - The orange "Arnie", ref. H558-500A.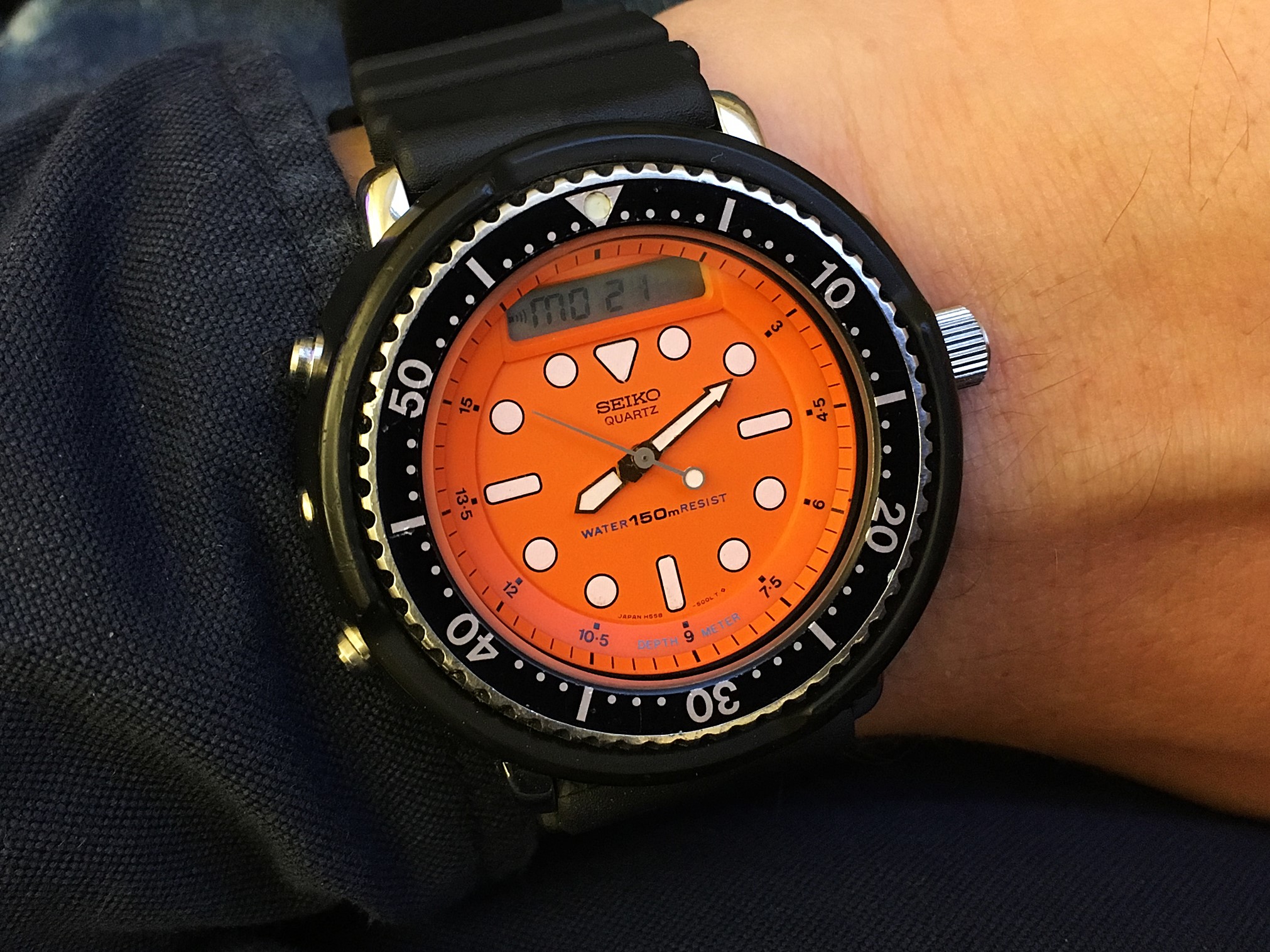 Such an awesome watch!
© All pictures by a Watch Flipper's Diary unless noted.