I don't think I was more than eight or nine years old when I saw The Abyss the first time. For you who don't know the movie it is a sci-fi adventure from 1989 taking place in the deep ocean starring Ed Harris in the lead role. It wasn't until my interest in watches emerged that I noticed the big dive watch that "Bud" was wearing. "What the hell is that?" I asked myself, one evening in October 2009 while watching this epic film, and threw myself in front of my computer to let Google find the answer for me. It was a Seiko 6309-7049 (US-version) and I had to have one right away. I didn't do much research and eBay had many for sale. They were all 6309-7040's (Japanese version) and for some reason they were all located in the Philippines but I didn't let that worry me and used buy-it-now on a piece that I thought looked decent.


I later learned from other Seiko enthusiasts that you had to be careful when buying those. Apparently the ones located in Asia usually were all taken apart, polished and fitted with aftermarket parts which of course mine was as well. So I sold it to find one in original condition. And in February 2010 I found one, also located in the Philippines but this one looked alright on the pictures and the auction also stated that all parts were all original. But what I received was something completely else. The watch I received was obviously not the one on the pictures. This one actually looked worse that the first one I got. Everything was wrong and the crown didn't screw in at all. The movement was also in a bad shape and I ended up selling it for parts. It was useless.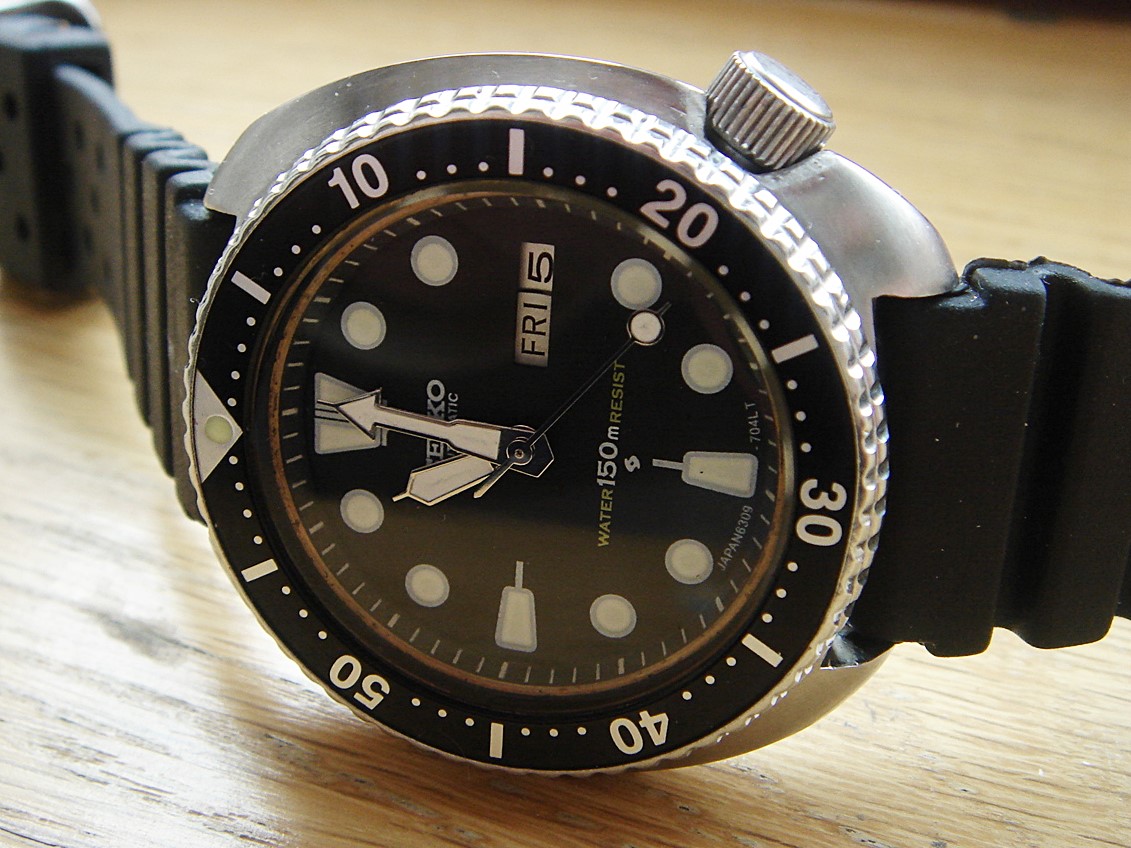 #28 - This is NOT how a 6309-7040 should look like. Crappy rubber, wrong bezel insert, a dial that screams fake and a crown that doesn't screw.
The third one I bought was in June 2010 and it was an already modified one. I knew everything were aftermarket parts from the start so this time I didn't feel ripped off. I bought it to make another modification myself. I kept the plongeur hands but switched the dial to a "Plo-proof" dial and exchanged the bezel insert. The look was kind of clean but it got boring in the end. I still wanted one in an untouched condition.

Finally! In late November 2010 I found one with all original parts and its patina was incredible. It looked fantastic.



But one year later in November 2011 I found an even better one and went for that one instead. It came on an aftermarket super oyster bracelet which I switched for a Yobokies beads-of-rice that I think looked crazy good.



The sixth one was bought in March 2012 and it was also one with aftermarket parts but it was purchased to be a part of a project so the aftermarket parts didn't matter. The plan was to fit it with one of those Scubapro 450 dials that you can find on eBay and it was to be re-lumed. For some reason I lost interest before I even began the project and instead I sold it as a do-it-yourself kit.


In July 2013 I came across one in original condition (apart from the bezel insert) that looked almost brand new. It looked so clean it was boring. I bought a waffle rubber from Yobokies and carried it for a couple of days and later sold it. This one was actually from 1984, my birth year, but it was made in July. If it would have been May it would definitely have been a keeper.


In January 2015 I was offered an original as a part payment when selling a Squale 50atm. You rarely get interesting stuff suggested as part trades but passing on a 6309-7040 when being offered one would never happen. I just love this model! Anyhow, the exterior looked awesome, perfect patina, but the interior turned out to be in a really bad condition. I wore the watch for a couple of days but the movement lost about fifteen minutes per day. I decided to use this one for another project I've always wanted to try out. I felt a bit sorry for it when Magnus and I took it apart but it will live on just in another shape. More about this project later on.

I've decided not to buy another 6309-7040 until I find a perfect piece from May 1984 and preferably it should be a 6309-7049 (US version) like Ed wore. It is definitely my favorite of all the vintage Seiko divers. A must have for everyone!
© All pictures by a Watch Flipper's Diary unless noted.