Noname beaters. What exactly is that? I've bunched up a couple of watches I've had where the dials have been sterile and no parts have been marked with any other logos; a beater without a name. Some of the watches have been put together from various parts and some are from an unknown origin.

The first one out is a regular Submariner clone. Mil-moded with a type 1 dial and sword hands. Bought it on eBay in October 2009. 100% piece of crap. Just like one of the Kronos divers I had the stem broke one day when I was going to set the time. I never opened it so I don't know what kind of automatic movement that was inside. Sold it for parts.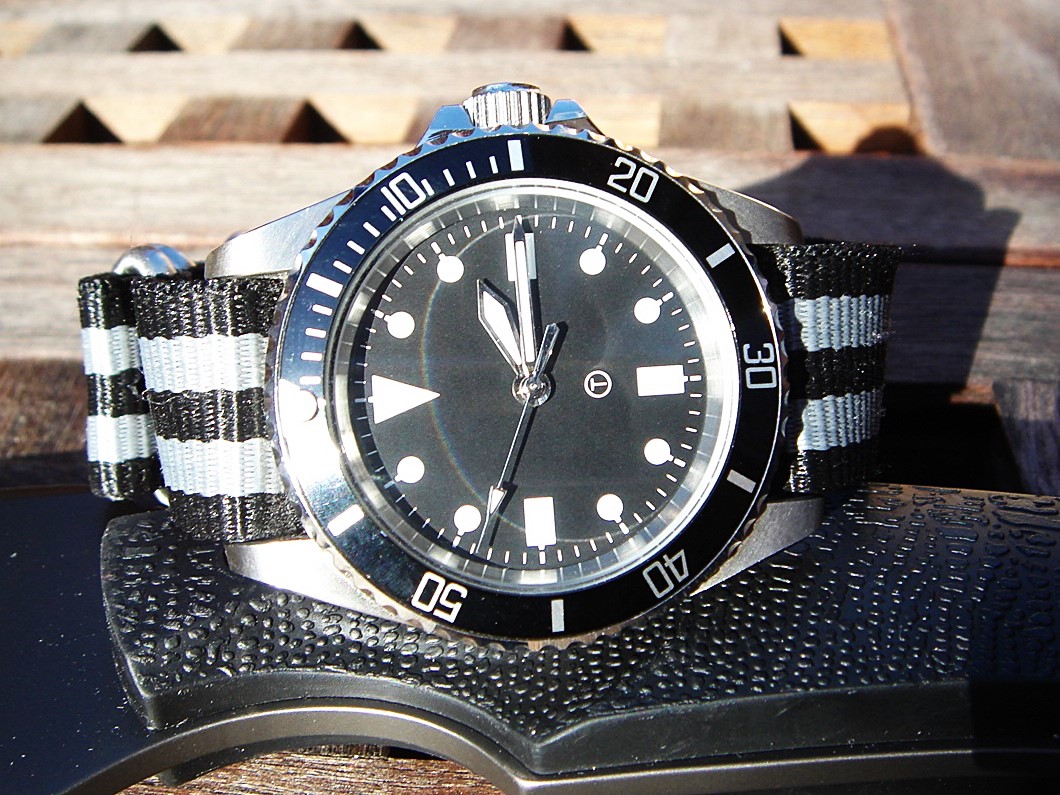 #13 – A mil-moded sub clone.
The second one was also a sub clone but this one was a little more inspired by a Rolex 5517. It was assembled by my good friend Magnus. Buying this watch from him in January 2010 was actually the first contact we had and since then we stayed in touch and became good friends. The case came from an Alpha sub and he'd placed an automatic Miyota 8215 movement inside. The other parts such as dial, hands and insert were bought from different suppliers. Details like the Alpha-logo on the crown were removed. He sold it to me on a so called "real bond nato" and I remember I thought the combination was so awesome. I felt like James Bond in Dr. No when I put it on the wrist. It got to follow me on a trip to London when Daniel and I visited our BFF Martin. I later sold it because I got so annoyed by the second hand making a slight pause every time when I shock my arm; a well-known Miyota 8215 issue.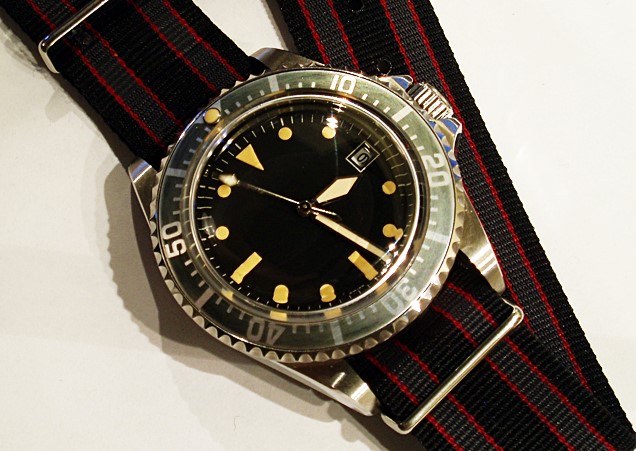 #25 - Miyota milsub (picture by Magnus).
The third noname watch was a Deep-Sea clone and it was just exciting getting to feel the size of it. Since acquiring an actual Rolex Deep-Sea wasn't an option at the time and I didn't know anyone who owned one I felt it was worth giving it a try even if I could assume the quality was going to be poor. The quality was actually far better than the first Submariner clone I had but there was nothing that made me want to keep it. I had given it a try and noted it was just as big as I thought. The research was over. Quick sell.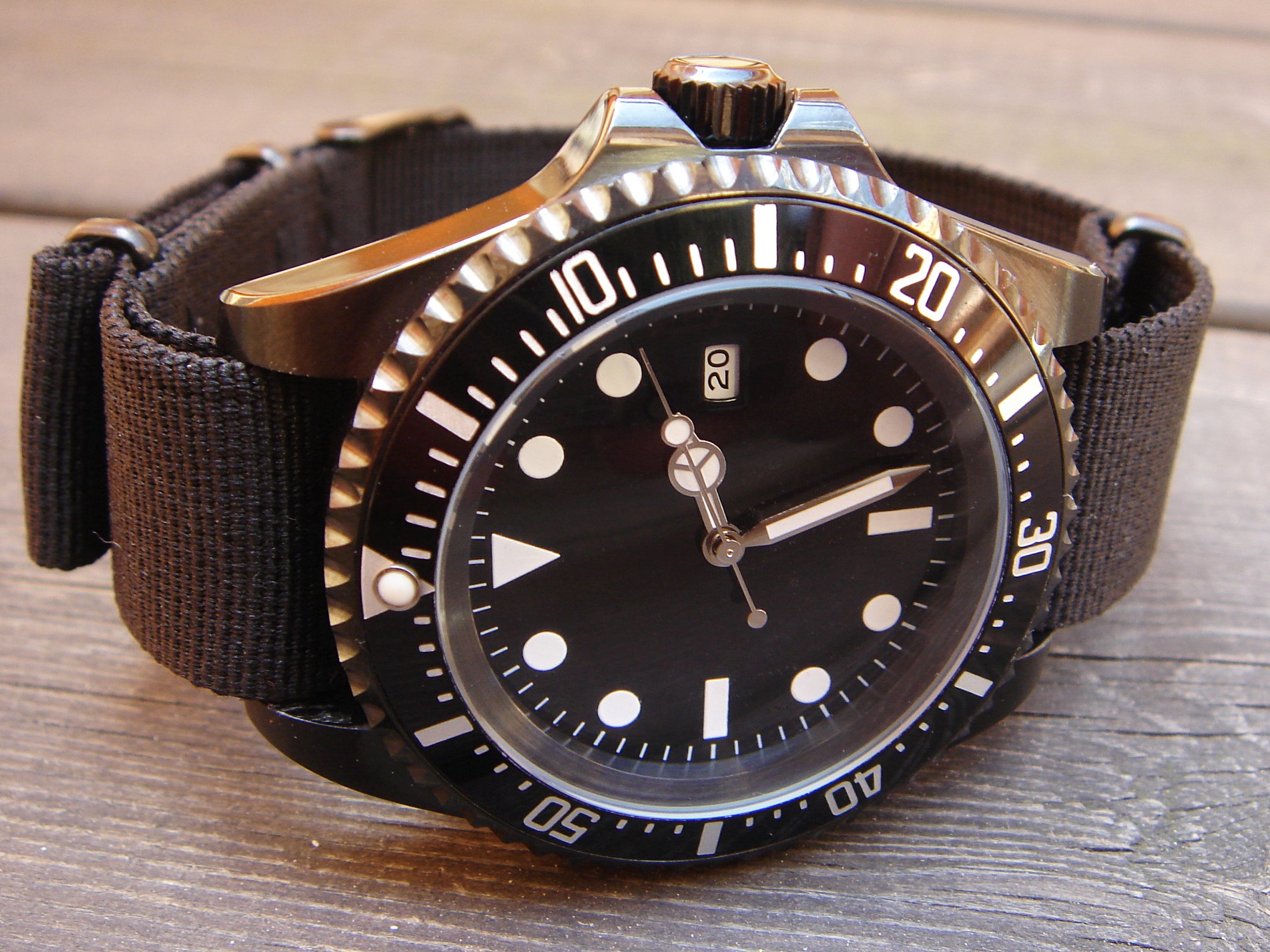 #40 – Noname Deep-Sea clone in a PVD look.
One day over at Magnus's in September 2010 he pulls up a big bad ass watch that looks like a tank and says "Hey! Look what I built". I just answered "How much is it? I'll take it!" I don't remember where the case came from but he'd put a quartz movement and placed a marathon-like sterile dial with tritium tubes in it. The thing didn't just look like a tank; it was also large like a tank and built like one. It was evenly brushed, had a deep knurled screw down crown and really sturdy bezel. I ordered a two-piece 24mm olive zulu for it which really gave it a true army look. I don't remember how large it measured but it was at least 44mm without the crown. I think I sold it for $100 which is just ridiculous when I look back on it. This was actually a pretty cool and unique beater which should have been kept.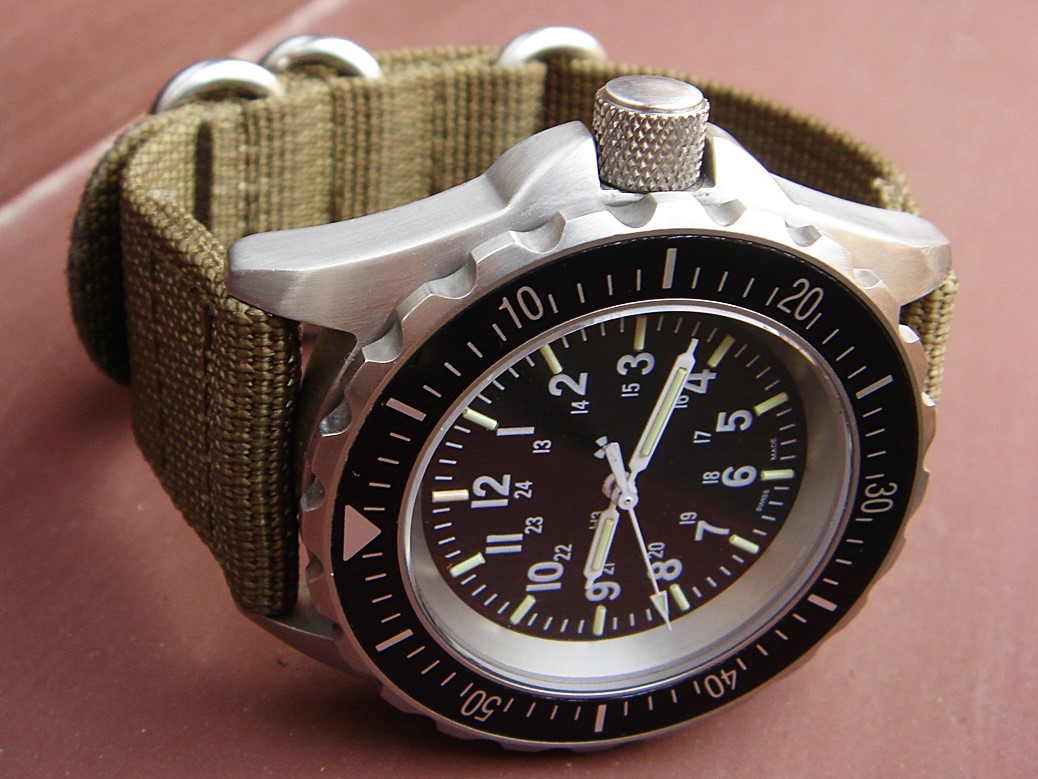 #50 – The brutal noname tritium army beater.
The fifth and last noname beater was a sub clone which was made from some good quality parts. I had the design in my head and Magnus executed the plan using whatever tools necessary to achieve my vision. Magnus gave the case lug-holes by drilling the lugs through. A type 2 dial that had been baked in the oven was fitted on a Selitta SW200 movement and was finished off by a pair of corroded mercedes hands for that dirty look. The glass we used was a superdomed plexi and the bezel was fitted with a bleached milsub-look insert. To make the watch look a little more vintage and worn we placed it inside a fistful of gravel and just squeezed it until it looked like it had been on a trip to hell and back. This one became a true favorite. It was only sold because an acquaintance of mine kept nagging me about selling it which I finally did. One week later he cracks the glass and asks me if I want to have it back only he'd had his watchmaker install an original Rolex plexi and wants an additional $300 for it. What the hell? No thank you.
© All pictures by a Watch Flipper's Diary unless noted.