I first came in contact with Marcello C while visiting the old MKII Watches website. The Nettuno was a popular model to modify and MKII had a lot of parts like dials and hands that fitted them. I found my first Nettuno from a watch contact living close by in Stockholm. This was in the beginning of February 2010 and I bought it with the intention to modify it with MKII parts but when I got it I thought it looked pretty good as it was so I skipped the modifying plans. It had the classic submariner look with the black dial and black bezel insert. Regarding the quality there was nothing to complain about. The size was nice, 40mm excl. crown, and the bracelet was comfortable. The movement inside was a standard ETA 2428-2 which kept time perfectly and it was water resistant to 300m.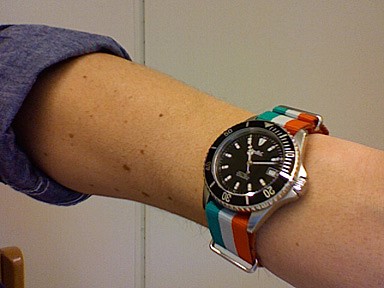 On an Italian nato. (picture taken with very old cellphone)
The second one I bought was found on the German eBay. It had a silver sunburst dial and silver bezel insert and had more of a Yacht Master look to it. The clean look was very easy to match with all types of clothing and different types of straps.
In late May 2010 my wife and I booked a spontaneous trip to Rhodes for the first week in June. I had no suitable vacation watch to bring and needed something fast. I started searching for a used Marcello C Tridente, the big brother to the Nettuno, but all I found was a blue dialed Nettuno which I settled for. It was also located in Germany and with some express delivery it made it up to Sweden just in time for our trip. I used the watch during the whole week and it worked well in all situations. Sold it soon after we came home. Its job was done and its employment was over.
Found another silver dialed version in the end of October the same year. It was priced so low I couldn't keep my hands away. I bought it just because I had to but quickly flipped it away for the same price. I was done with Marcello C.
These watches were fun to play around with in the beginning of my exploring-everything-phase. We are talking about good quality watches priced around $300 for a used one. Regarding the design it doesn't bring anything new to the table. It looks like a Submariner without being a 100% knock off. To me back in 2010 Marcello C felt like a real brand and they gave me an impression of being a serious watch manufacturer. I haven't checked out any of their news during the last four years so I'm not sure if that still is the case.
© All pictures by a Watch Flipper's Diary unless noted.