This is another watch that I got a whole lot of history with. I had already decided that I had to buy a watch during our

honeymoon

in Rome. A Panerai would of course have been very cool, being in Italy and all, but I wanted something more "me" and in a lower price range. The obvious choice was of course Squale. I marked out a couple of Squale AD's on our map and one day I headed down to Watch You Want; the store I felt was most promising. Inside I met Laura who was very nice and service minded. She made me a good deal on the PVD-version of the 50atm and threw in a couple of extra straps and some other Squale merchandise.

I was a very satisfied customer when I walked out of that store. The Squale got to spend a lot of time on the wrist for the remaining part of 2013 and the first half of 2014. Here are just a few moments of where it got to accompany me during that time.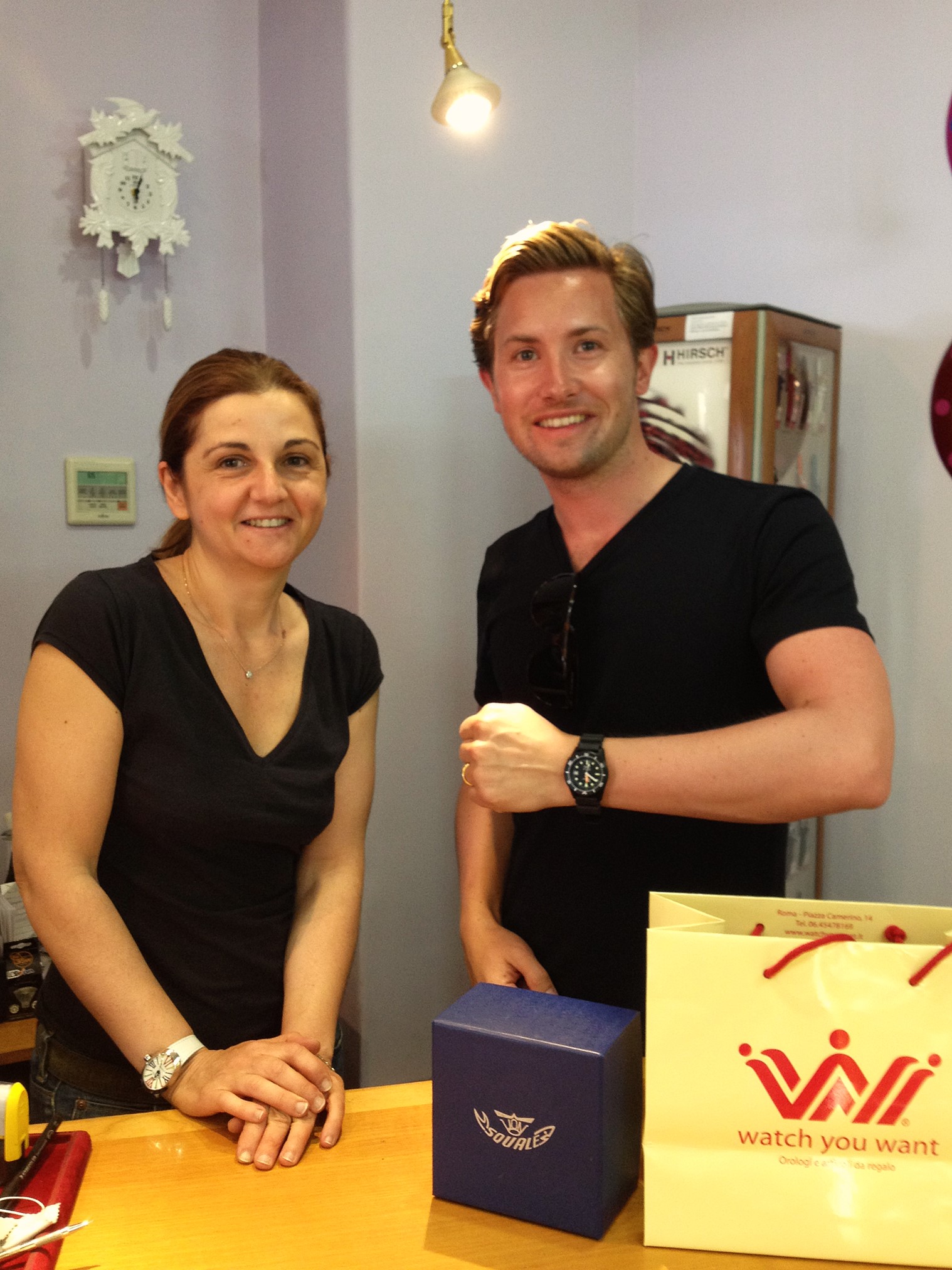 Laura and I at the time of purchase. June 2013. Rome, Italy.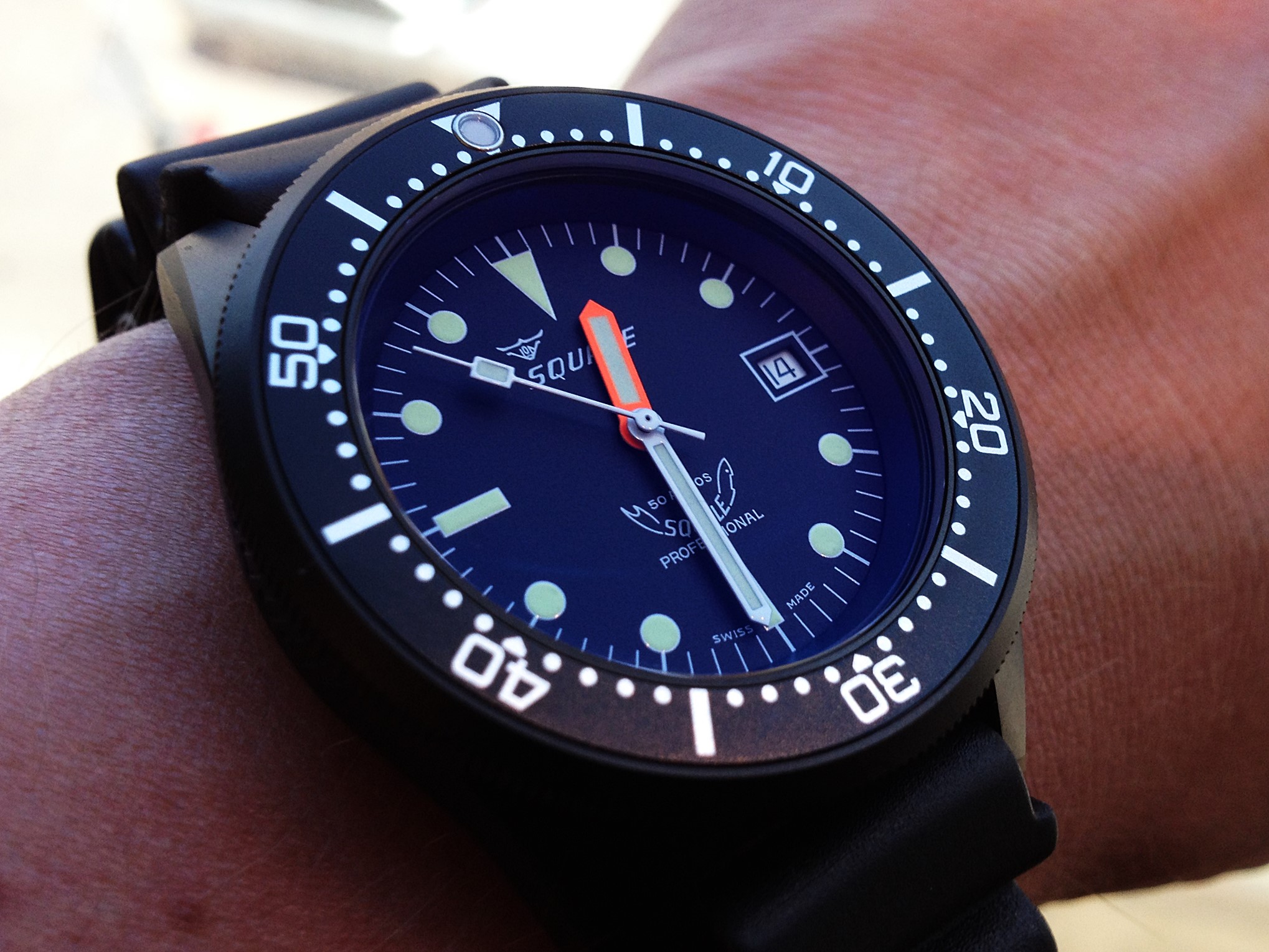 #179 - The Squale 50atm PVD. A wrist shot outside the store.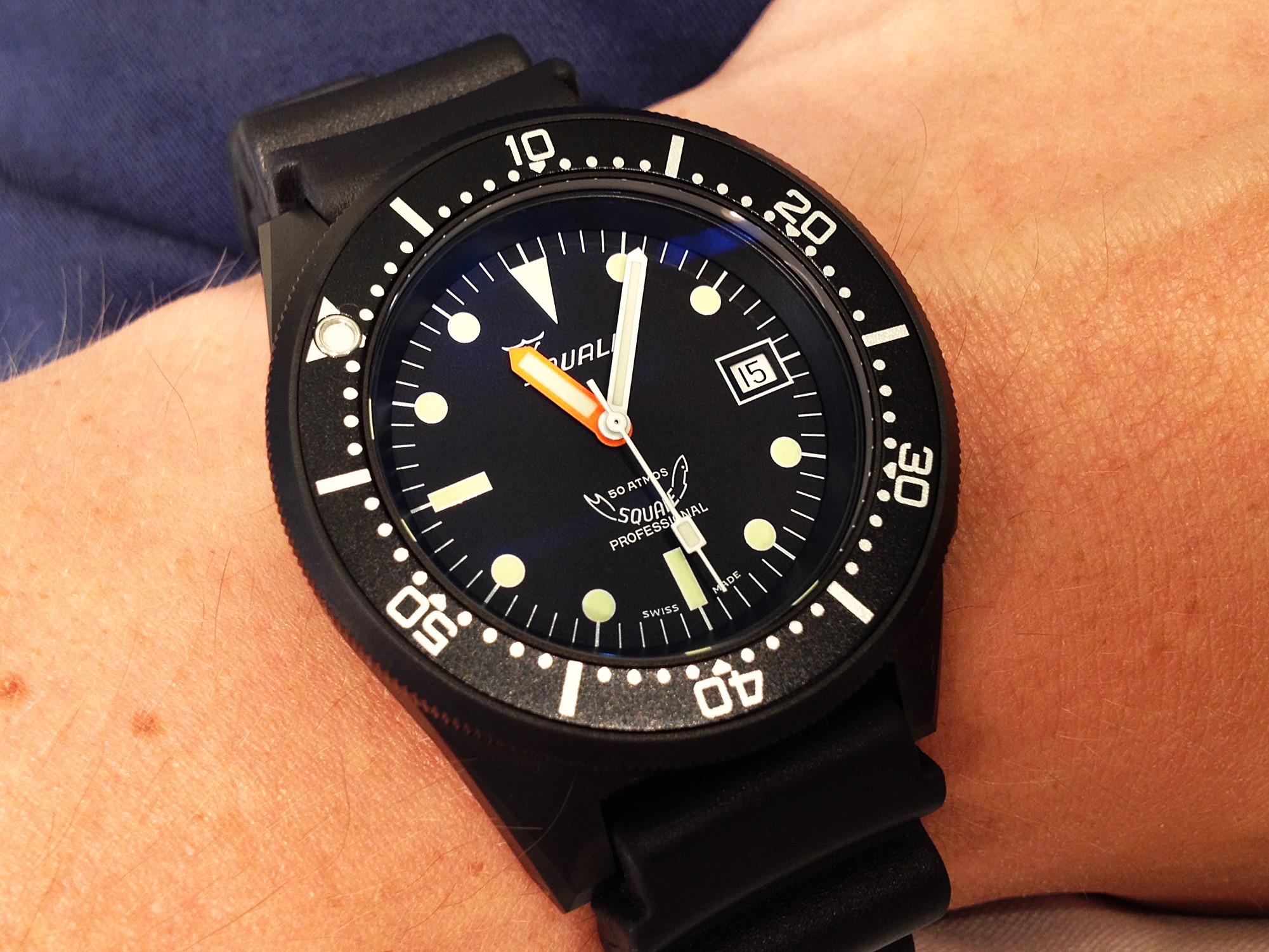 I remember taking this one while my wife was trying on dresses.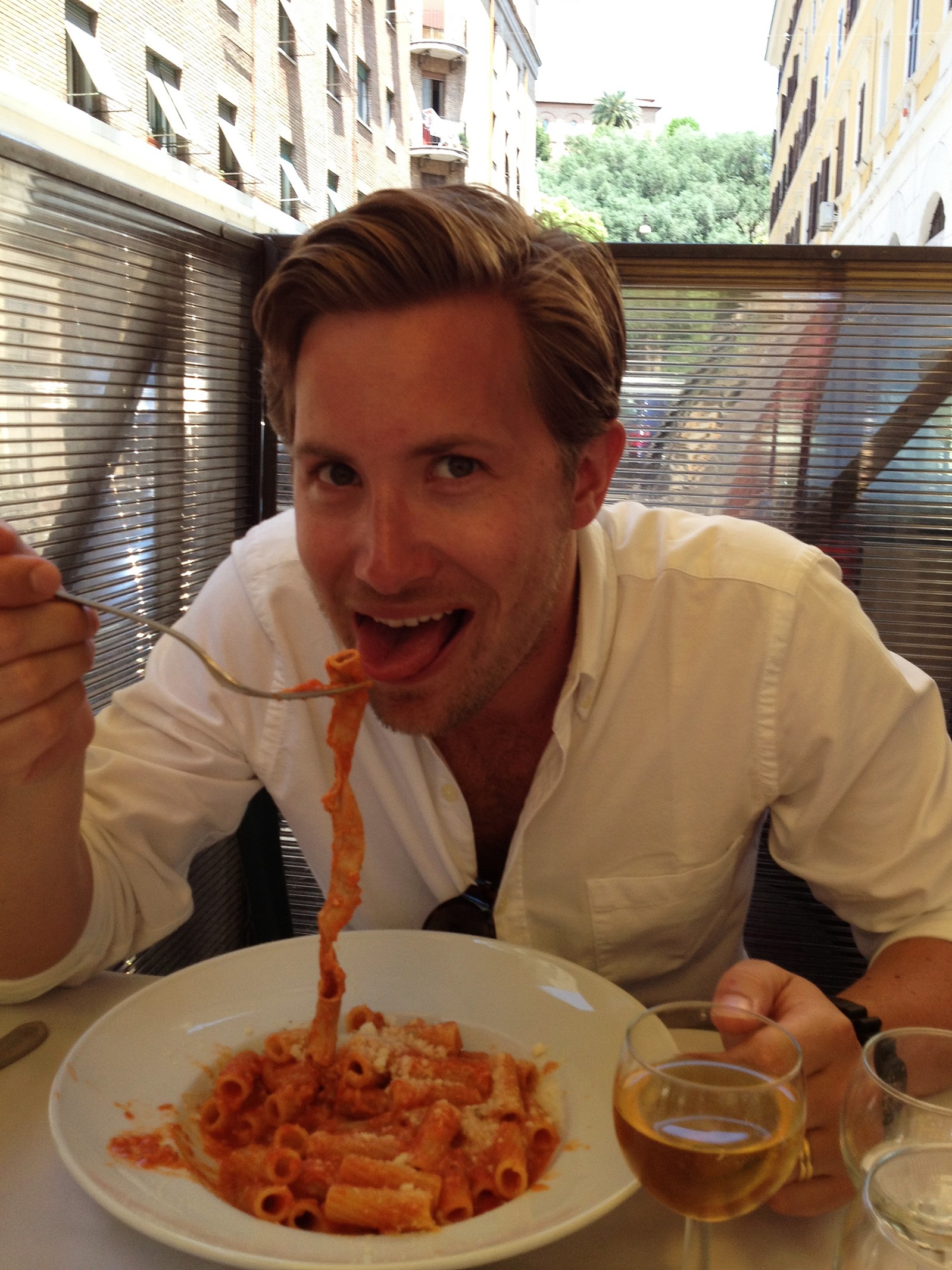 I thought I had ordered a big bowl of pasta and was a bit surprised when I found this long veal intestine lying curled up in the bottom of the bowl. Tasty stuff!
But like so many times before there were some moments were it got to l

i

e still for too long in the drawer which freaked me out. It had to make room for something else. I think I first let it go as a part trade for an old 70's two

-

tone Datejust. The Datejust turned out to look like shit inside (but that's another story) so the deal went back and the Squale bounced back. I then later traded it for a Certina DS-3 re-issue and even though the guy who got the Squale sold it away I managed to keep track on it and it finally ended up bouncing back at me for a second time. I had strong sentimental feelings for it and I really didn't want to let anyone else have it even though I wasn't using it. I bought a whole bunch of PVD nato straps for it

trying to

bring some new life to it but it wasn't enough to make me start using it more. I can't remember what it was this time that made me want to sell it but it ended up selling it in the middle of June 2014. After losing it this third time I lost track of it and it was gone forever.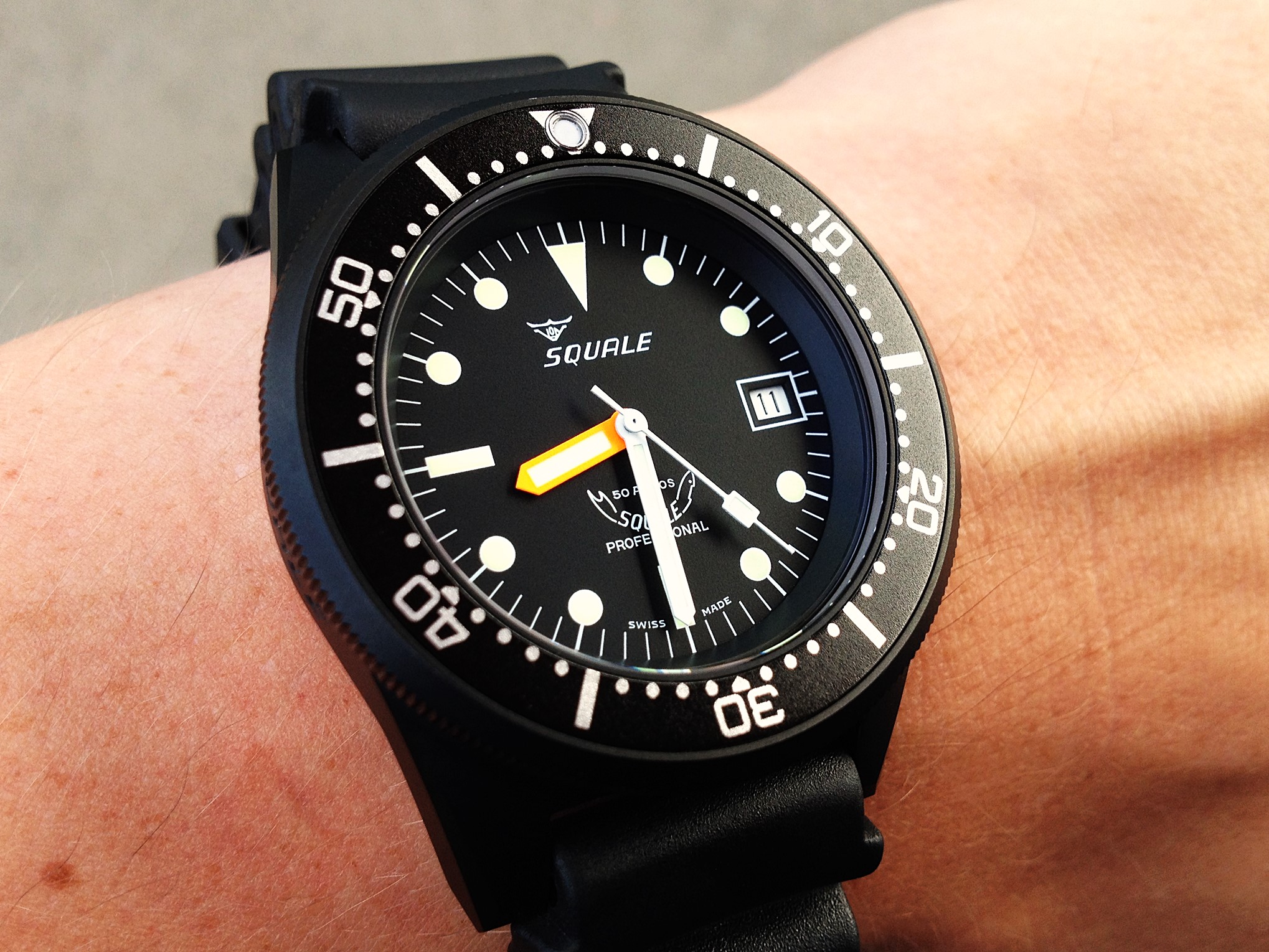 Back home. On my way to work on an August morning.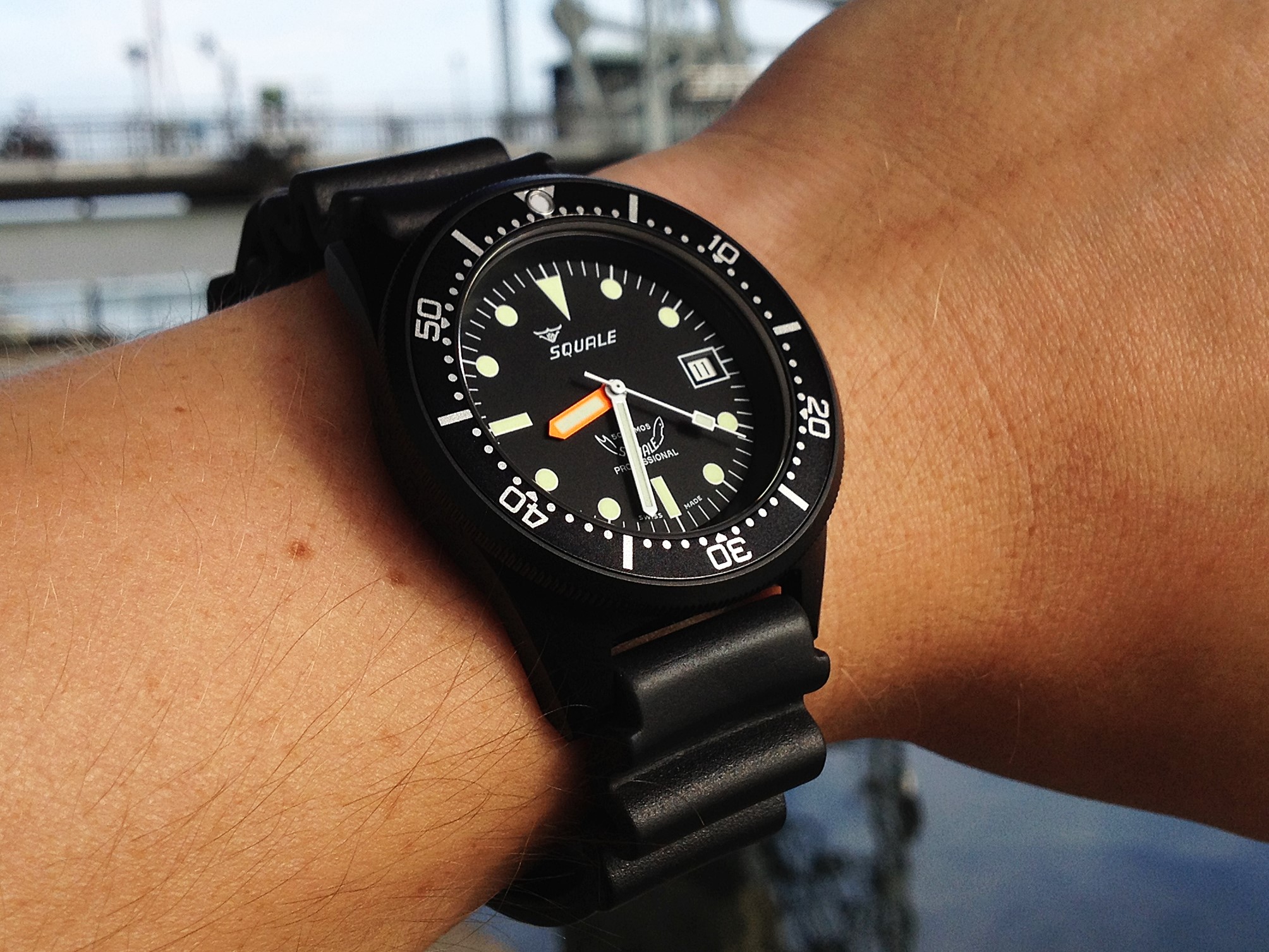 Another wrist shot from the same morning as above. The AR coating on this watch was great. It sometimes felt like it had no crystal at all.
I still have feelings for this watch and I hate to think about it. It just makes me sad. I try to console myself by thinking the older tritium version is better than the newer luminova version that I had with the ugly engraving on the side. Wait a minute! Perhaps that was it? The hideous engraving! Why the hell did they put that on the side of the case? It looks terrible. I should try to get a hold of the older version instead, that's what I must do!
© All pictures by a Watch Flipper's Diary unless noted.