We've reached one of my most beloved watches I've ever

owned

. Ok, so what is it that makes this certain Doxa so special compared to the others, you might ask yourself? You know I talk a lot about proportions. To me proportions are extremely important and the 1000T is the one of all the SUB re-issues that I find to be the most well-proportioned of them all. But apart from that it was special to me because it had a rather unique appearance. It had been through some rough stuff. For one the rumors said it had been beadblasted back in the days and then someone had tried to restore it back to normal. The final result gave it an extremely used and worn look. I think it looked fantastic.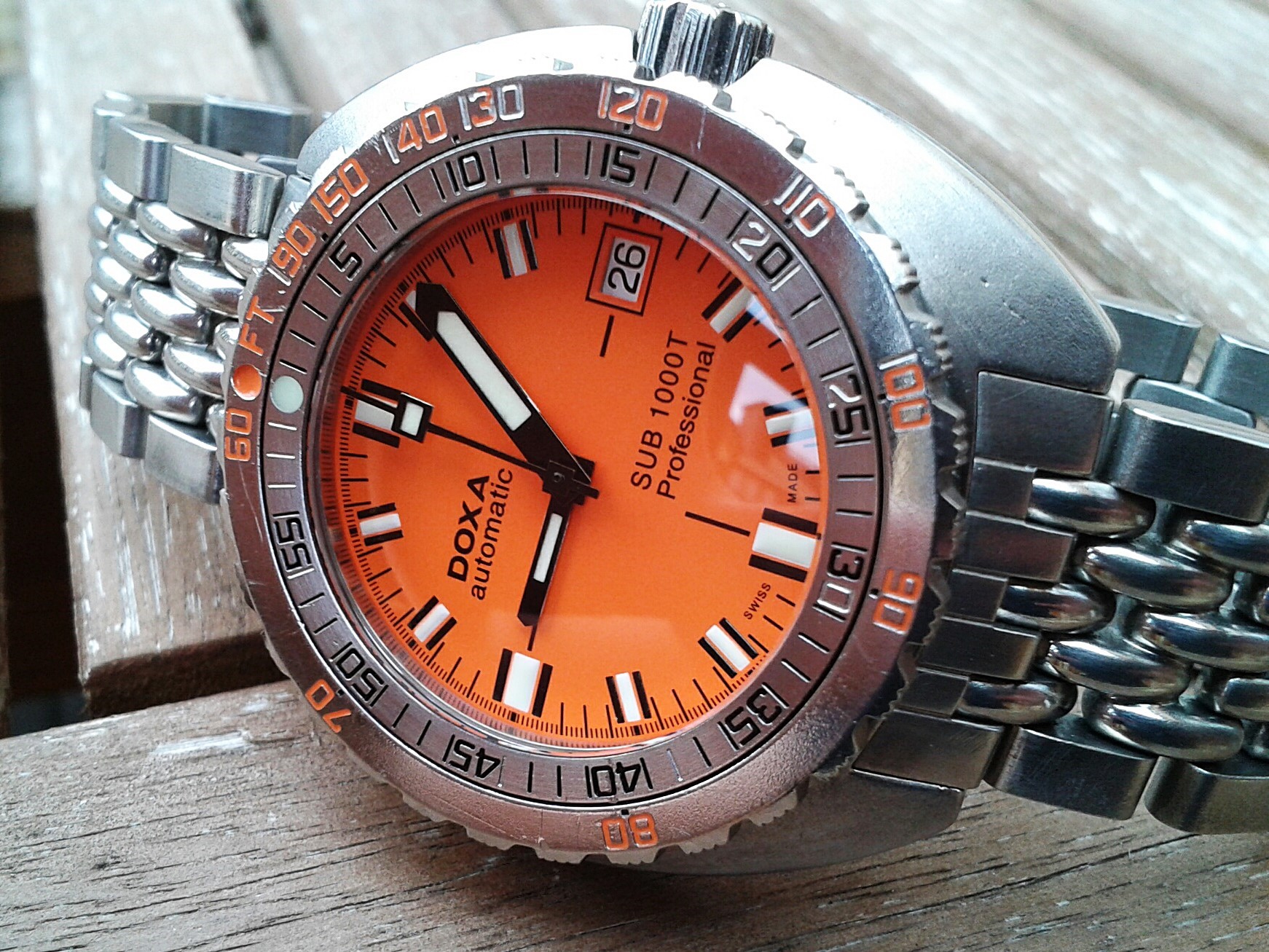 #156 - The Doxa SUB 1000T Professional.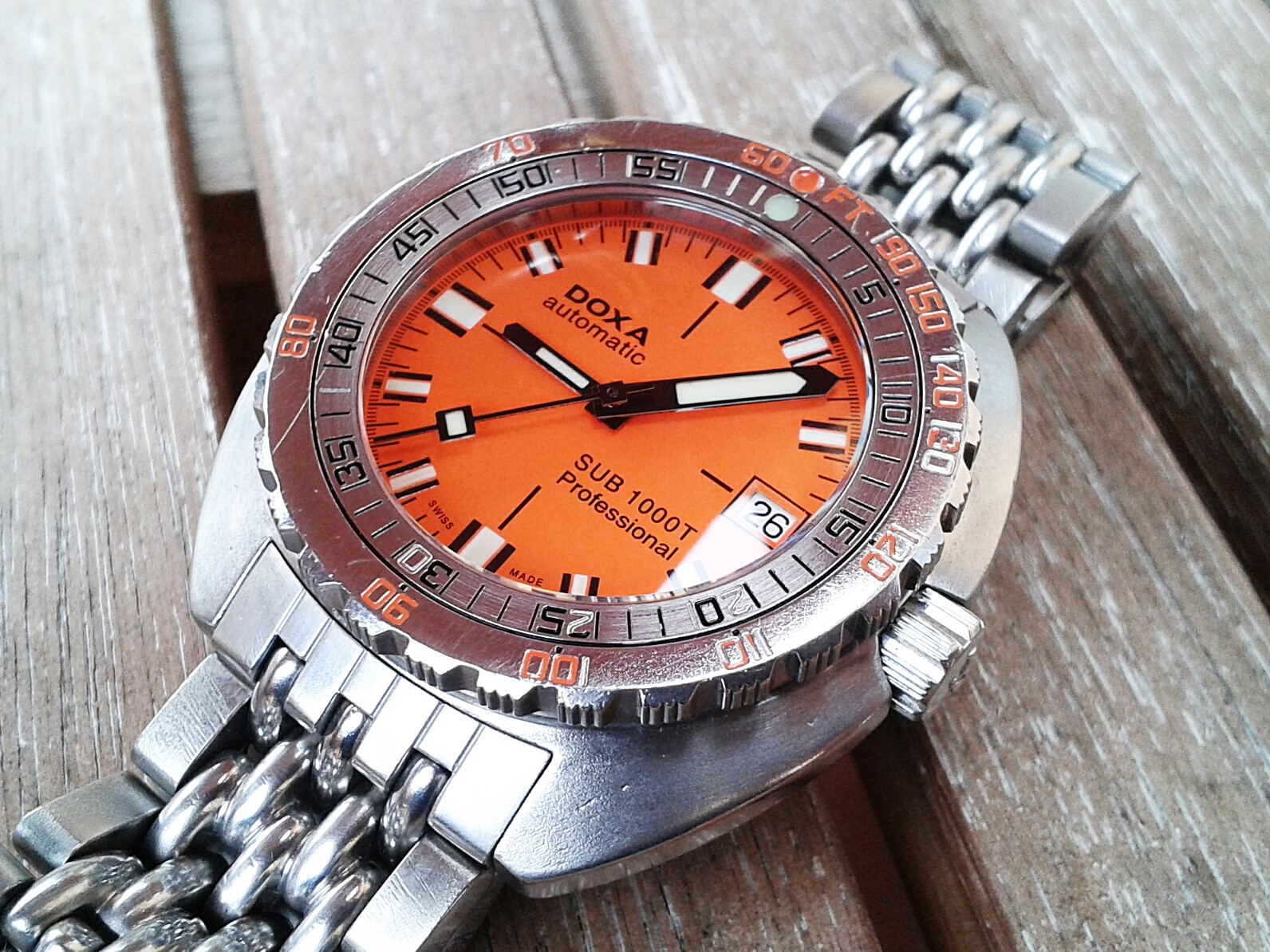 A very special finish on the case.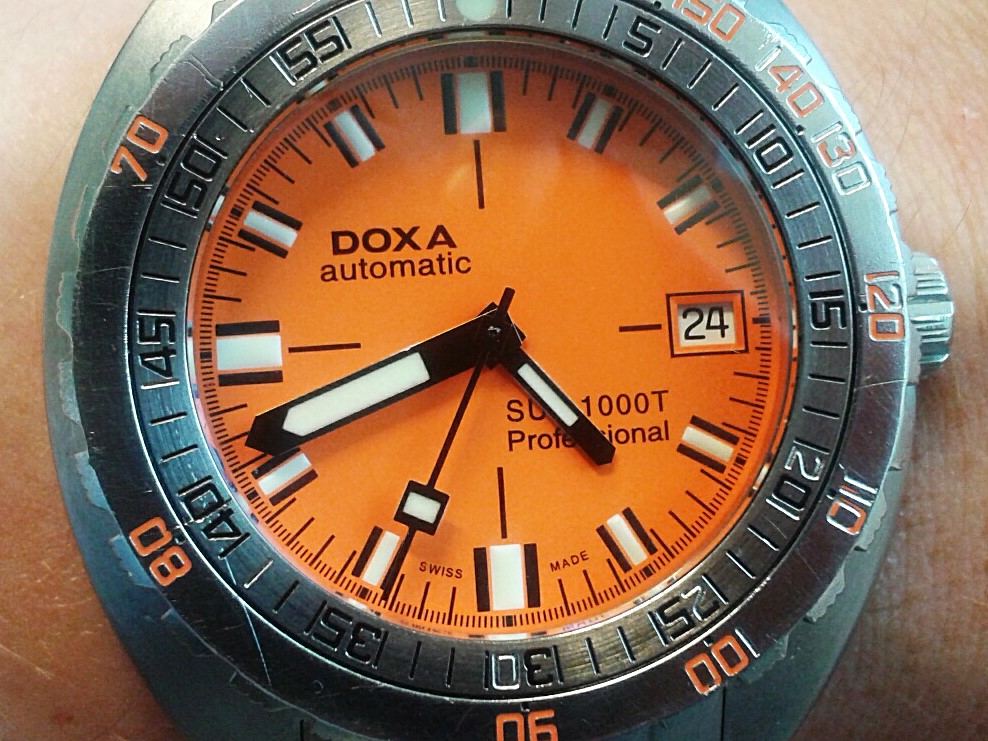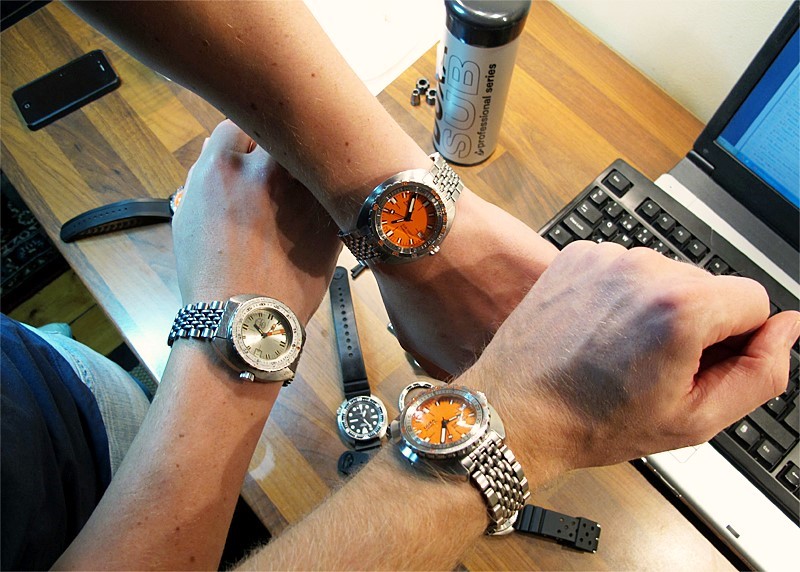 Magnus's vintage 300T to the left, my 1000T in the middle and Magnus's new 1200T to the right. Various Seiko's on the table.
It used to belong to my dear friend Magnus and I was nagging at him all the time trying to convince him to let it go. Then one day he said he might be interested in

parting with

it if he could find a newer 1200T. So what else could I do than to localize one and offer it to him as a trade? It took a long time for me to realize that the 1000T was finally mine. I loved it so much. This was in the end of 2012 and I had it for over six months. Then the one thing happened that wasn't supposed to happen. I was asked if I wanted to sell it and the buyer told me to name my price. I really didn't want to let it go so I

returned to

him with a quite a high

proposal

hoping he would reject it. He didn't and I felt I couldn't back out. I felt so bad about selling and I even felt worse towards Magnus so I

let

him have half of what I had earned in the deal. It then went off to switch owners a couple of times before I was offered to buy it back, which I did. But I was then on the hunt for a 600T and sold it again becuase I thought the 600T was going to be better. Now it seems to be stuck with a collector which it really does deserve. I've tried to retrieve it but without any lu

ck.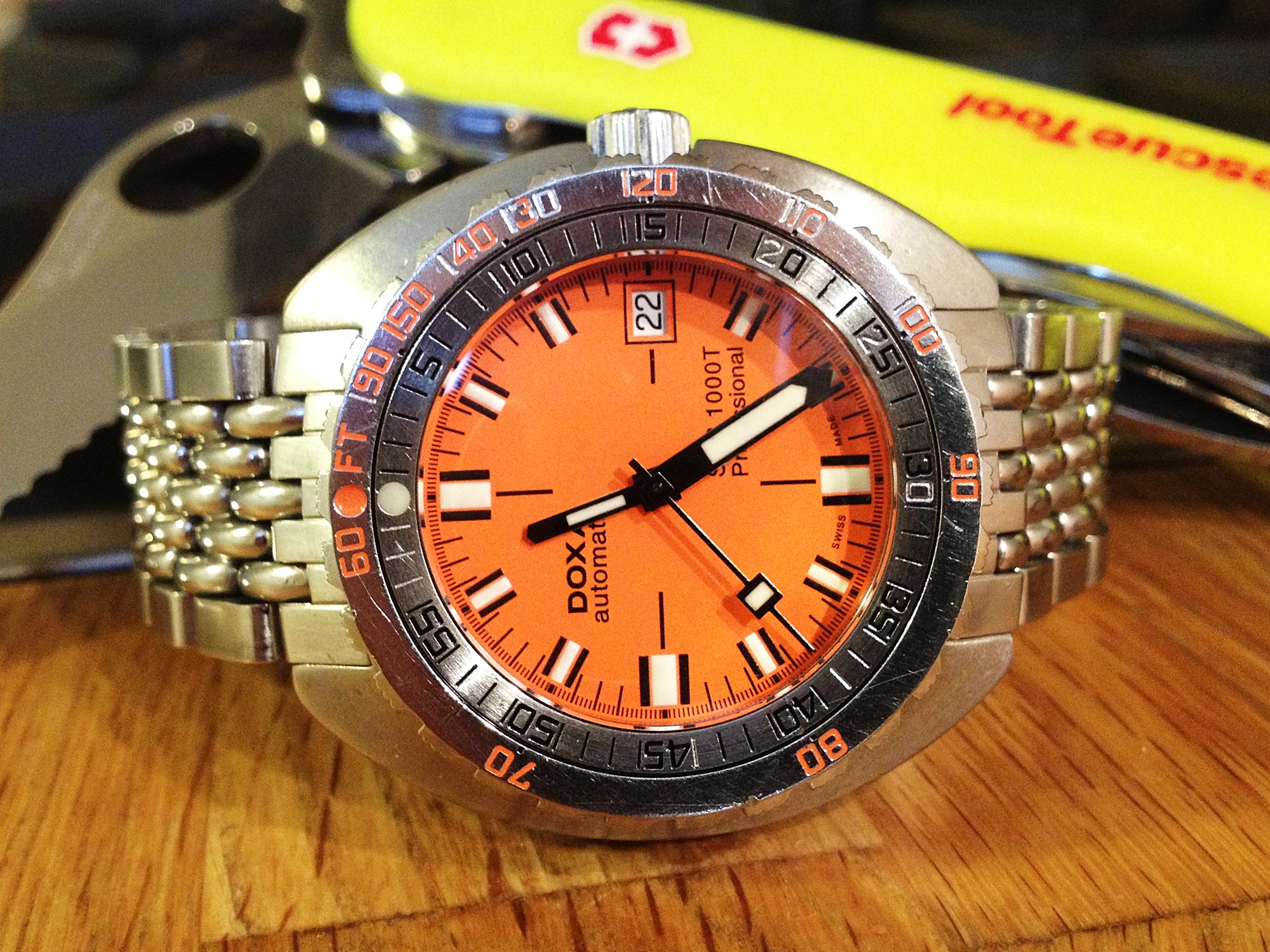 Together with my Victorinox Rescue Tool in the background.
This watch got to go on plenty of adventures. It really was my main watch for quite some time and even though many other watches came and went during this period they only got to stay on for a day or two. It was great and its rough finish made it very easy to wear without having to be worried about it getting scratched. In fact,

new scuffs and marks just made it look better.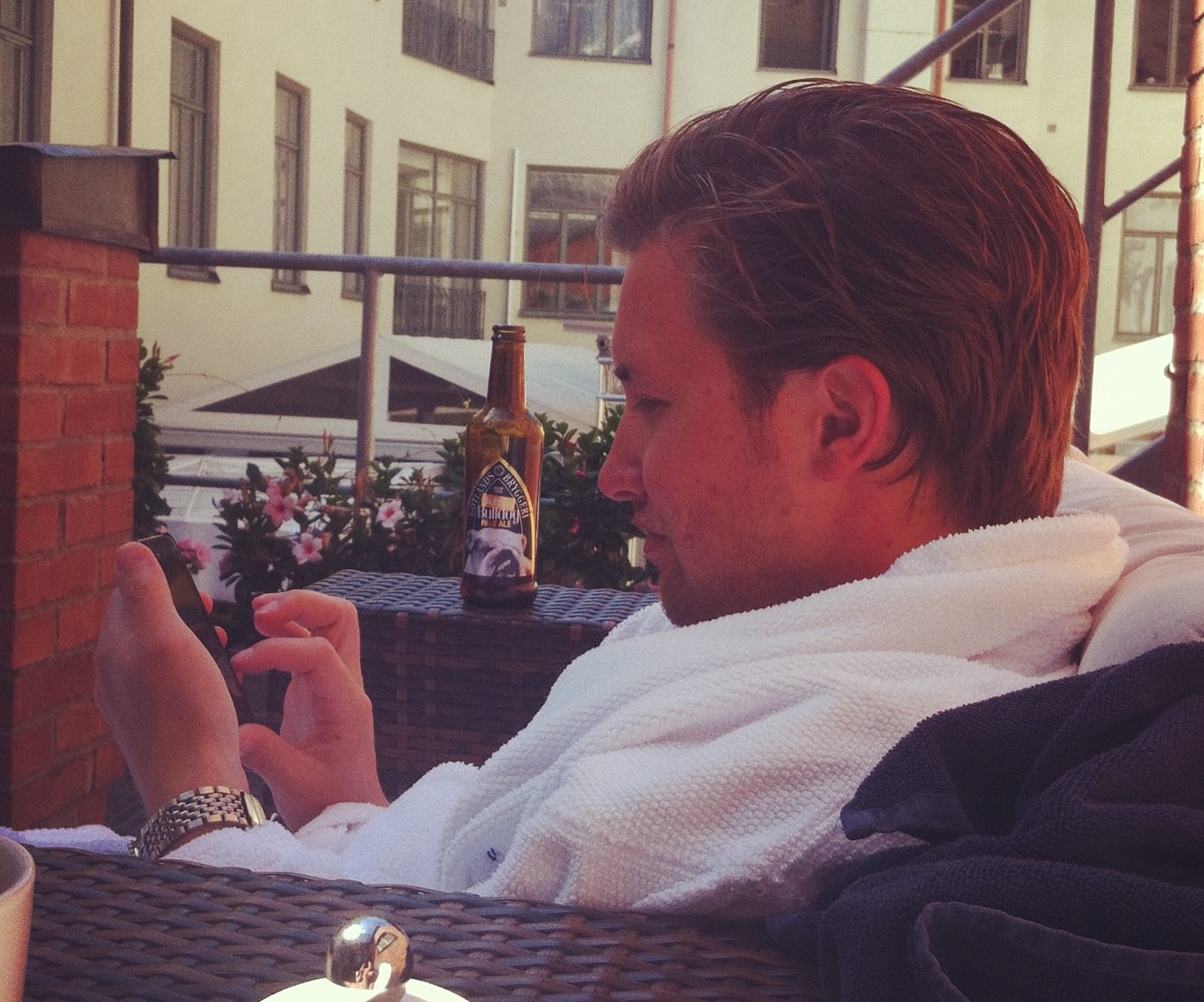 Relaxing at Sturebadet Spa in Stockholm just before my wife and I was about to leave for our wedding in June 2013.
I didn't know back then but now I know that the 1000T really was the best. I've since owned the 600T as well and even if that one also was really really good I still feel that the 1000T is the one I've been most happy with. I think I'm pretty done with Doxa now. The only one that I could still be interested in would be a 1000T Sharkhunter with all white hands and preferably

it would be

the COSC-version.
UPDATE - September 8th 2016.
I recently managed to get a hold of a beautiful specimen of the 1000T Professional. I'm not kidding when I say it wasn't far from being NOS. I actually took it as a part trade for a Sharkhunter 1000T COSC (Yes I know! I finally got one! But that's another story). Even though the Sharkie was awesome I figured that if I'm only going to have one Doxa, what should it look like? It should be orange. No doubt about that. But then all of a sudden all these pictures of the new 50th anniversary SUB 300T start

ed to

pop up everywhere and I just couldn't think straight. The new 300T truly does look fantastic and I'm pretty much 100% sure I will buy one. But will it be better than the 1000T? Well, I guess I just have to find out the hard way.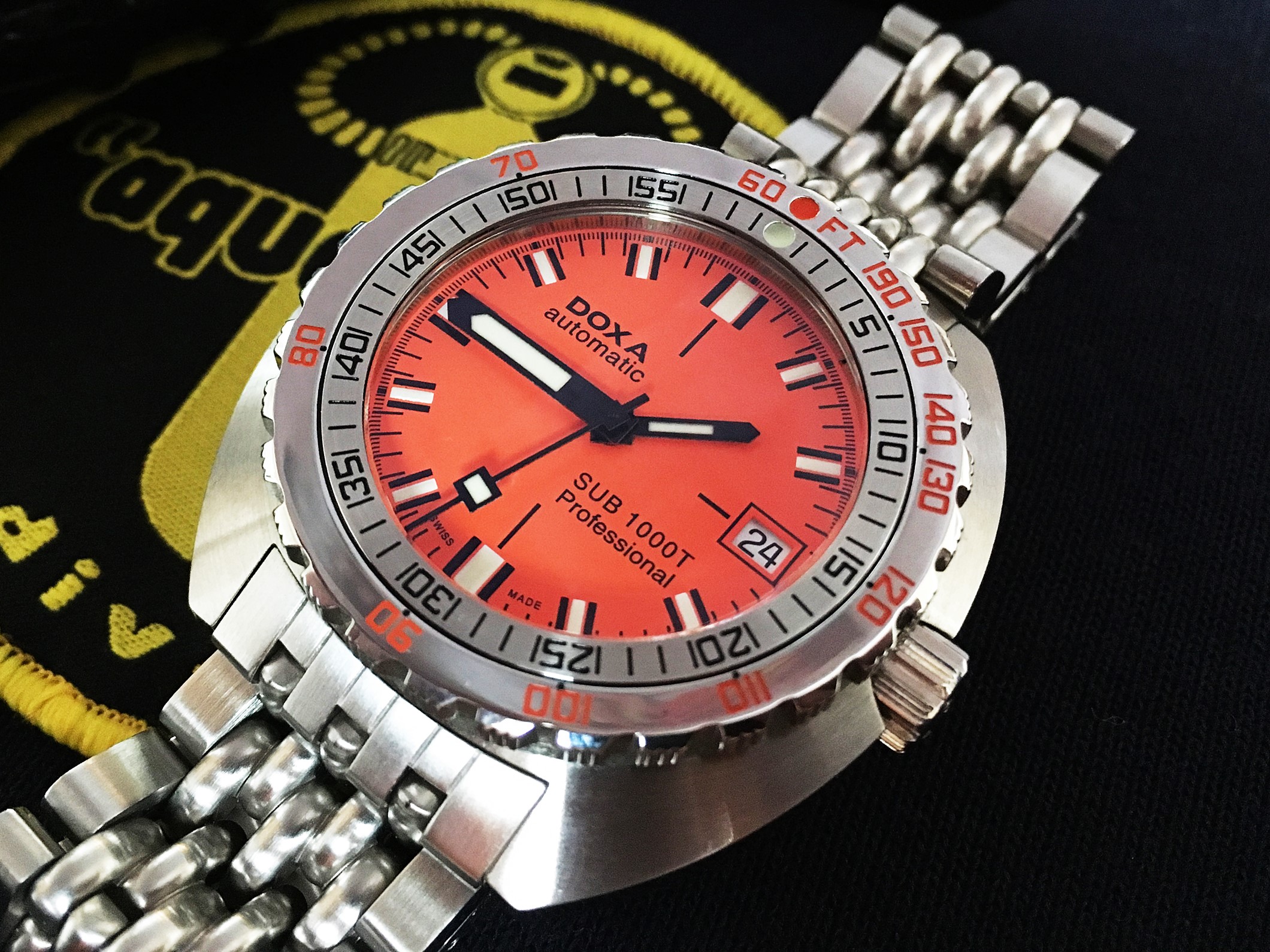 #314 - The second one resting on top of a Aqualung patch for a little vintage vibe.
© All pictures by a Watch Flipper's Diary unless noted.