We have reached the middle of November 2012. The Landsort really got me turned on to the Sjöö Sandström brand and when I was given the opportunity to purchase a brand new Royal Steel Classic I, to a 50% discount, I couldn't resist. My new favorite brand in the size of a Rolex Datejust. Perfect! What could go wrong?
Not much really. The 37mm Royal Steel was great! Fun design with the crown positioned at two o'clock. It wore well and the clean configuration I had with the silver dial was super easy to wear with every style of clothing. It had an ETA-based 2824-2 movement which ran great. Not much to complain about. However, there were a few details that bothered me. Some more and some less. First of all – push pull crown. That's a deal breaker if something. Second – PCL. Not a huge fan of polished center links but I can live with it. Third – Non-tapering bracelet. The bracelet was quite thick and solid and when it didn't taper towards the buckle I sometimes was given a feeling that I was wearing just a bracelet and not a watch. On such a small dresswatch I would have preferred it if the bracelet could have been a little skinnier and not as wide and thick. But honestly, now I'm being picky. Ok, not about the non-screw down crown, but regarding the other details.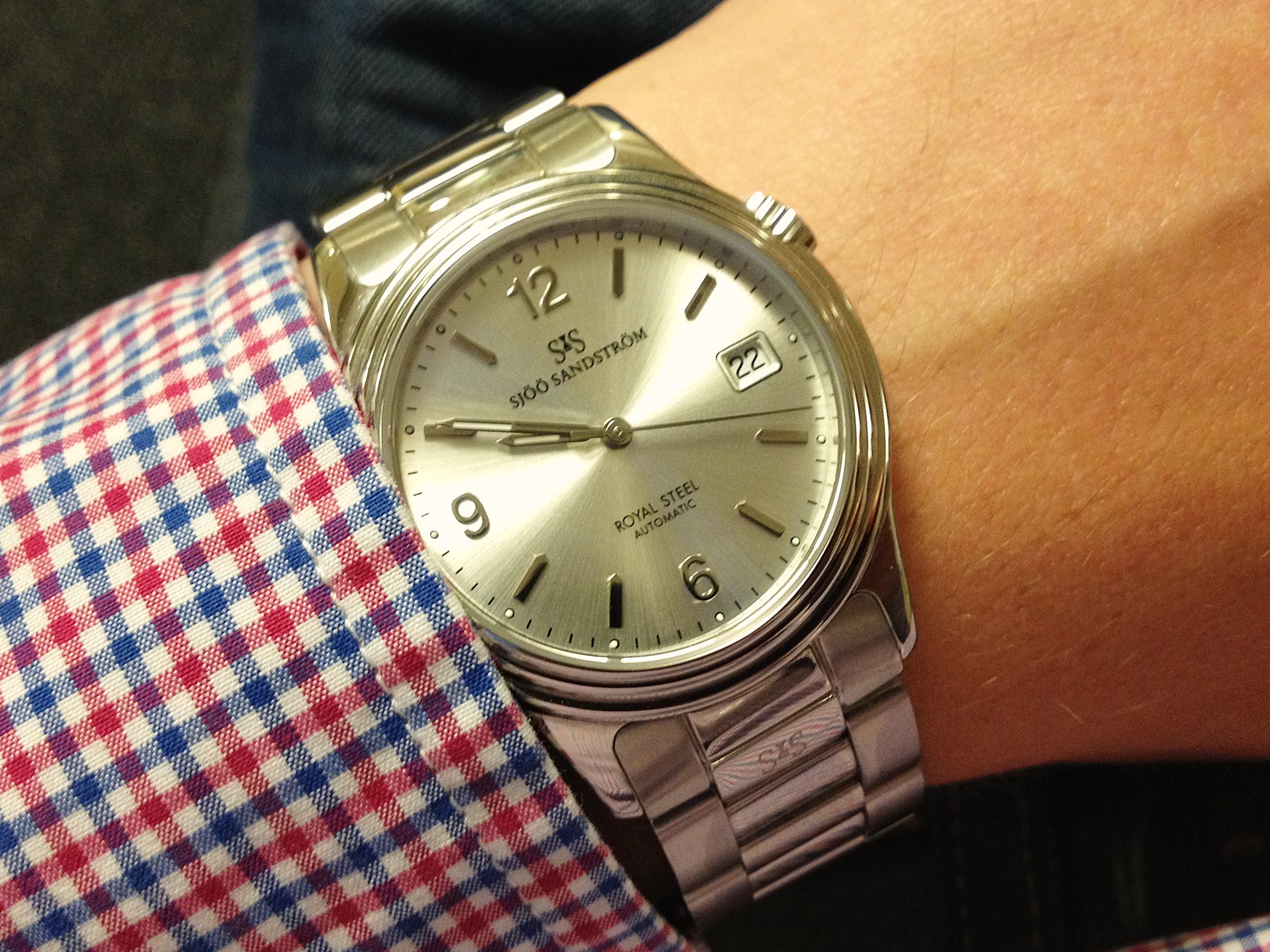 Blurry wrist shot, I know, but these were the only pictures I took.
I could easily go for another Royal Steel Classic again. I would still choose the 37mm, and not the 41mm version which is too big for my 7' wrists, and I would want the black dial with rose gold indexes and hands and wear it on an ostrich leather strap. Killer combo! Being from Sweden I think it's much funnier to wear a watch like this instead of a regular Datejust which seriously express nothing at all. I'd rather wear a Sjöö Sandström and feel proud of my heritage while at the same time looking great.
© All pictures by a Watch Flipper's Diary unless noted.