One of the true icons out there. The Doxa SUB. This is a fact you quickly learn while browsing through all the watch forums. I kept my eyes open for one constantly but as soon as I found one they were all located in the US and also quite expensive. The 750T Professional was the first Doxa that popped up on my radar that was available for me to buy within Sweden. Up until then I had only been buying watches for less than 10.000 SEK (approx. 1160USD with today's exchange rate). It took some time before the seller and I could agree on a price. I wasn't ready to break and exceed the 10.000 SEK limit just yet and finally that was the price where we settled. It was a full set complete with the tube and the tool for the sizing of the bracelet.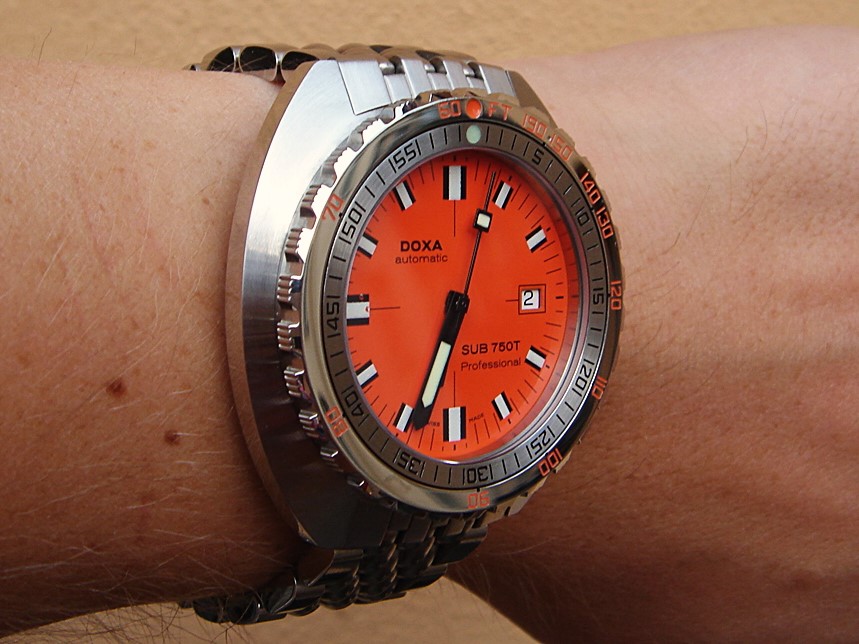 #49 - The Doxa SUB 750T Professional. Full set.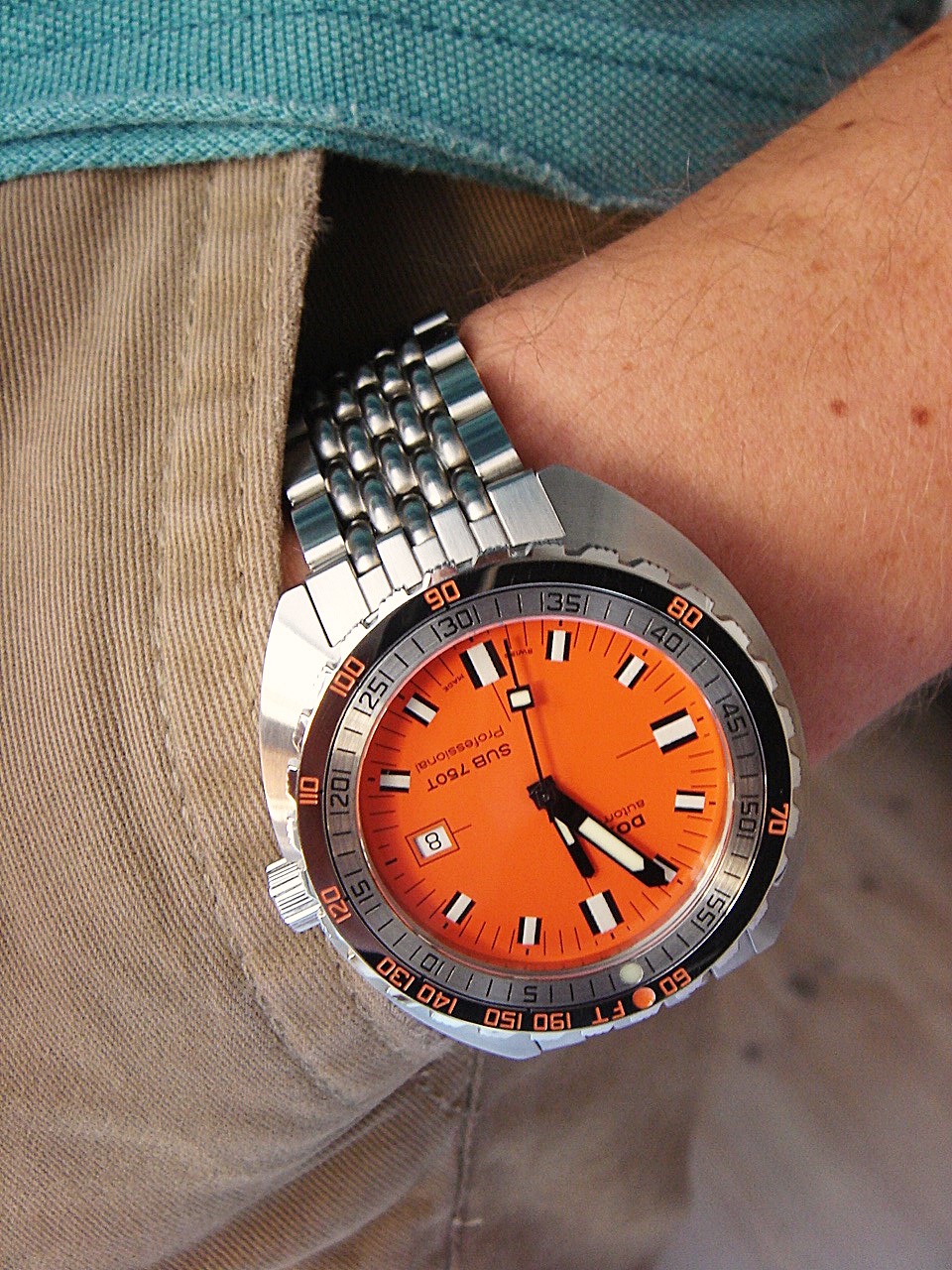 I absolutely love the look of the Doxa SUB and I prefer the Professional model with its orange dial. Everything about the appearance just feels right. It can't be mistaken for nothing else than a diver's watch. Even though I'm not totally sure of how to use the bezel and its markings I love the look of it. All the SUB re-issues got their own measurements. The 750T is one of the larger ones and measure 44mm excl. the crown. I quickly realized the proportions weren't perfect for me. It felt too big. I didn't like the thin font that was used on the dial either. It should have been thicker according to me. It got to accompany me for a month or two before I decided to let it go and try another model.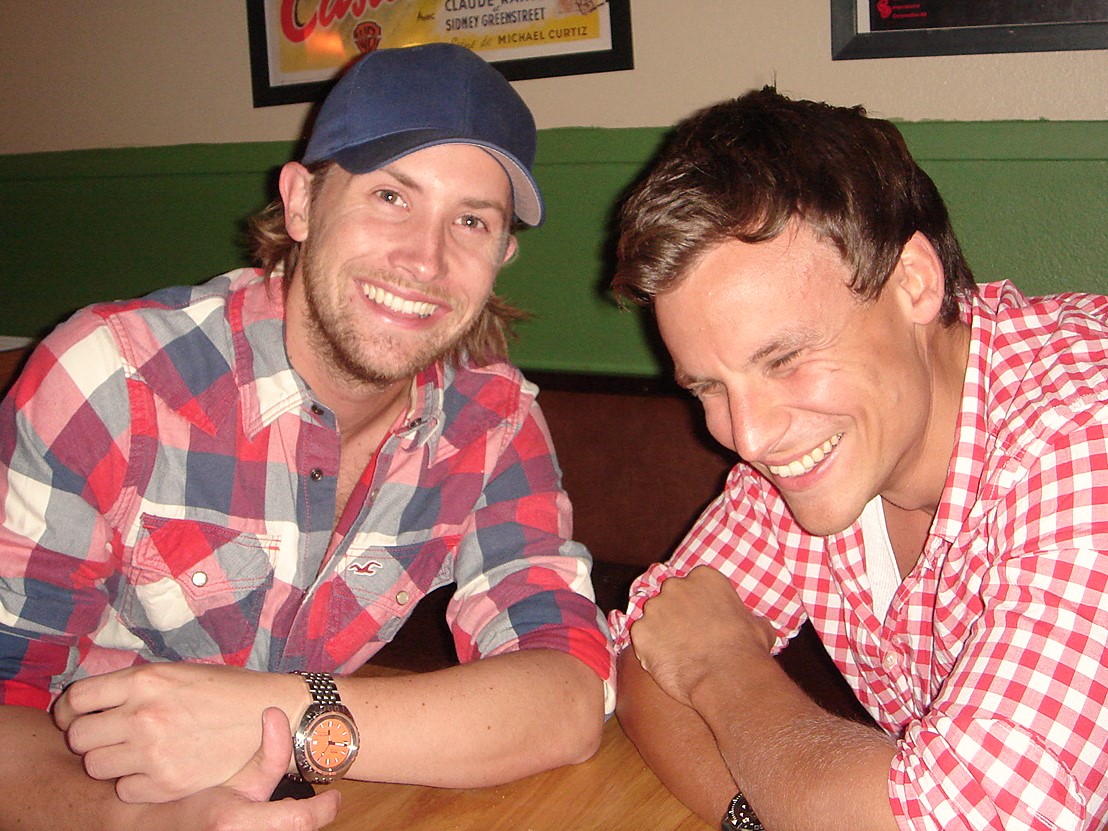 Waiting for burgers together with Oscar at Uplands Nation in Uppsala back in August 2010. You get a glimpse of the Victorinox Divemaster that I sold him earlier the same year.
Lately Doxa has produced some really weird stuff. Especially their Asian line feels really cheap. They are so ugly and don't deserve to be called Doxa. It really makes me sad to see they've sold out their brand. Their re-issues of the classic 300T, like the 600T, 750T, 1000T & 1200T, were all really great but the models like the 800Ti, 4000T & 5000T doesn't speak to me at all. I don't like the new design of the bracelet and things like power reserve or tritium tubes (even though I love tritium tubes) doesn't feel like features that are very Doxa-like.
I have never owned a vintage SUB and since I'm not a big fan of vintage watches at all I probably never will but a SUB 600T Professional (without Dirk Pitt printed on the dial please!) is something I really would like to own. I actually had a 600T being delivered to my hotel, The Drake, while staying in Chicago for a week together with my wife for our fifth anniversary in April 2012. I kept asking the reception every day if there had been a delivery made for me but nothing showed up. On the last day of our stay the seller contacts me and says he received the package in return. Apparently there had been a huge delay at the Fedex hub in Memphis due to bad weather conditions and for some reason the package went back to him instead of continuing its route to Chicago. I was so disappointed that I bought the first Doxa that showed up when I came home to Sweden which turned out to be a 1200T Professional. More about that one later.
© All pictures by a Watch Flipper's Diary unless noted.