I'm a big fan of Formula 1 and I've watched almost all the races since the late 90's. Sometime in 2009 waiting for a race to start I found a bunch of old Formula 1 magazines at my friend Gomez's house and on the back cover of one of them there was an advertisement for Zodiac watches. It showed a woman from neck down standing in front of a pool wearing nothing more than a badingsuit and a big diver's watch that was hanging loose and low on her wrist. It had a square case and a green bezel and it really got my attention. I went home after the race was finished to go online and find one. This was my first real taste off "the hunt". It turned out that the model was called V-Wolf. To my luck I immediately found a used one in good condition but with a black bezel instead of green. I really wanted that green one, that's what had turned me on, but the one I found was cheap and looked awesome so I went along and bought it anyway. The V-Wolf measures 44mm excluding crown, has a screw down crown, quartz movement and is water resistant to 300m.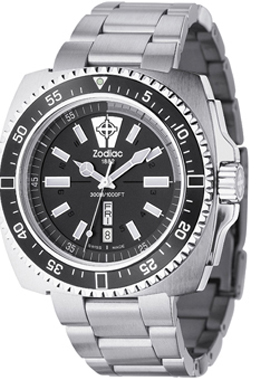 Product image of the Zodiac V-wolf with black bezel, ref Z02300.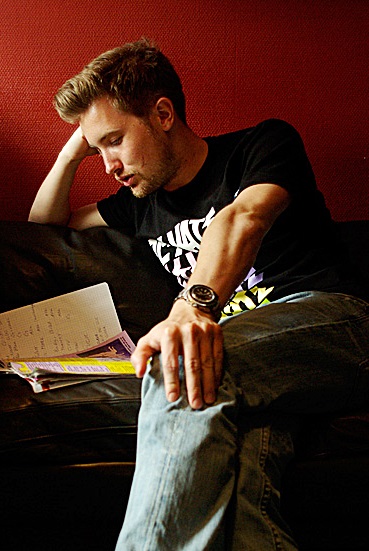 #5. Solving cross word puzzles in the studio in May 2009 during the making of my band Jaganata's one and only full length album.
I hadn't realized how big it actually was until I received it. It was huge! And it was heavy with its solid bracelet. It felt that it could take a serious beating with that thick steel square case. Anyhow, I couldn't stop thinking about the green bezel version and decided to get rid of the one I had. I actually put down the black one as part payment for watch no 9. The hunt could begin again.
It didn't take long before I had a green one hooked but to my disappointment it turned out it didn't made me any happier than the black one had. The V-Wolf's turned out to be cool watches but too big and heavy for me to wear.

For some reason though, and I'm not sure why, I find myself buying yet another green one in late December 2013. Four years was obviously enough time to totally make me forget why I didn't like it. And on top of that I find a light blue version located in Greece that I also bought before I even have received the green one. Obviously I quickly came to my senses when I picked them both up at the same time at the post office and ripped the packages open in early January 2014. "Why did I do this? I am not going to use these". I put them up for sale at once. Anyhow, the light blue version actually looked very nice. That color combination takes away that Submariner feeling it otherwise gets from the black or green bezel.
Zodiac really has some cool watches, especially the old ones, but I haven't tried any other models than the V-Wolf. Except for the V-Wolf I honestly think that the newer ones look ridiculous. Anyhow, it's a brand that does have their own designs and doesn't go around manufacturing look-a-likes like many others and for that I will give them credit.
© All pictures by a Watch Flipper's Diary unless noted.