Once upon a time considered THE diver of all the Seiko divers. Nowadays there are plenty of new Seiko divers that cost a lot more but even though there are other models with the words "Marine Master" printed on the dial it is only the SBDX001 that really goes by that nickname.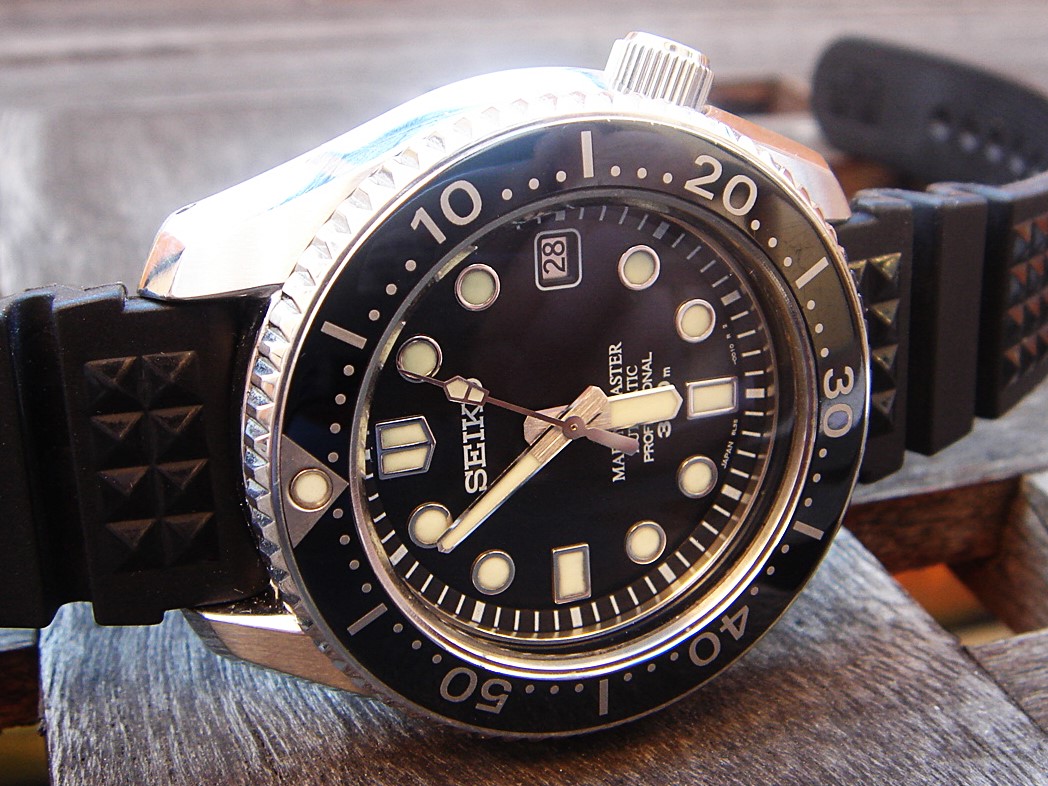 #77 - The Seiko SBDX001 Marine Master.
The SBDX001 looks so good. It's big (44mm) and thick and the proportions might be a little off but who cares. I bought mine in late April 2011 and it was delivered on the bracelet. I really didn't like the look of it on the bracelet and it wasn't very comfortable to wear. Too heavy. The rubber strap looks quite unique. Some love it, some hate it. I think it looks awesome! In the beginning it was quite hard and stiff but it softened up over time. I know some people who put their rubber straps in a coffee mug and then fill it up with boiling water to give it a rounder shape but I have never tried that. The details and the finish of the SBDX001 are great. The bezel is lovely to turn and the 8L35 movement runs so accurate and smooth. The sweeping of the hands are not far from behaving as smooth as on a Spring Drive Seiko. One other thing I really love about the watch is the one piece monocoque watch case. For me that's a sign of a true diver's watch. Also it has amazing lume!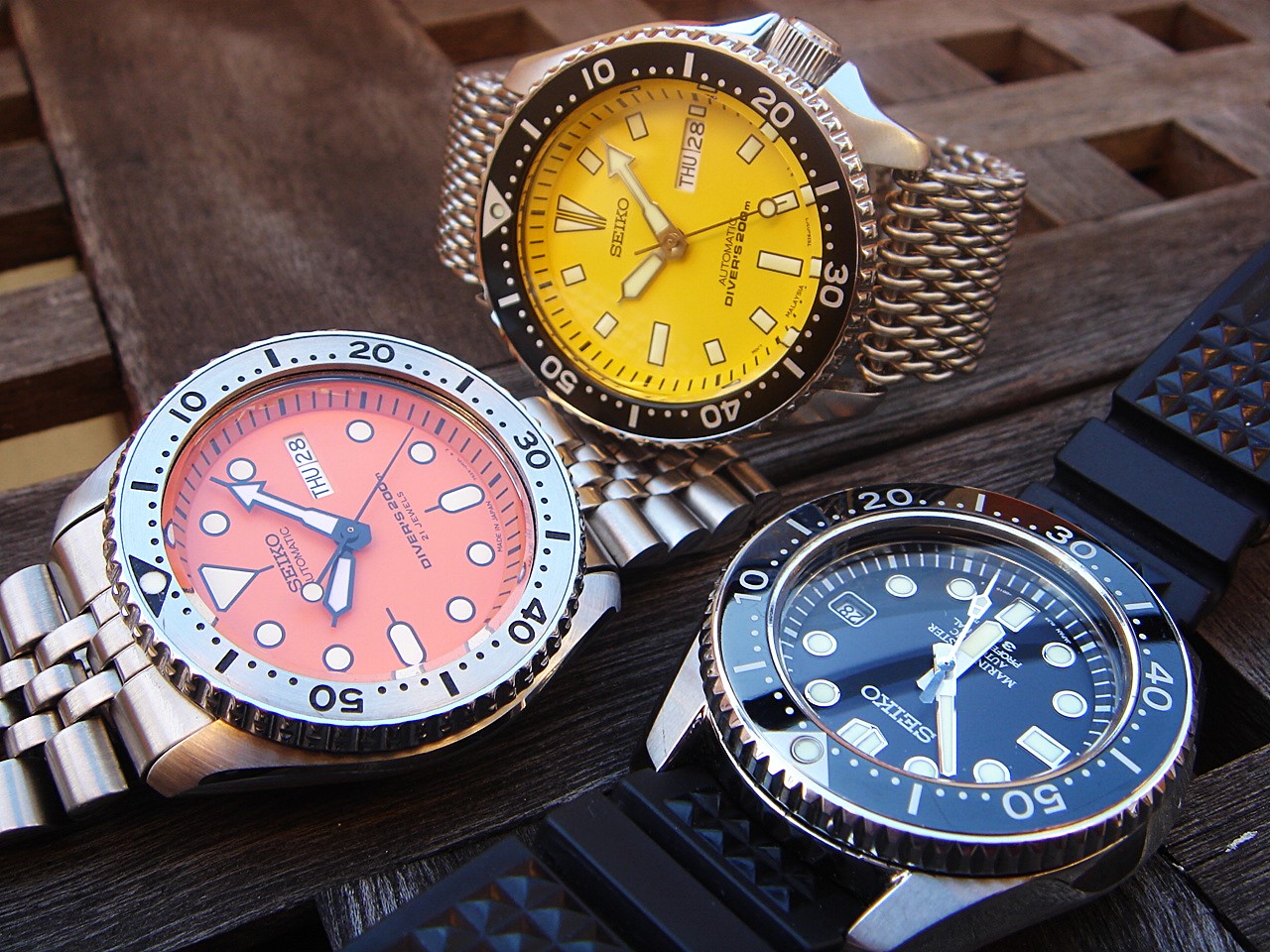 From left to right: Seiko SKX011J (modified), SKXA35 and SBDX001.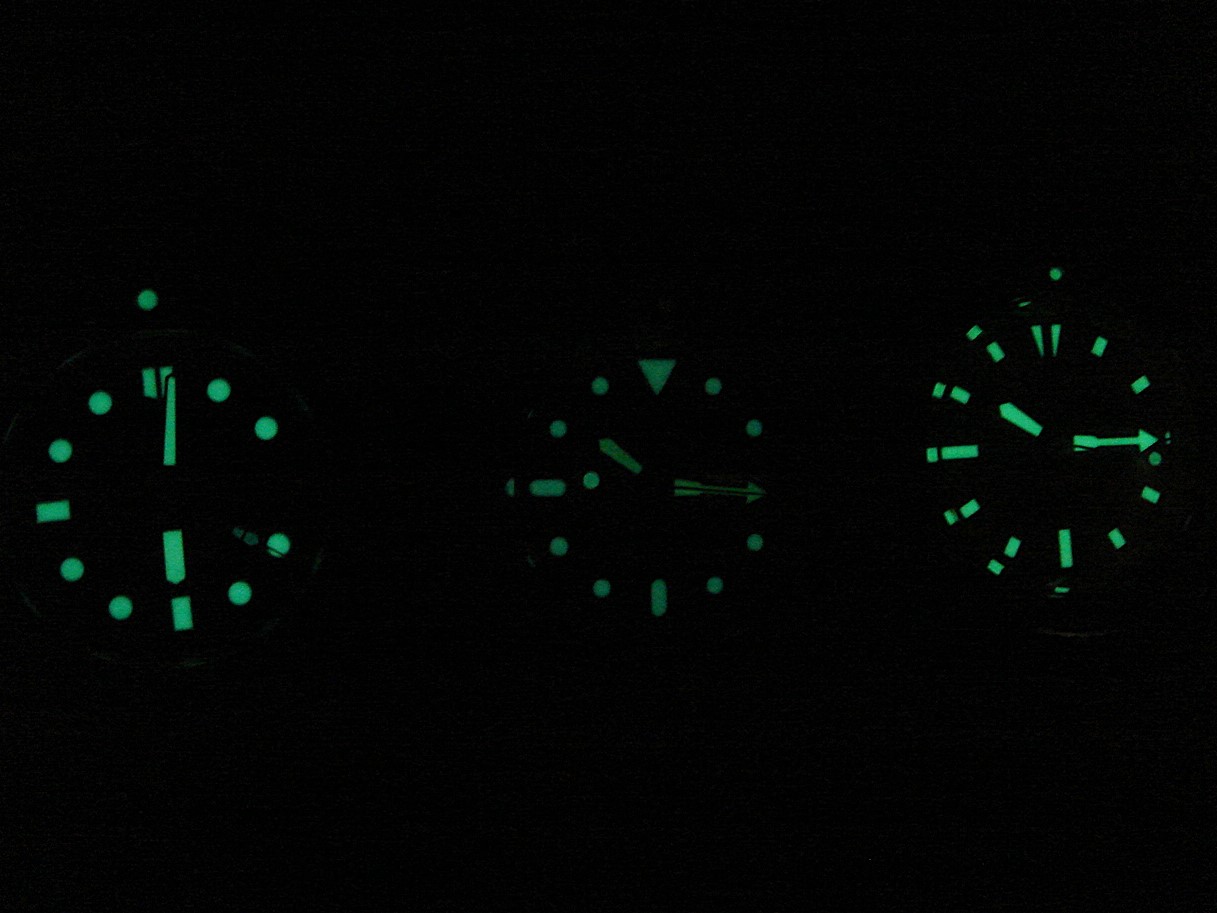 A lume comparison between the three.
I sold it because it was too big for me to wear as an everyday watch and to have it sitting around in the drawer waiting for summer vacation didn't feel good. A watch like this should be worn with love every single day. But it was just one of those that I had to try. It does cost a little more than the more common SKX-divers but the extra money spent does make a big difference when it comes down to all the details.
The SBDX001 was recently replaced by the SBDX017 which looks pretty much the same but has got some upgrades on the movement and has also got the new dia-shield treatment on the watch case and bracelet. There are also two limited editions of the Marine Master, the SBDX003 and SBDX012 with nice gold details, which are tributes to the original Seiko 6159-7001. The SBDX003 is my favorite and it has a given place in my future collection of keepers to come.
© All pictures by a Watch Flipper's Diary unless noted.