I can't believe it's already been a year since I started writing. Actually everything began much much earlier than that with sorting all the pictures and putting together the chronological order of this large puzzle. 70 different watches have been presented during this year, or 126 if choose to count all the doublets, and it feels like I now have gotten over some sort of hunch. Looking at the list of watches to come I feel much more excited about them than about the watches I've already written about. I know I haven't been 100% consistent when it comes to categorizing all the watches. Perhaps the two Breitling Seawolves should have been in the same post but to me it felt like two different watches and the thought of bunching them together in one post didn't occur to me until later when I wrote my latest post about the Rolex Datejust 16030 only a couple of days ago. Originally I was planning on presenting the Datejust's separate as well but somehow it just didn't feel right. They belonged together somehow. But would it have made sense to bunch all the Seiko SKX diver's into one post as well just because they basically are the same watch but with different colored dials? Their reference numbers aren't the same and also to me they have felt like different watches so I have to answer no in that case. To be fair, the three 16030's would also technically have different reference numbers when they have different dials but they are always referred to as the 16030 regardless which dial they are fitted with so that's why I changed my mind and chose to keep them together. I have at least a couple of similar dilemmas coming up in the future and I haven't really decided how to tackle them. I guess it's going to depend on whether I have something interesting to say about each watch that will determine if it's getting its own post or not. I'm not sure you're following me on this one but what I'm trying to say is that I'm aware of my inconsistency.
The fall has been all about being home with my son, playing in parks and preparing him for kindergarten. I'm still collecting new material but during the last six months I've only been flipping about two watches per month. I'm really looking forward to reach the present day instead of writing about watches I don't have in my possession anymore. It's sometimes really hard to remember everything correct. Sure, I can Google most of the technical details but I rather try to describe the watch as I remembered it. If I'm unsure about a fact I usually say so or choose to not mention it at all. Anyway, it will be much easier giving an accurate evaluation writing about something I'm actually holding in my hand. During the fall I have pretty much been wearing my Rolex Submariner 14060M every single day with the exception for a day or two when a new watch has arrived that has to be tested.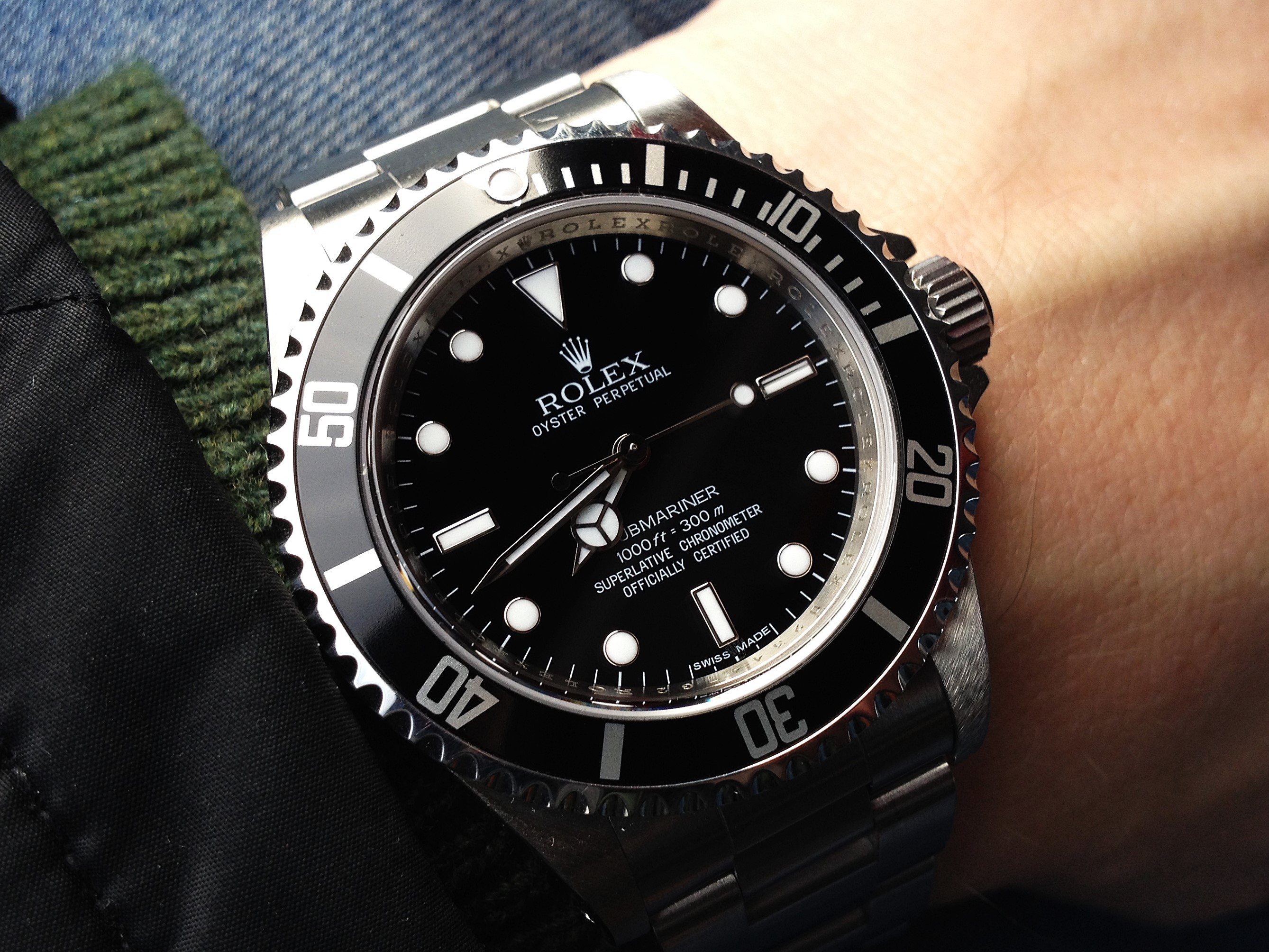 #255 - The Rolex Submariner 14060M. A gift from my beautiful wife and therefore a given keeper.
I have an incoming watch that I have been looking forward to for so long and I'm so excited about receiving it. It usually pops up quite often on forums like Watchuseek so it's not an uncommon watch it's just that I've always missed them for different reasons whenever they have been for sale. Usually they have sold fast or the seller wouldn't want to ship overseas. This time though I managed to convince the seller to put his trust in this humble Swedish watch enthusiast! Since it's going to be a while until I can write about it here on the blog I might as well let you know that it's a Korsbek Oceaneer. In my opinion it's one of the coolest dive watches from a micro builder ever made. The minute hand must be the meanest looking ever. Perhaps not the most interesting watch among dive watch fans, I don't know, but I have really been looking forward to try one and from what I have read about it it's supposed to be really great. I'm sure it will be one of this year's highlights.
Thank you for following the blog and stick around for more watches to read about. Feel free to contact me with questions!
Merry Christmas and a Happy New Year!
© All pictures by a Watch Flipper's Diary unless noted.