It took me almost one hundred watches before I finally decided to give Rolex a try. I'd been a bit reluctant towards Rolex just because it just felt so common and boring. You see Rolex watches everywhere you look and wearing a Rolex doesn't automatically make you a watch enthusiast. I mean, if I would see someone wearing a Datejust and I would walk by flashing my own Datejust while saying "Hey man, I like your watch", the person would probably just have looked at me saying "Yeah right, nice, gotta go!" but if I would have been wearing let's say a Doxa SUB I'm pretty sure the response would have been quite the opposite and we would have gone to the closet pub, have a couple of beers and become best friends. I'm not saying people wearing Rolex's aren't watch enthusiasts, many of them are of course, but it's impossible to tell from by just looking at his or her wrist. I've given compliments to people with rare vintage Submariners or old Explorers, taking for granted they must be at least a little nerdy, and they would be like "What? You mean this old thing?". I've always wanted to wear something that says "Hey, look at me, I really know my shit and have given my choice of watch some careful thought and I'm not just wearing this because it looks nice or tells the time".
The search for a Rolex began one day back in 2011 at my parent's house when I discovered a box for a Rolex Datejust 16030. It had the outer and the inner box and contained the books, the certificate, a jubilee bracelet and some other various parts but the actual watch was missing. I started looking through some old photographs and could see my dad wearing something that looked like a two-tone 16013 Datejust on some sort of leather strap. I asked my dad about it and he told me he'd bought the watch back in 1982 and that he a couple of years later changed the dial, crown and glass ring to gold and put it on an ostrich strap instead of the jubilee. When I asked him what happened to it he said "Remember that break-in in Spain we had when you were young?". I remembered it indeed. This must have been around 1988 or something. We'd been on the beach the whole day and when we came home I ran up the stairs and got greeted by this hole in the wall where the front door usually used to hang. The thieves had of course taken everything of value including the watch but that wasn't anything I remembered. All I could remember was me worrying about that my G.I. JOE figures, which I wasn't allowed to bring to the beach, wasn't among the stolen items. Fortunately Snake Eyes and the rest of the guys were fine and the incident didn't bother me as much as it must have bothered my parents.
I finally had found a good reason to buy a Rolex. I decided to find a Datejust from 1982 to match the box but when I came across one from 1984 I figured it might be funnier to have a watch from my birth year. The certificate wouldn't match the watch anyway. I actually got to throw in my MKII Sea Fighter in the deal as a part trade and didn't have to put up with much money in between. The watch came on a quite stretchy jubilee (which I later got cheated on for $50 but that's another story) and had a faded blue/purple dial. The watch head was in great condition and seemed to be unpolished. I had all the remaining parts left in the box to be fitted in the watch so that it would look just like it did when my dad bought his watch back in 1982. It turned out great! Up until then I really hadn't understood what the thing was about the Datejust. To me it had been just a small dress watch. Boy had I been wrong! The Datejust must be one of the most versatile sports watches ever built. It doesn't feel or look small on the wrist at all. It works in every occasion and is easily matched with all types of clothing. It also has a huge variety of dials to choose from which makes it easy to avoid it become boring.
I wore the watch for about two weeks before I did what I knew had to be done. Hand it over to my dad. By doing that I saved myself from accidentally selling it due to temporary delirium (which have caused me selling too many watches that I should have kept) and I also made him very happy. He's been wearing it every day since he got it in September 2011. I've managed to borrow it sometimes but he always wants it back fast.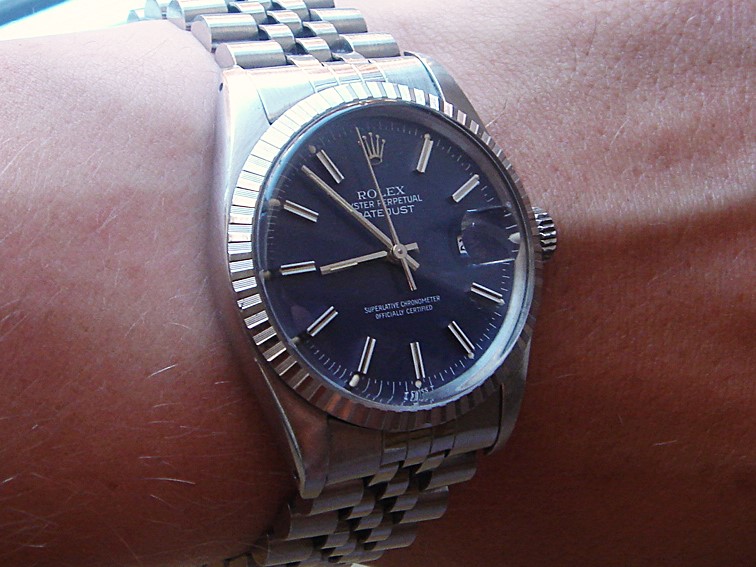 #96 - The Rolex Datejust 16030. My first Rolex. Here with the blue/purple dial.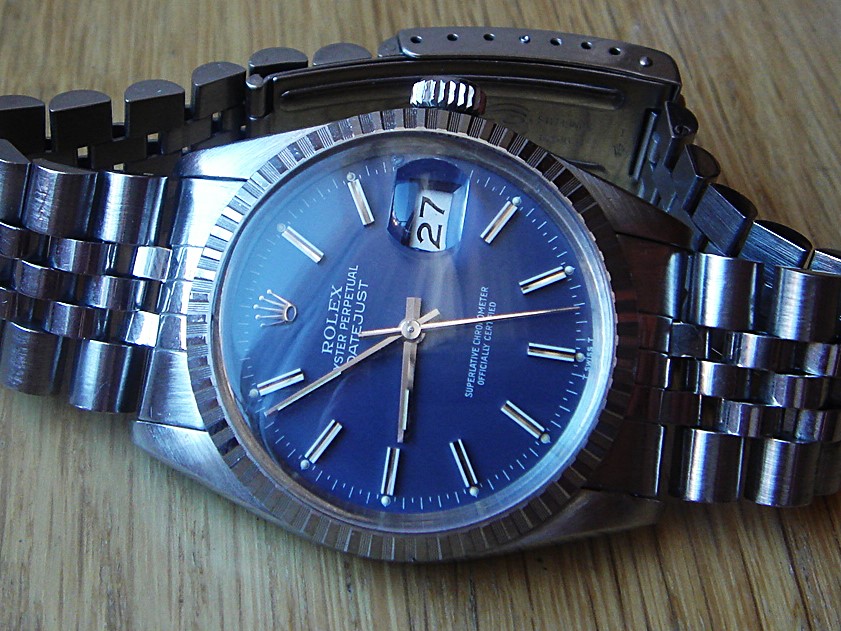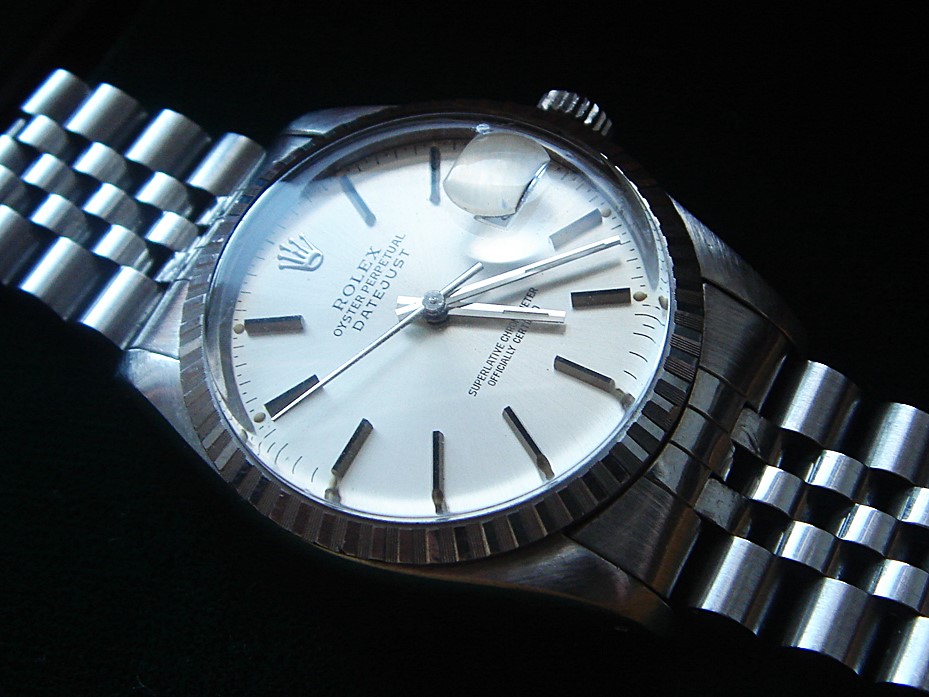 After the change to the spare parts from the watch that got stolen.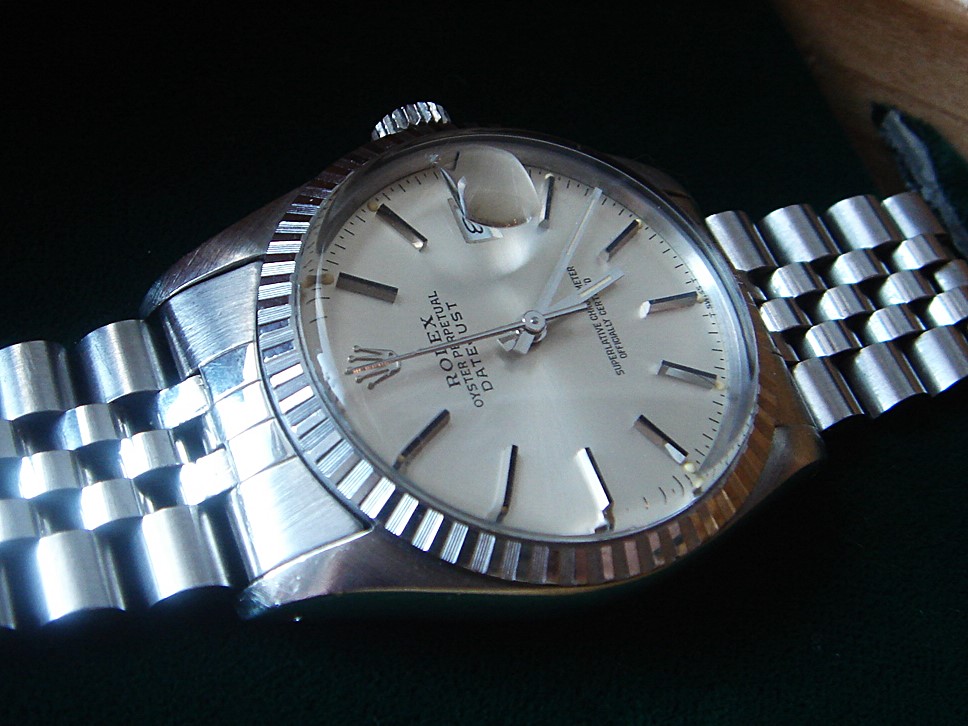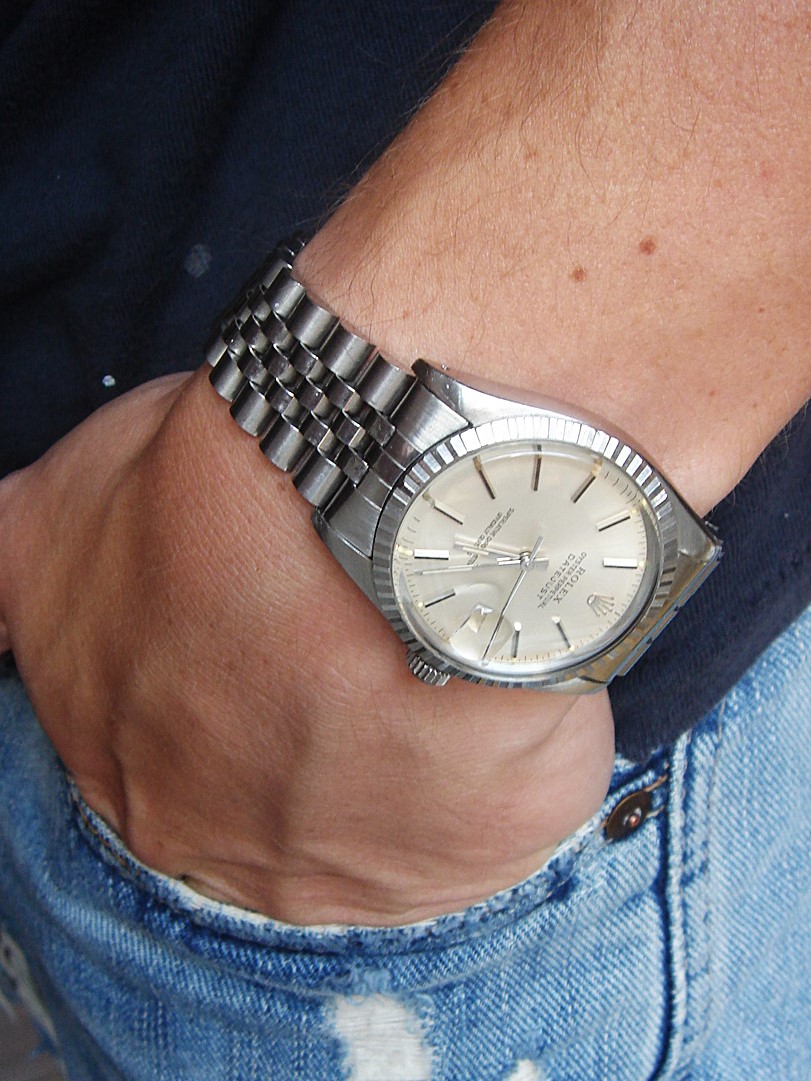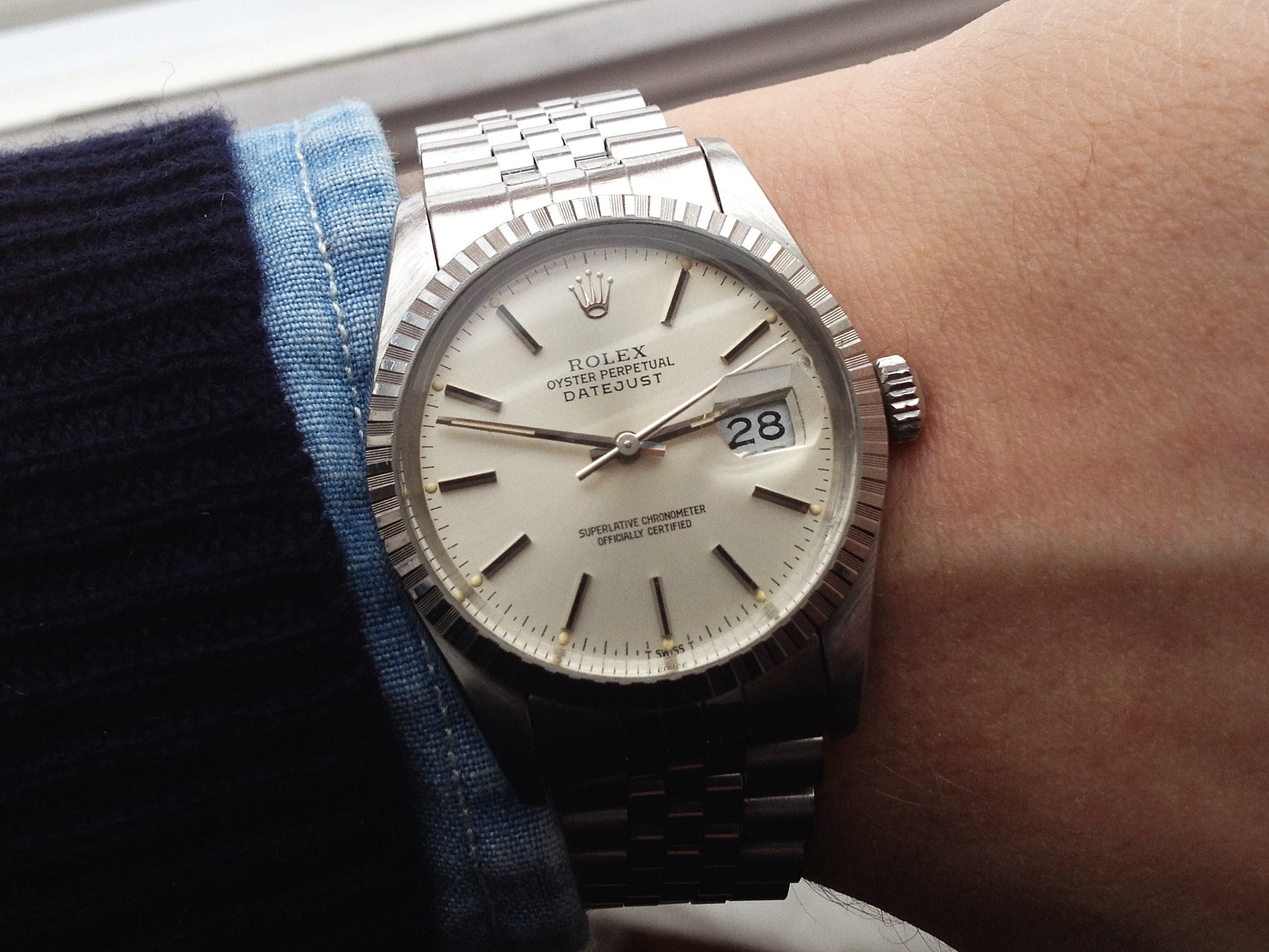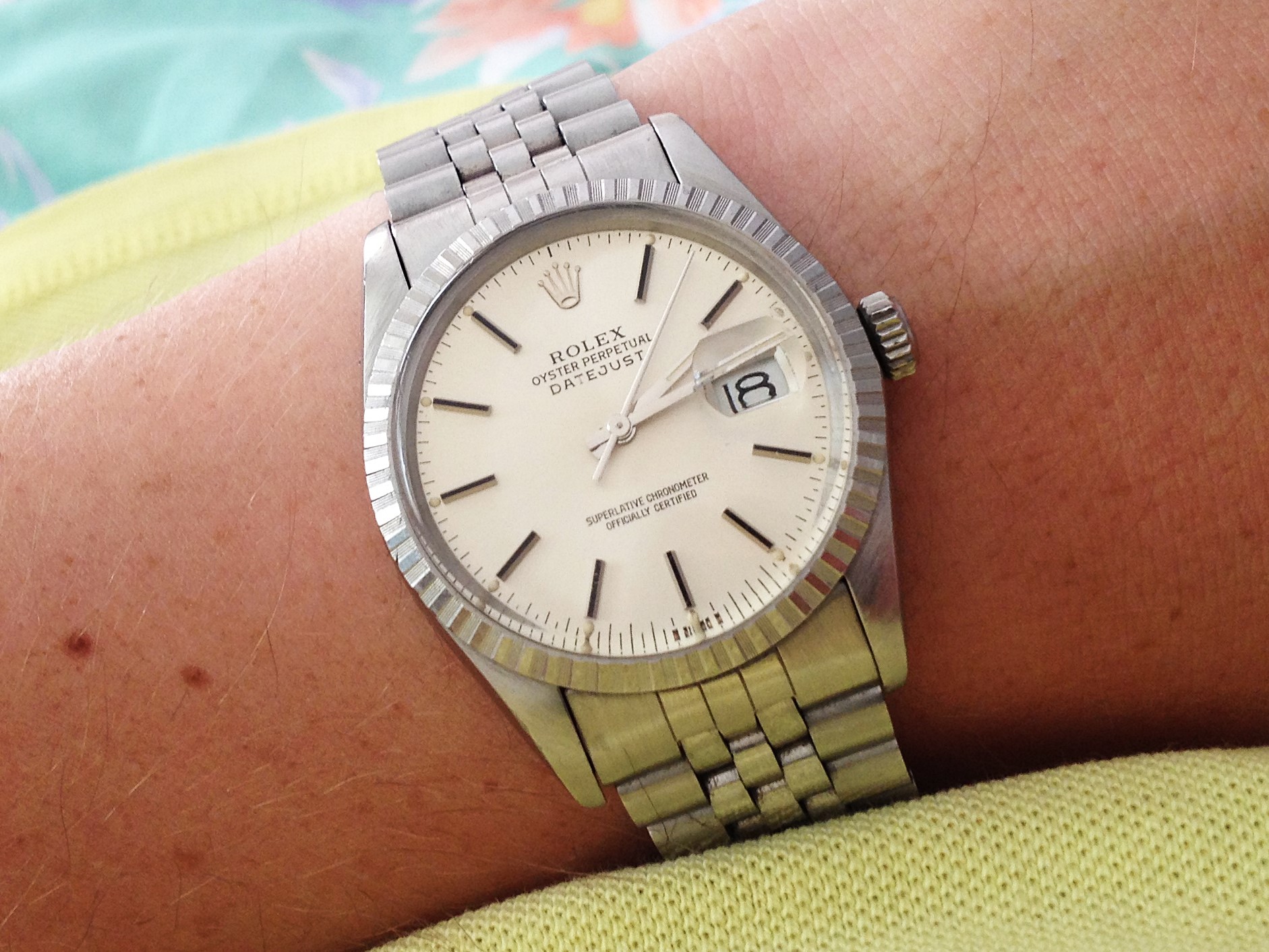 On a hotel bed in Ft. Lauderdale watching USA's Formula 1 Grand Prix back in November 2012.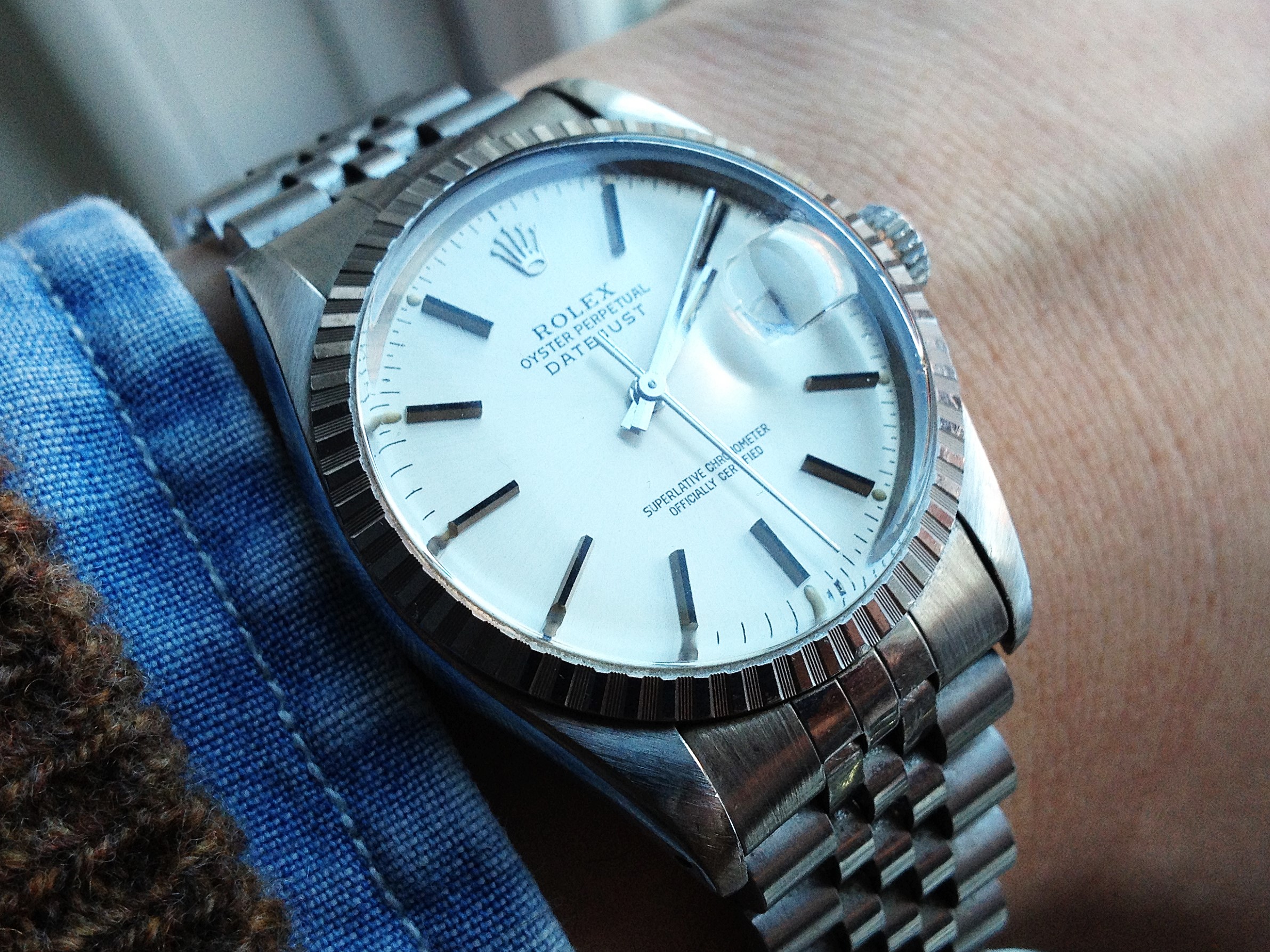 My second 16030 was a full set from 1988. It had a white dial with roman index that I didn't like at all but it also came with a black stick dial so the white one was replaced at once. Looking back at the pictures I think the white dial was much nicer. This one was a little beat up and had been polished more than once. The lugs felt quite thin and round. Didn't stay with me very long.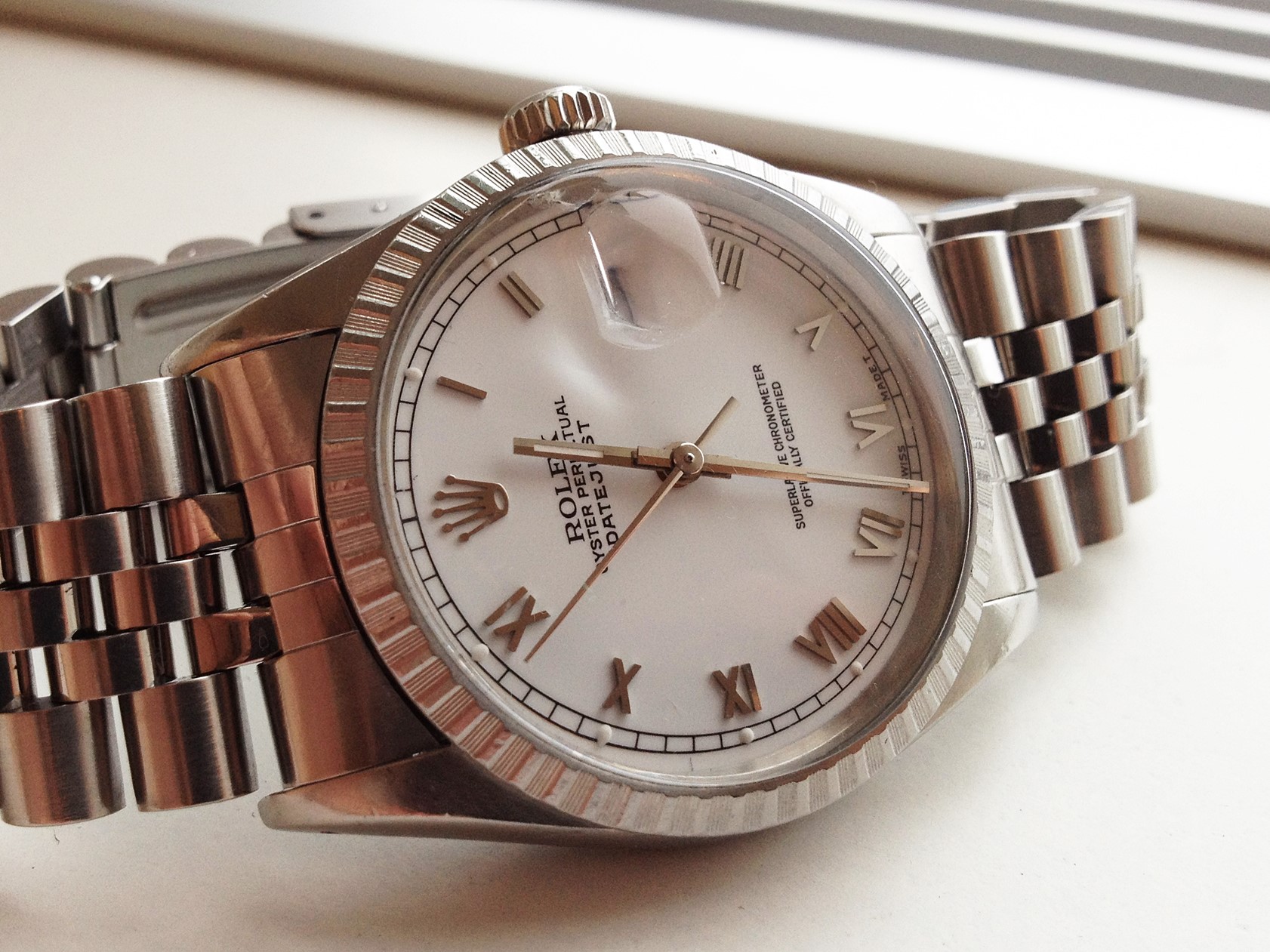 #115 - The second 16030.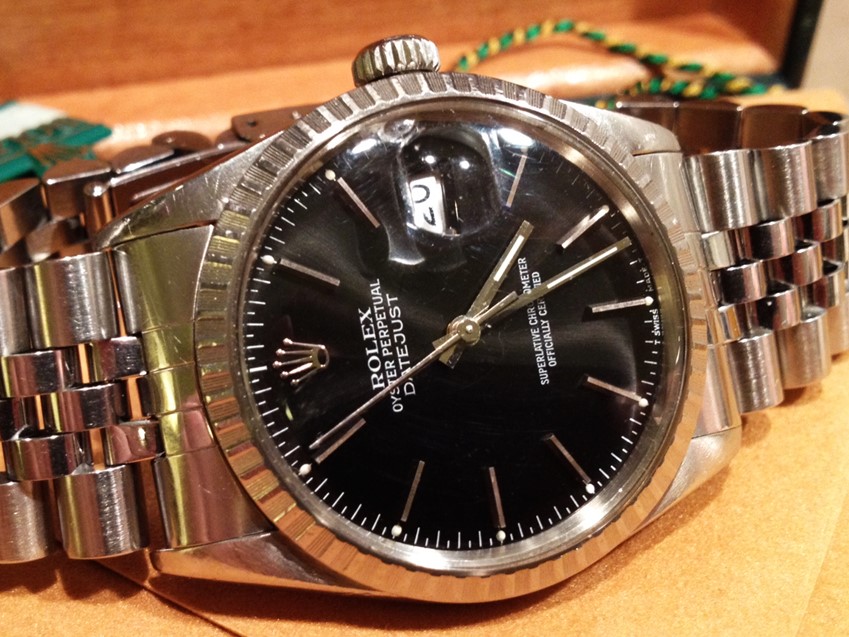 After the change to the black stick dial.
The third one was awesome. For real. It was close to NOS and also a full set and from '88 as well. It was really beautiful and the steel grey dial was amazing. It looked so different depending on the light. It would have made an excellent keeper and I sold it way to cheap.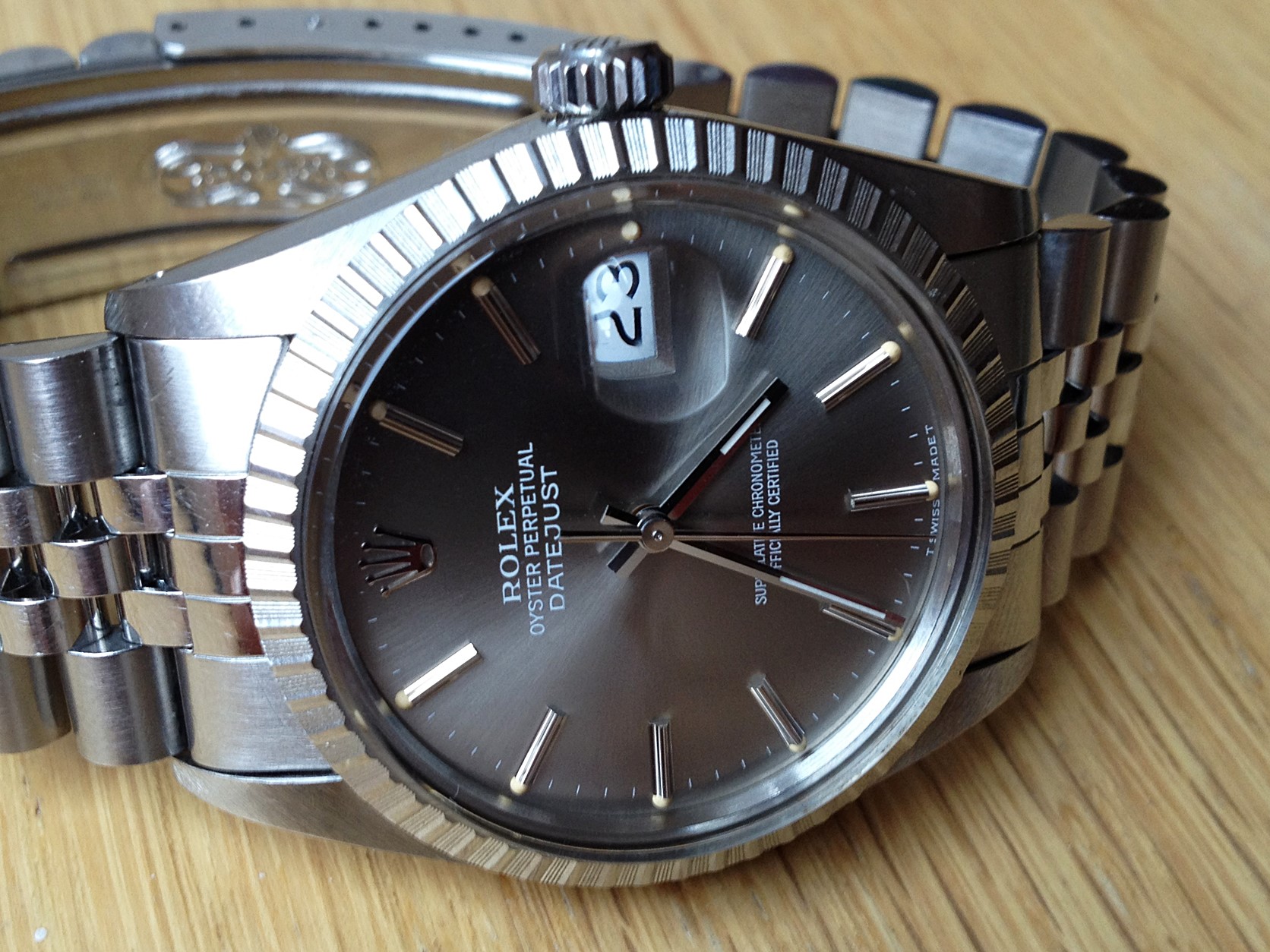 #139 - The third and last so far of the 16030's.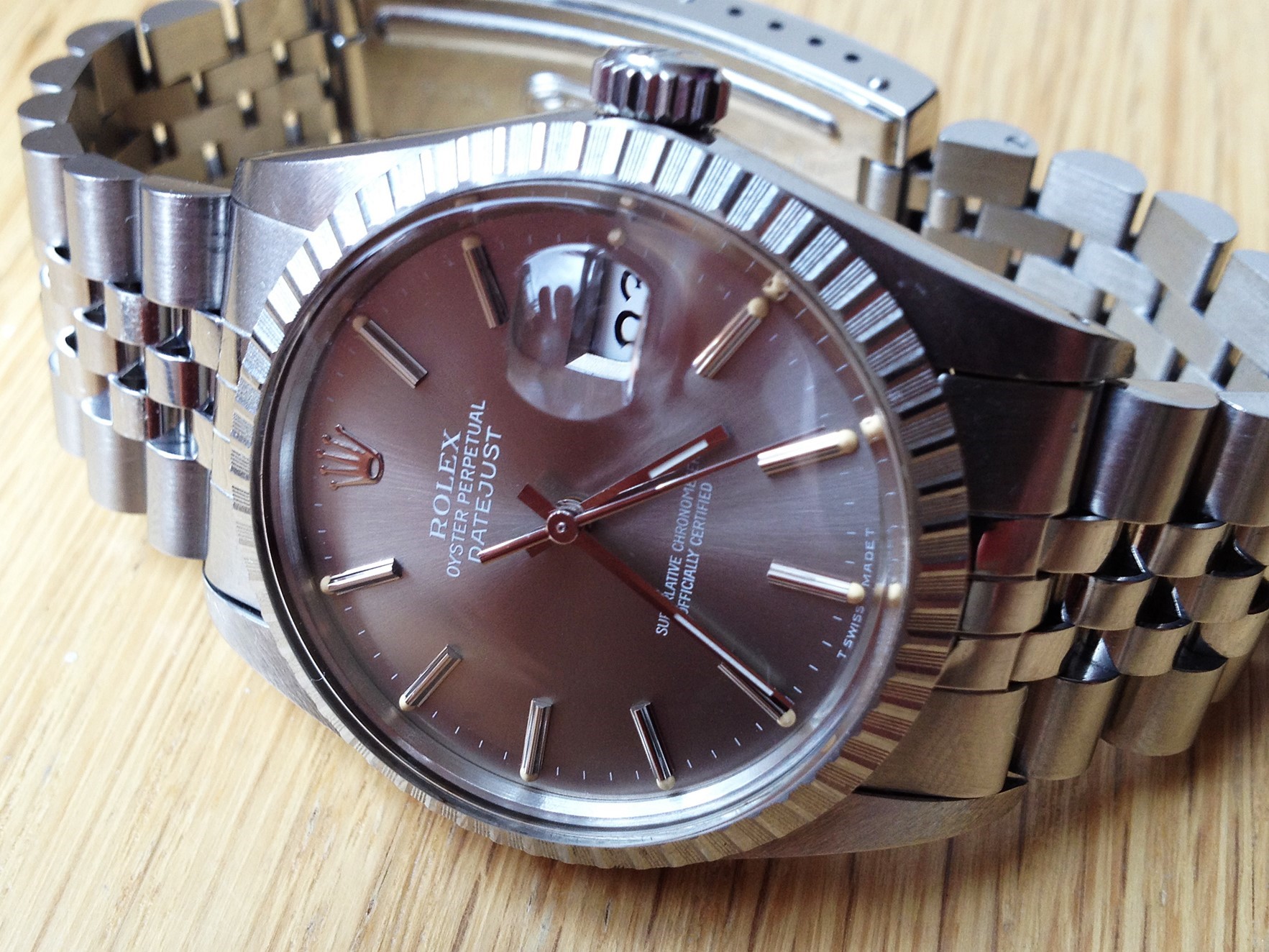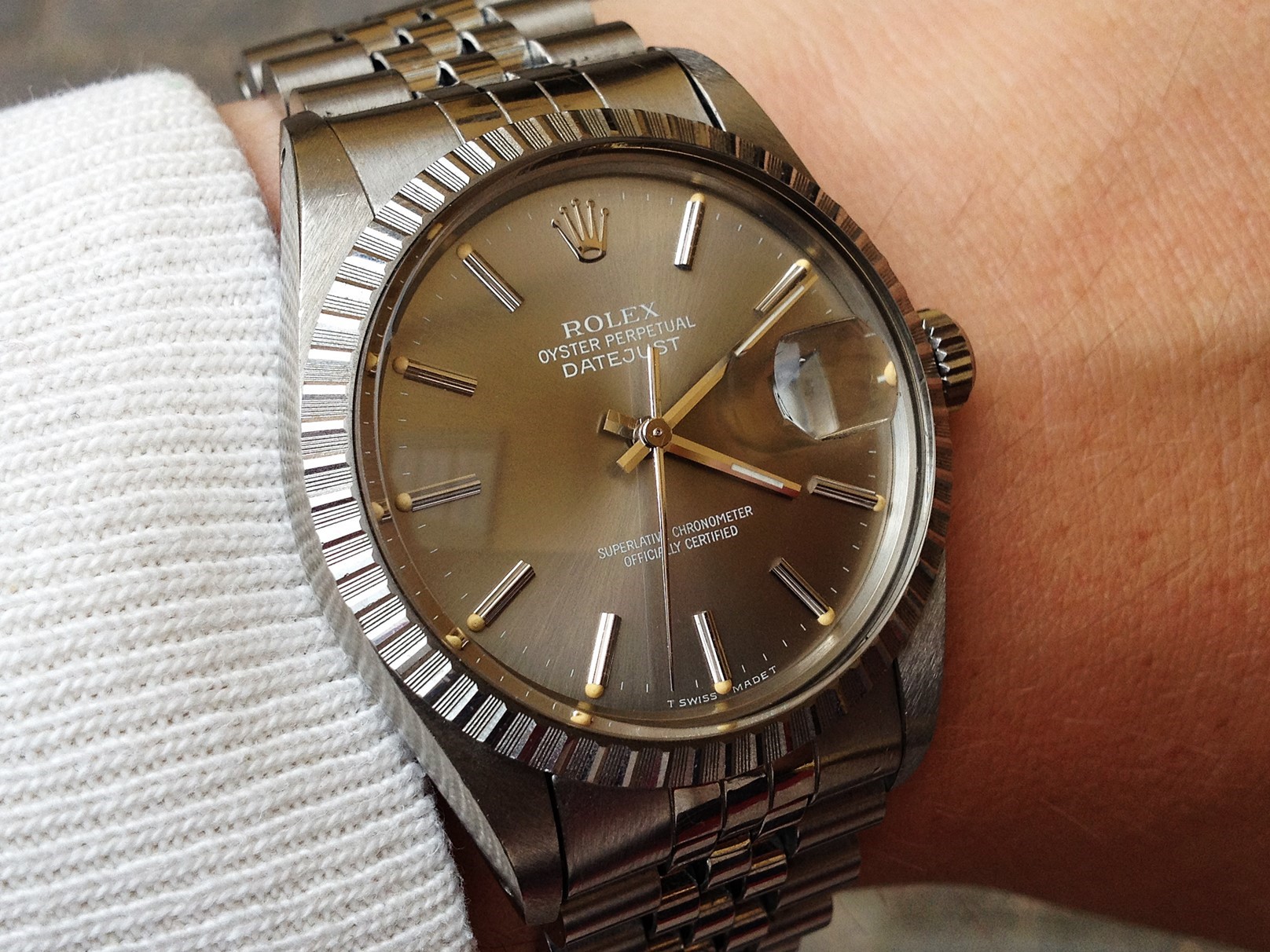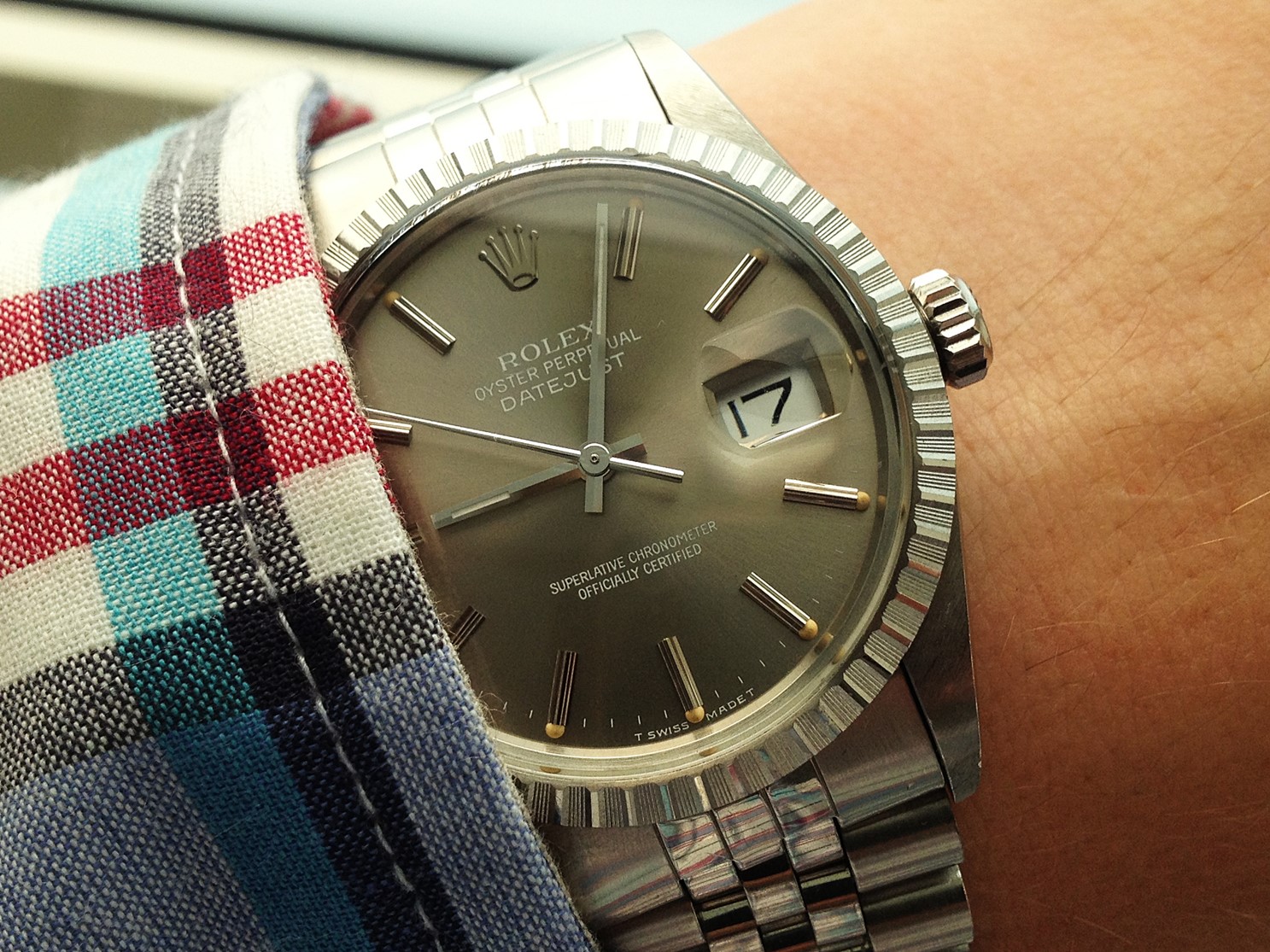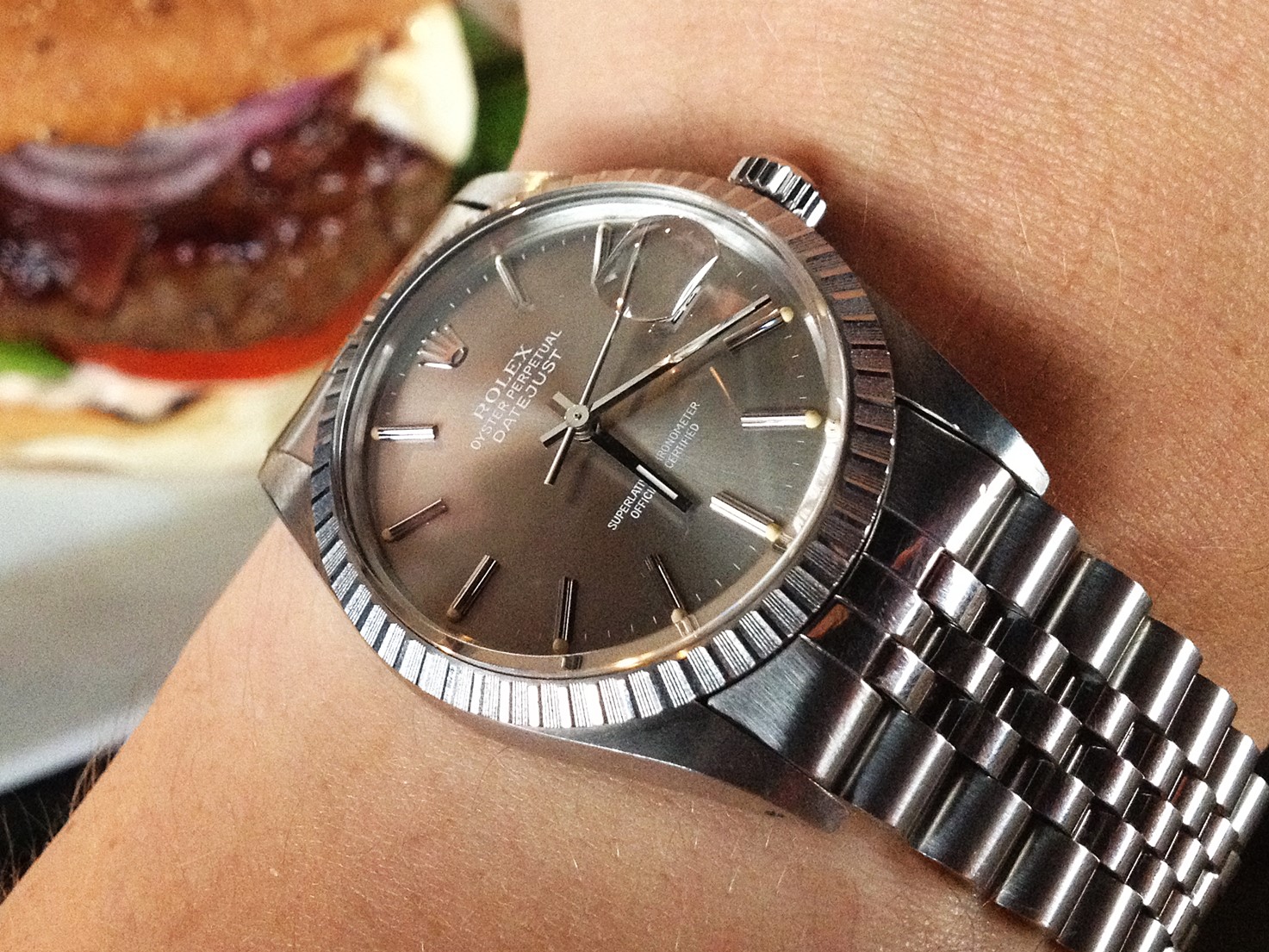 Conclusion. The Datejust really opened up my eyes for Rolex. Now I love the brand. There are few others who have contributed with that much history to the world of watches. The Datejust also made me appreciate smaller watches. 36mm is a great size. The new Datejust II feels so weird with its 41mm. Some things should never change. The size of the Datejust (and that goes for the Day-Date as well) is one of them. It's perfect.
© All pictures by a Watch Flipper's Diary unless noted.