MKII made three different types of the Stingray. The type 50, 60 and the 70 (which referes to decades) came in some various versions. I think I had the 50 MOD2C which for example had Arabic numbers on the dial. As all MKII watches it was very well built and the ETA 2824-2 movement was very accurate. I remember in particularly though that the crown was sharp dug into the wrist which wasn't pleasant at all.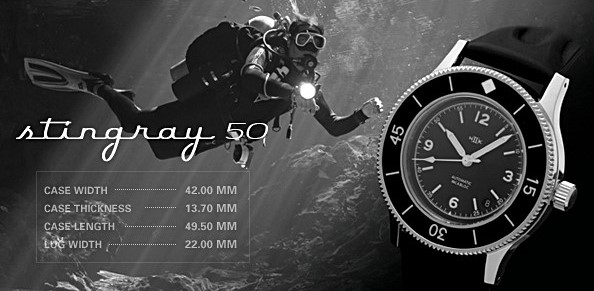 Product image of the MKII Stingray. The same version I had.
I actually never took a picture of this watch but I browsed through some old forum threads and became very happy when I stumbled upon a picture of my old Stingray that the owner after me had taken just a couple of days after I sold it to him.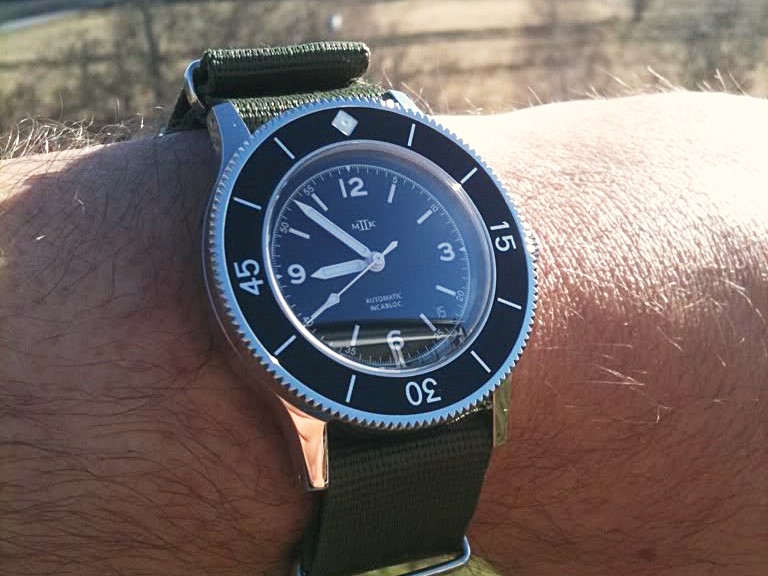 Here it is! #72 - My old Stingray on a green nato strap but on the wrist of the new owner. Thank you Richard V!
There aren't that many watches that I haven't taken a picture of but the funny thing is that I also forgot to capture the Helson Skindiver. Yes, that's correct, it means that two homages of the famous vintage Blancpain Fifty Fathoms has been in my possession without me taking a picture of it. I really do love the look of the old BP FF, it's a true icon, and wish I one day could own the real deal.
As this is being written there is a new Stingray project from MKII going on called Stingray II. Not a very creative title perhaps but it will probably sell as usual.
© All pictures by a Watch Flipper's Diary unless noted.