It has been time to once more travel back from the past and return to the present! I just couldn't wait writing about this watch.
It was in the middle of May when CWC announced that they were making a reissue of their first automatic dive watch. I contacted them directly with a "sign me up!" and then the wait began. The first estimated delivery was July and I immediately put the watch as number one on my list of watches to buy. Then in the beginning of June, Jason Heaton wrote this great article for Hodinkee and nothing else except for this watch was interesting anymore. This was going to be my Exit watch.
But July was postponed to August and August became "sometime later this year". So I started to purchase other watches and fell back into my regular flipping pace, and then I started the Tactical Diver project and forgot about the reissue completely. Then last week I suddenly received an e-mail from CWC saying that the watch was arriving any day now and asking me if there was a certain serial number I would be interested in. Hell. Yeah.
My watch was sent on October the 17th and showed up yesterday on the 18th. Instead of heading home to my family directly after work I took a small detour and went down by the water, to sit down on a park bench, where I could open up the package in peace and quiet, while the sun was setting down in the sea. I was going to savor this moment.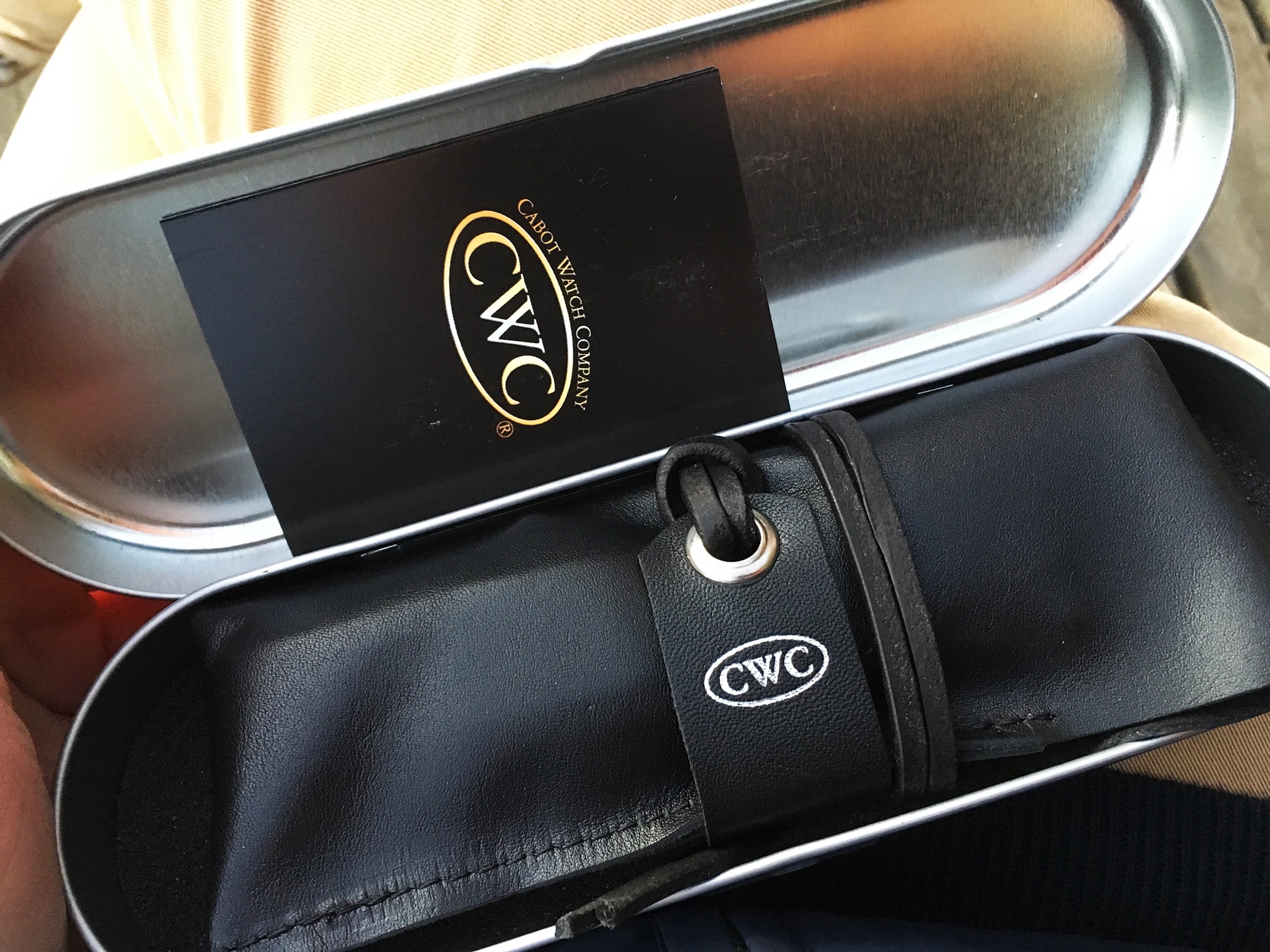 The black CWC watch roll inside the tin can case together with the certificate.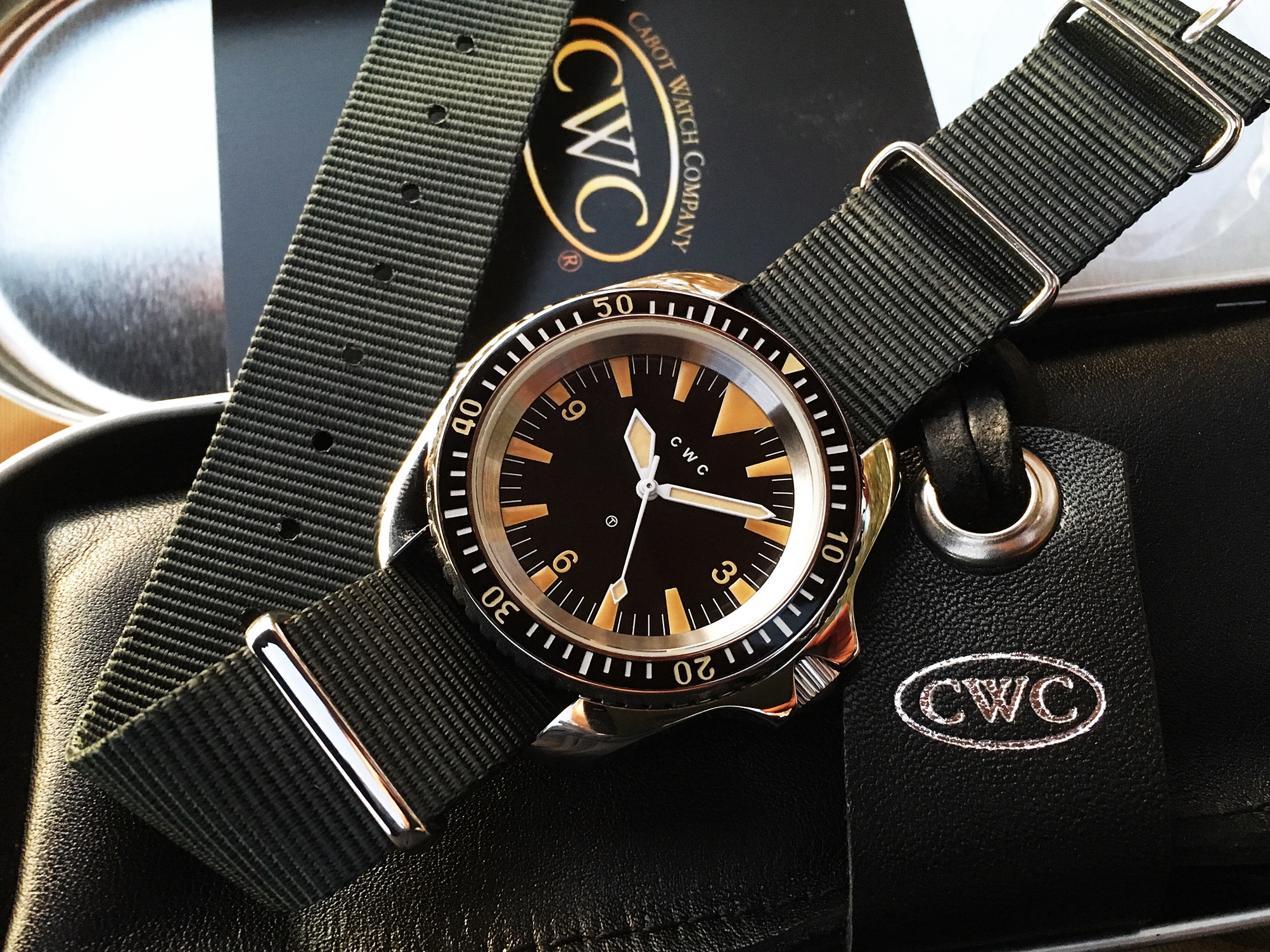 #385 - The CWC 1980 Royal Navy Divers Reissue. Straight out of the box (Okay okay! I did set the hands to ten past ten because it looked better).
The watch was delivered in its regular tin can with the white paper cover (I wouldn't want it any other way). The only new feature was a black leather watch roll inside the case that held the watch which was a nice touch.
Jeez Louise! What a beauty! I sat starring at it for a while, feeling the clicks of the bezel, listening carefully to the sound of the movement being wound manually, and just forgot about time even though a was holding it my hands. Suddenly I noticed the daylight fading rapidly. "Oh no, Instagram!" I quickly put the watch on my wrist, snapped a few photos of it in the little light that was left before the sun had completely set, and then I hurried home.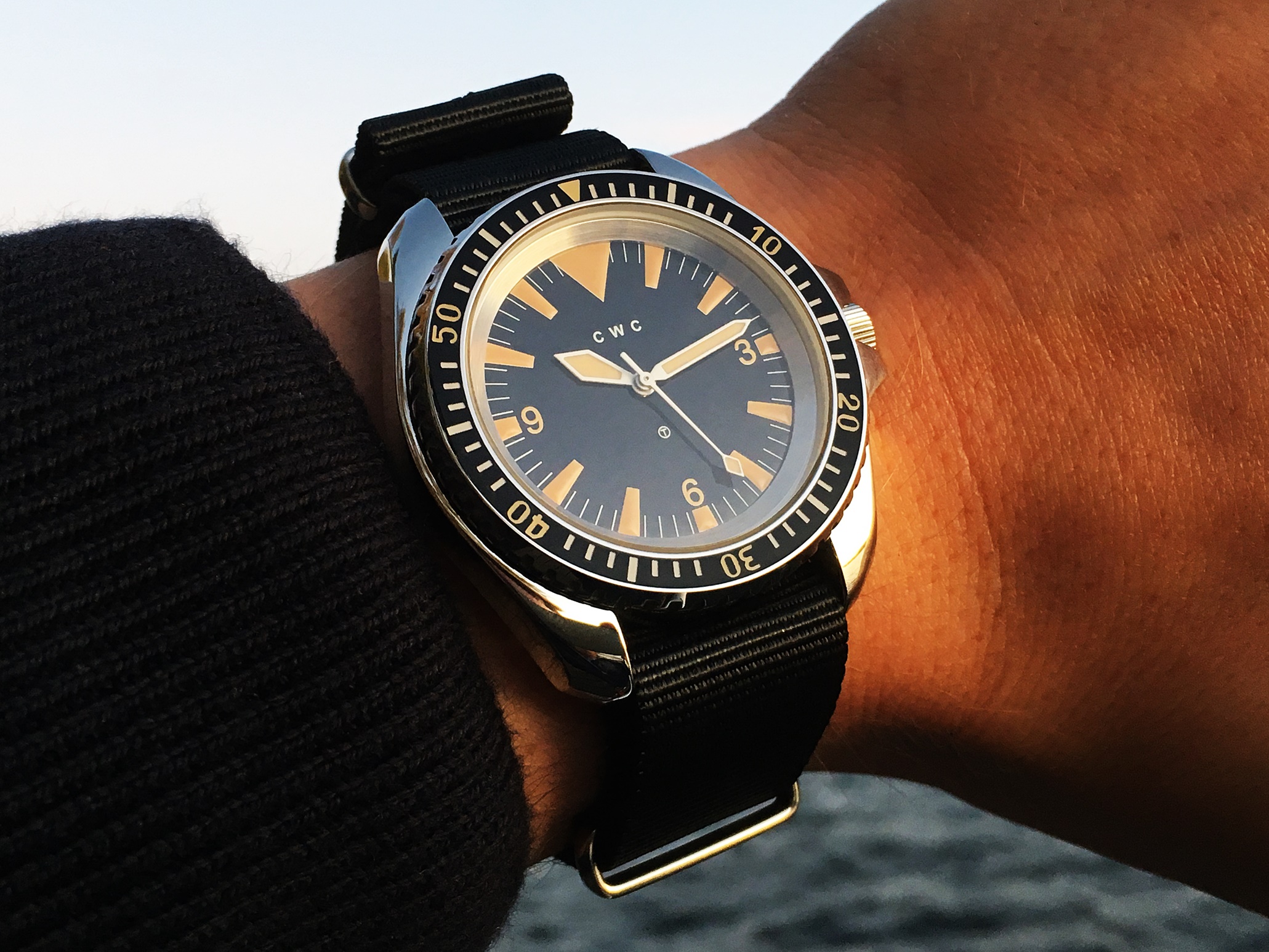 Taken in the setting sun.
Many have asked me "£2000, was it really worth it?" and all I can say is that I'm super happy and love it so I guess for me it was.
I will continue to update this post with new pictures and thoughts as this watch will accompany me through my everyday life. I just felt I had to share this with you while it was fresh instead of trying to look back on this moment in two years.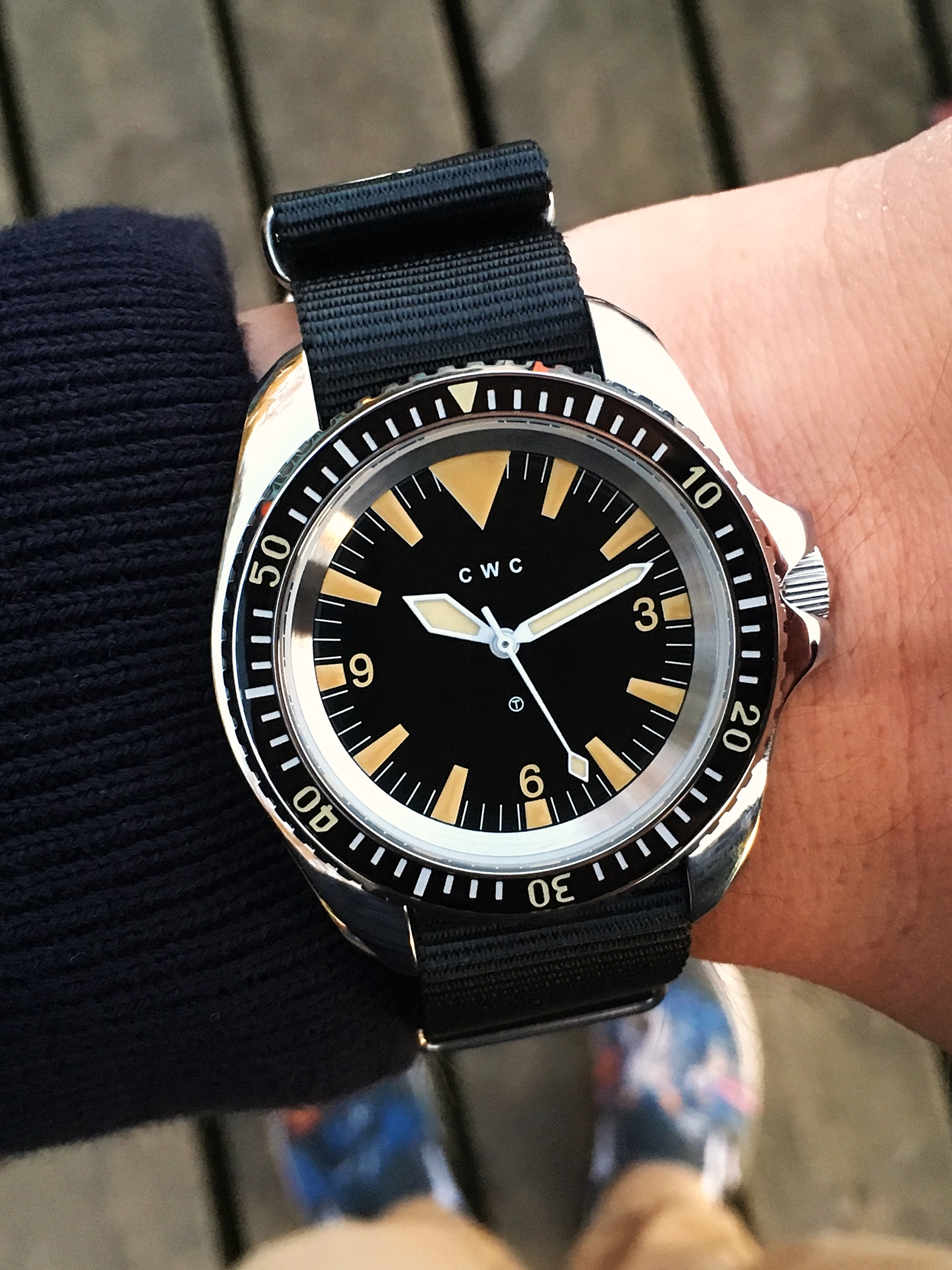 From yesterday.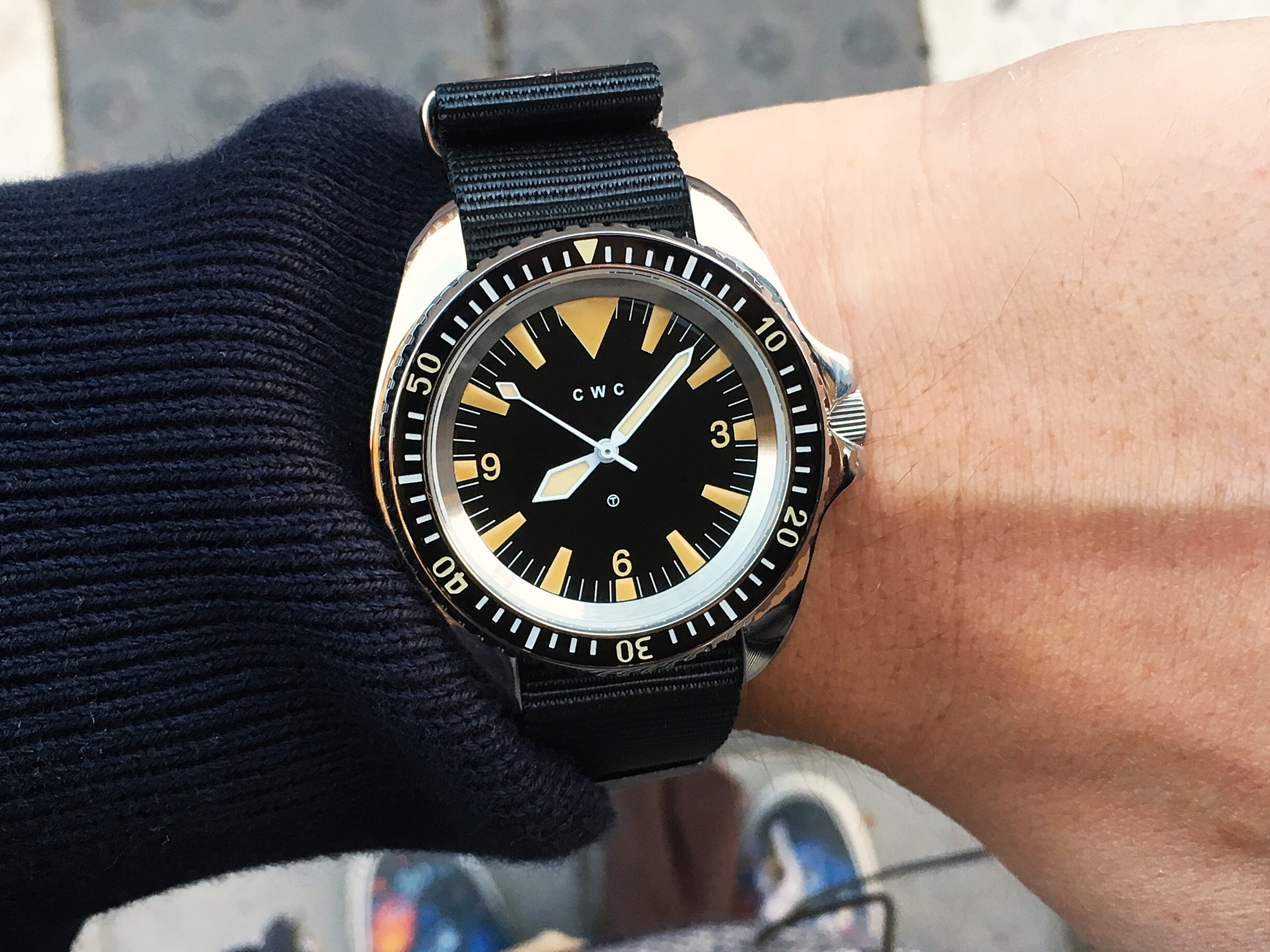 Taken this morning while waiting for the bus.
© All pictures by a Watch Flipper's Diary unless noted.