So, this is were it all starts. My passion for watches began back some time in the early 90's when dad gave me my first Swatch Scuba. It was so cool with so many colors. I couldn't wear it for very long though since my arm got all red and started itching just after a couple of days. It turned out I had an allergy to nickel and since the battery was located directly on the caseback it was in direct contact with the skin and made it impossible for me to wear.
(picture borrowed from watchpapst.de)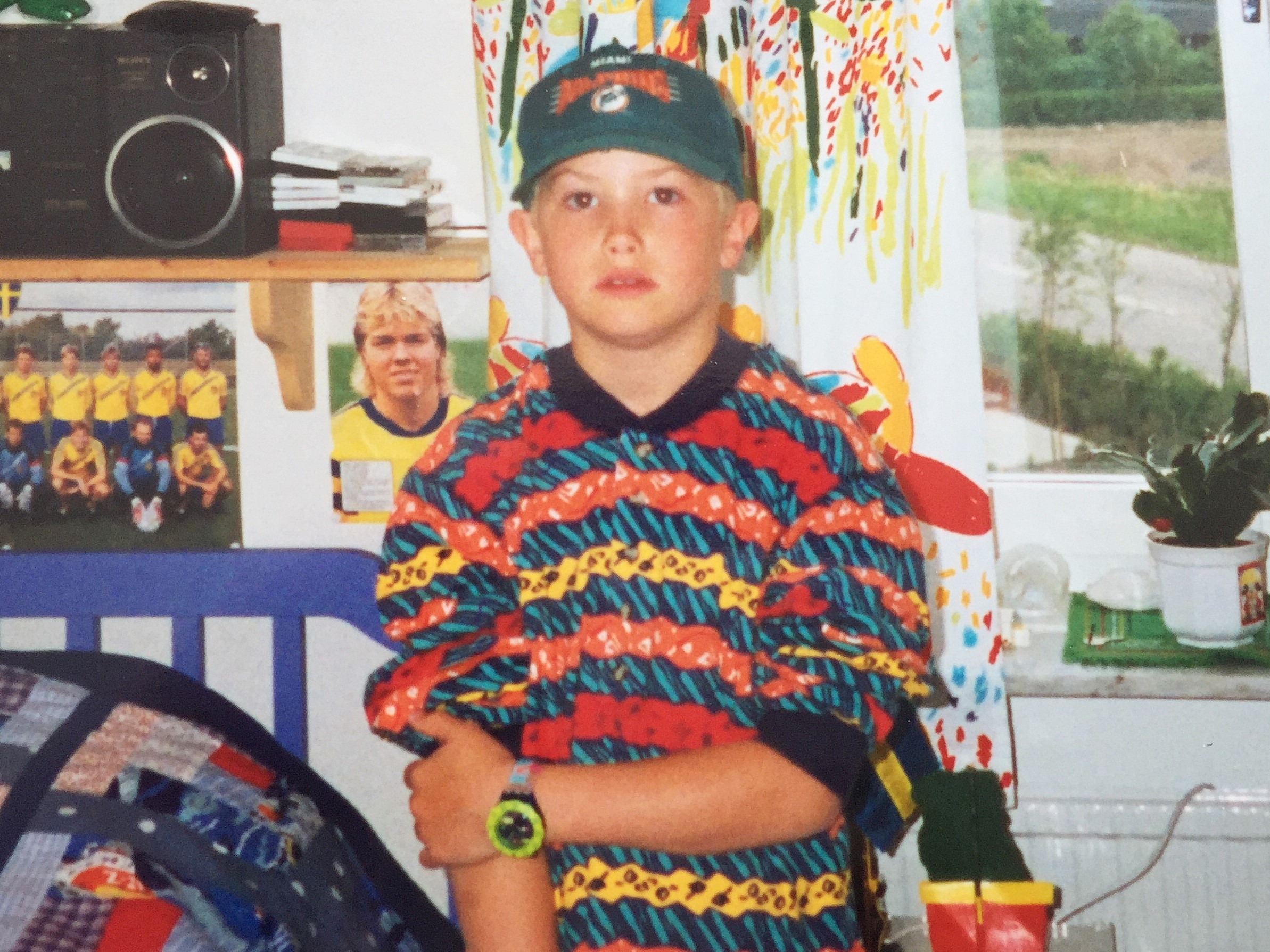 Me back in the days. My guess is 1992. The Scuba on the wrist.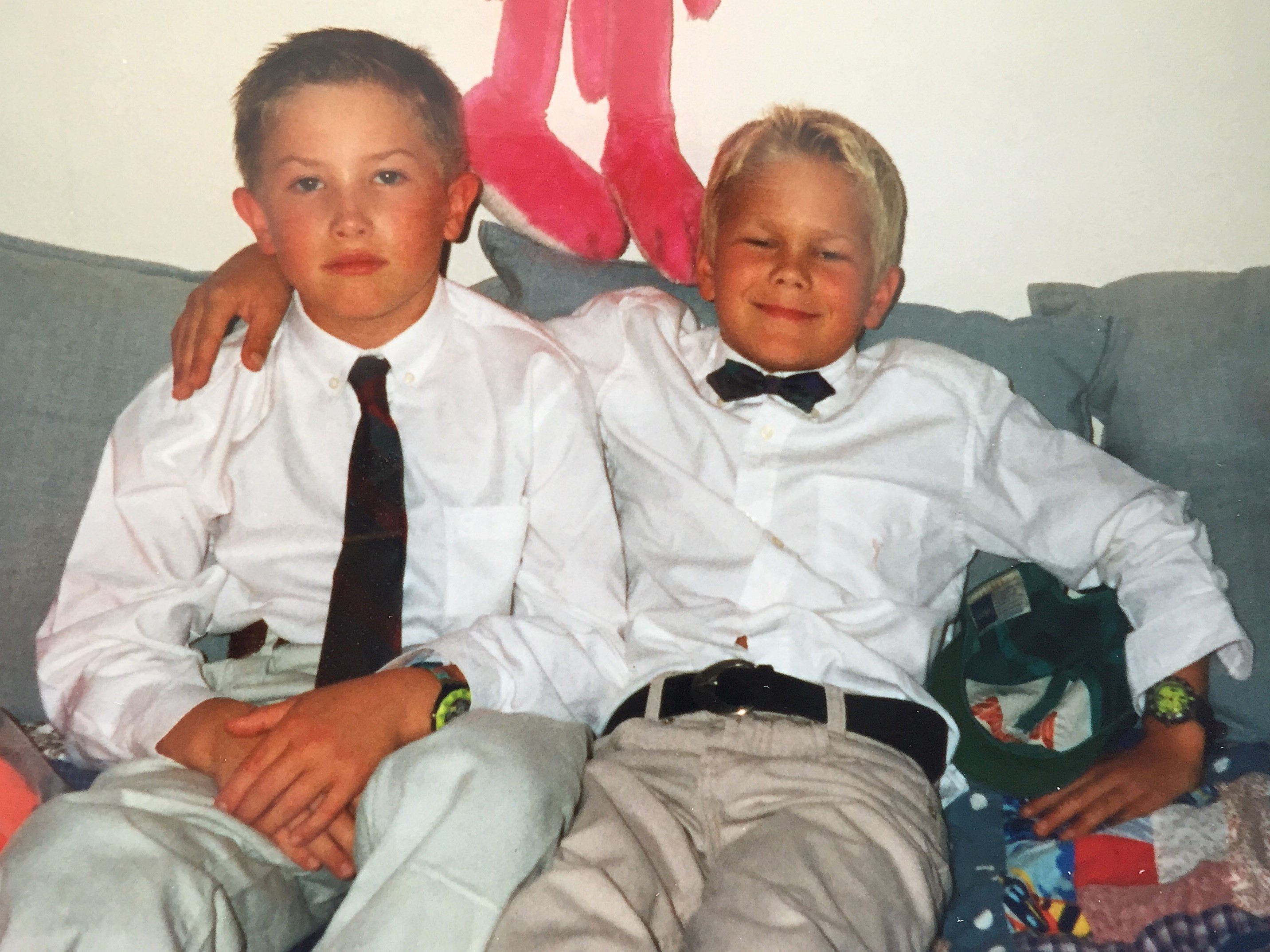 Dressed for success! Me and my oldest friend Martin - my #1 wingman. Both wearing our Scuba's.
Instead I got a watch from GUL that had a colorful velcro. I don't remember how many velcros I consumed during the years I wore it but it was a lot. I never took the watch off my wrist and they quickly started to smell really bad.
When I started high school my dad let me borrow his Rolex GMT Master II 16710. I knew what a Rolex was since dad had worn several when I was growing up but to me it was just a watch. I stopped wearing it after I got tired of everyone asking me about it. "Is it really a Rolex? Is it fake or real? How much does it cost?" etc. Instead I dug out an Omega Seamaster quartz from his drawers. Small and discreet. Not very eye catching. No one said a word. I really liked it and enjoyed it for several years. This was the watch that really opened up my eyes for the world of watches and that's why my number one post in the countdown is going to be about this particular watch.
For some reason dive watches has become my biggest passion. I have always loved the seas and life under water has interested me for as long as I can remember. The majority of the watches reviewed will therefore mainly be divers. I'm also fascinated by the fact that a watch is not only a time showing piece but is also used as an actual tool or instrument in many professions. I am what you might refer to as a so called "desk diver" and my watches rarley get to witness any action except for the occasional fishing trips now and then. When it comes down to movements it actually isn't that big of a deal for me. Of course a mechanical or an automatic movement feels more genuine and "alive" but I'm totally fine with quartz movements. What does it for me is the overall look and if the watch fulfills the purpose it was designed for.
Collecting has never been a part of my hobby. I've been searching for something else during my quest. Partly it has been about the hunt; to find that certain object, and partly it has been about curiosity. I have to try everything! There's actually only two watches I've bought during the last five years that I can call my keepers. Some people do not understand my way of reasoning like this. The thing is I can't own stuff that I don't use. To have things lying around for no good gives me anxiety.

I also have never been in to watch flipping to somehow earn any money. It's been purely a hobby and hobbies tend to cost more money than they generate. Instead it had brought me a lot of joy. I've never been interested in expensive watches. I've owned a couple of Rolex's but nothing very fancy. I'm a simple man. Jeans and t-shirt. Meat and potatoes. And of course, one good looking durable watch that works in every single situation! Perhaps a Patek Philippe Nautilus 5711 will be a good birthday present from myself when I turn fifty? Only twenty years left!
© All pictures by a Watch Flipper's Diary unless noted.