Sometimes you just got to break new ground. Do the unexpected. Go crazy. Take a walk on the wild side. And today I will do just that. This will be the first time that I break the chronological order of presenting the watches I've owned. Doing something like this demands a somewhat special reason. It's got to be worth it. I consider this watch to be just that special, that it allows the order to be broken. And instead of presenting you another Rolex Datejust (the ref. 16013 which is the one I'm supposed to be writing about at this moment) I wanted to give you something more up-to-date; something that is happening right now. No one needs to read another word about an old pre-historic Datejust. That can wait. This watch on the other hand is way more interesting and this is what I wanted to write about today.
There are

several candidates

out there competing for the number one spot of being the most iconic div

ing

watch of all time. In the past I've always considered the classic orange Doxa SUB to be the one claiming that position but with some serious competition from the Omega Ploprof 600. But when I learned about ZRC's Grands Fonds from the sixties and that they had made a re-issue of it, I had to reconsider my decision. The Grands Fonds is not designed to win any awards for being beautiful. I can't see any other diving watch being more pure in what it is supposed to be. This is the ultimate tool watch. It is designed by divers for divers, to be an accurate and functional instrument that you can rely on while working down in the depths of the ocean.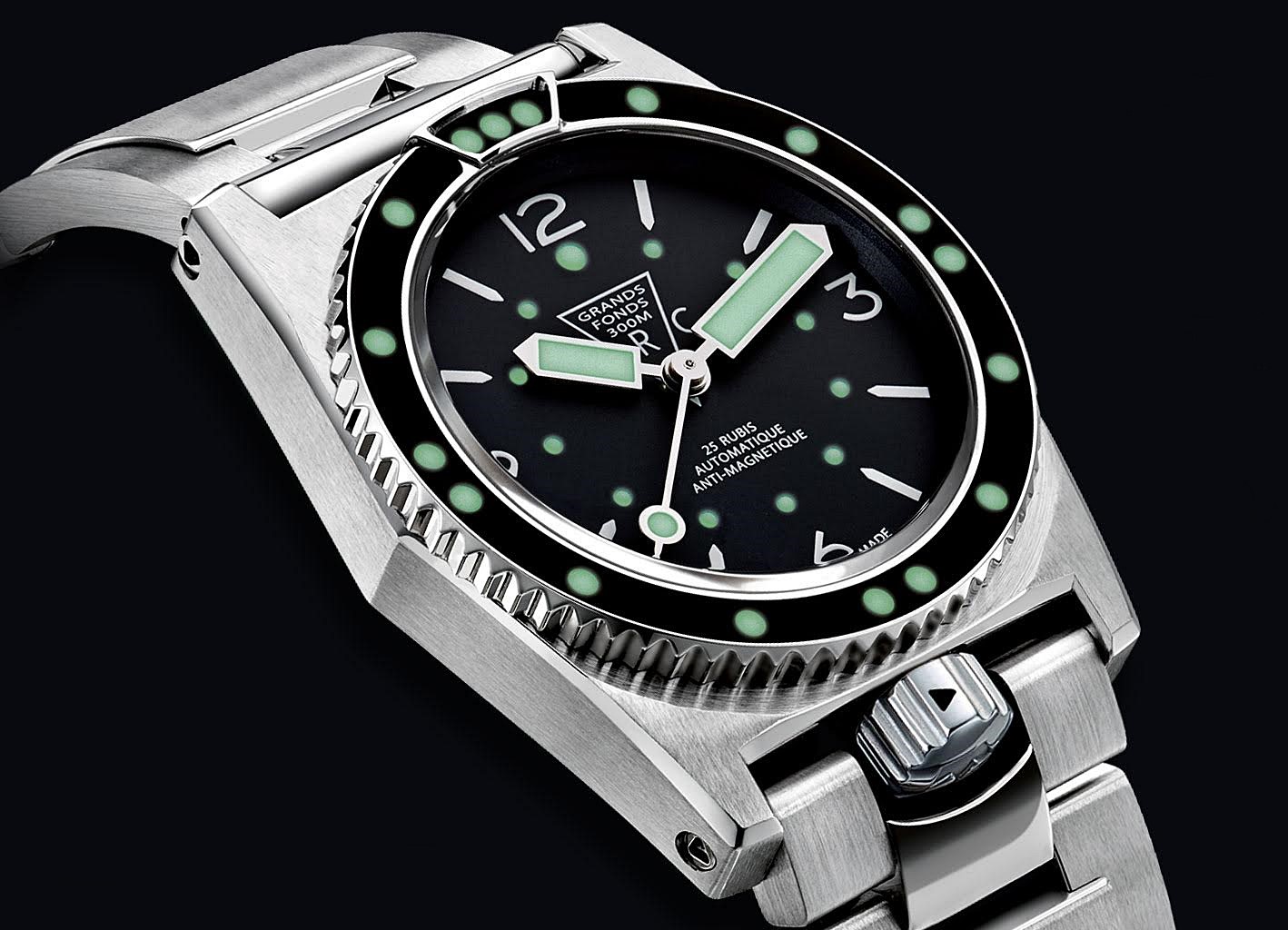 Product picture of the Grands Fonds 300 (borrowed from ZRC Watches).
This watch had been sitting on the top of my watches-to-buy-list for little over a year. I had only seen it on pictures and I really wanted to have a closer look at it before I decided to get one. It happens quite often that the product pictures from manufacturers look amazing but the watch in reality looks like crap. I was praying that this wouldn't be the case this time. At the moment ZRC only have authorized dealers within France so my only option if I wanted to examine it up close was to go there. Another option was to contact someone who'd bought it to see if we could arrange a meeting where I could have a look at it but I still haven't seen a single watch from ZRC on any Swedish watch forum so far.
My options therefore were quite limited. I could either fly down to France or go for a gamble and order one without seeing it first. Also, being a watch flipper and buying watches new is an equation that always ends up the same; in a big financial loss. But finding a used one had turned out to be almost impossible. I think I've found one for sale within the last twelve months and that was in the US. But IF this watch turned out to be as good as it looked, it could be a success. It was either make it or break it. I finally decided to get it and I ordered it from an AD in Toulon. I decided that if I was happy with it this would be a serious attempt of becoming an OWG (at least for a while). But if it was bad I just had to suck it up, try to sell it with a minimal loss and then move on.
Last Thursday on the 3rd

of November, less than 24h later after the watch had been sent from France, the package was delivered to my office. For over an hour I just let it lie on my desk while I continued with my work. I was so nervous I didn't dare to unwrap it. My heart kept beating harder and harder. I didn't want to be disappointed. Finally I braced myself and took a deep breath before I ripped the box open.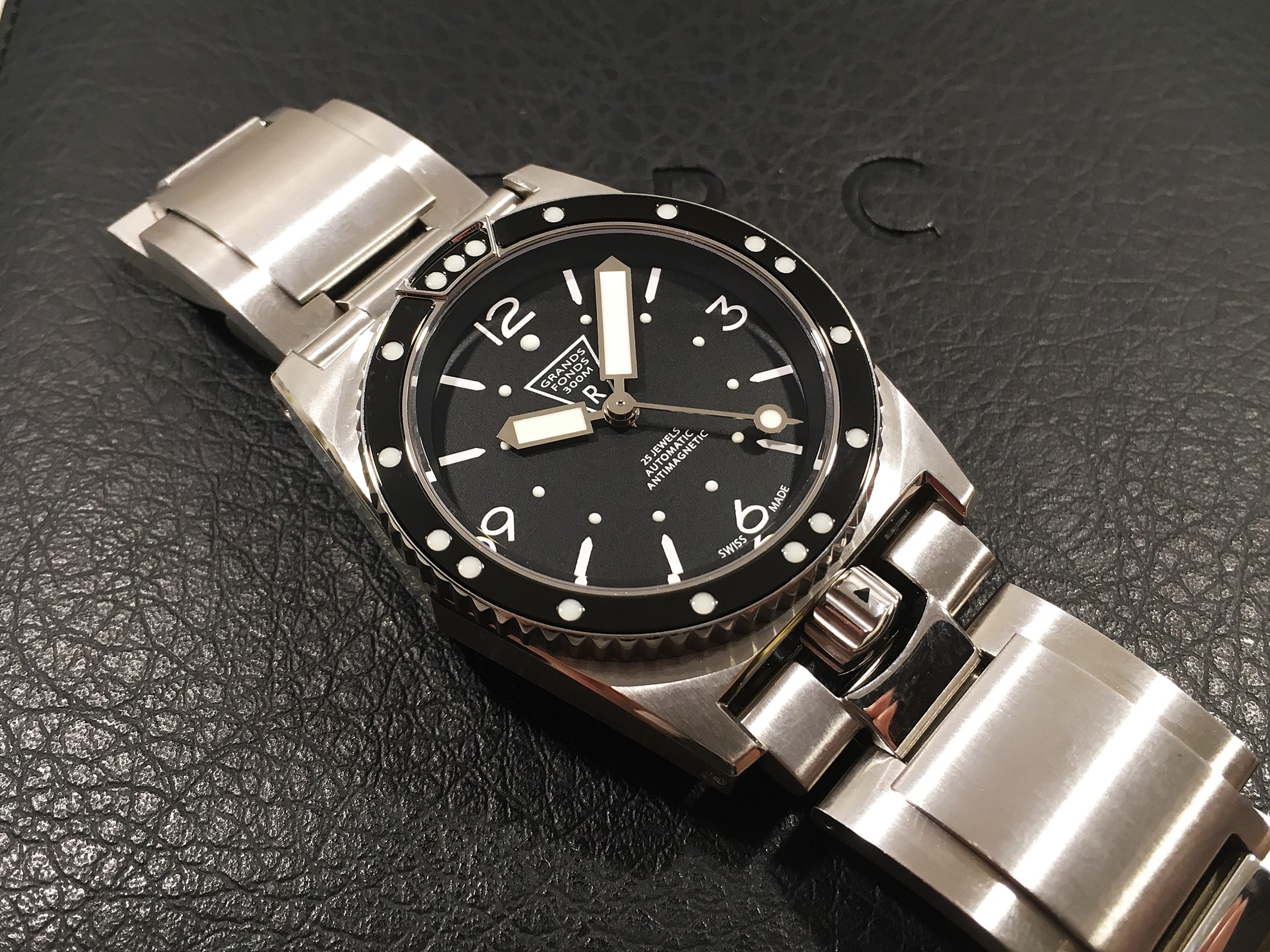 #328 - The ZRC Grands Fonds 300.
To my great relief the watch turned out to be way better than I had expected. It looked stunning. I couldn't believe it. I wanted to size it and put it on my wrist right away but a screwdriver wasn't included. "Damn!" I knew this meant I wasn't going to be able to have it sized until later the same evening when the family had gone to bed. I put the watch back in the box and tried to remain focused on work for the rest of the day.
Later that evening I ran into the most frustrating bracelet sizing session in my entire life. First of all my screwdriver broke. It just snapped in half.

"What the hell!" It was 10.30 pm when I texted Magnus while rushing down the stairs: "On my way. Bring out all your screwdrivers. Coming over. Sorry for the late hour." Magnus, being the rock he always is, did all he could to help me out but this time even he was beaten. The screws just wouldn't loosen up and the screw heads ended up pretty damaged. We finally had to accept defeat and I walked home in the cold night afraid that I might have ruined the bracelet beyond repair.
The next day, on my way home from work, I found a watchmaker who gladly helped me out while I was waiting and once again to my great relief I could calm down and the watch was now sitting perfectly on my wrist. Crisis averted!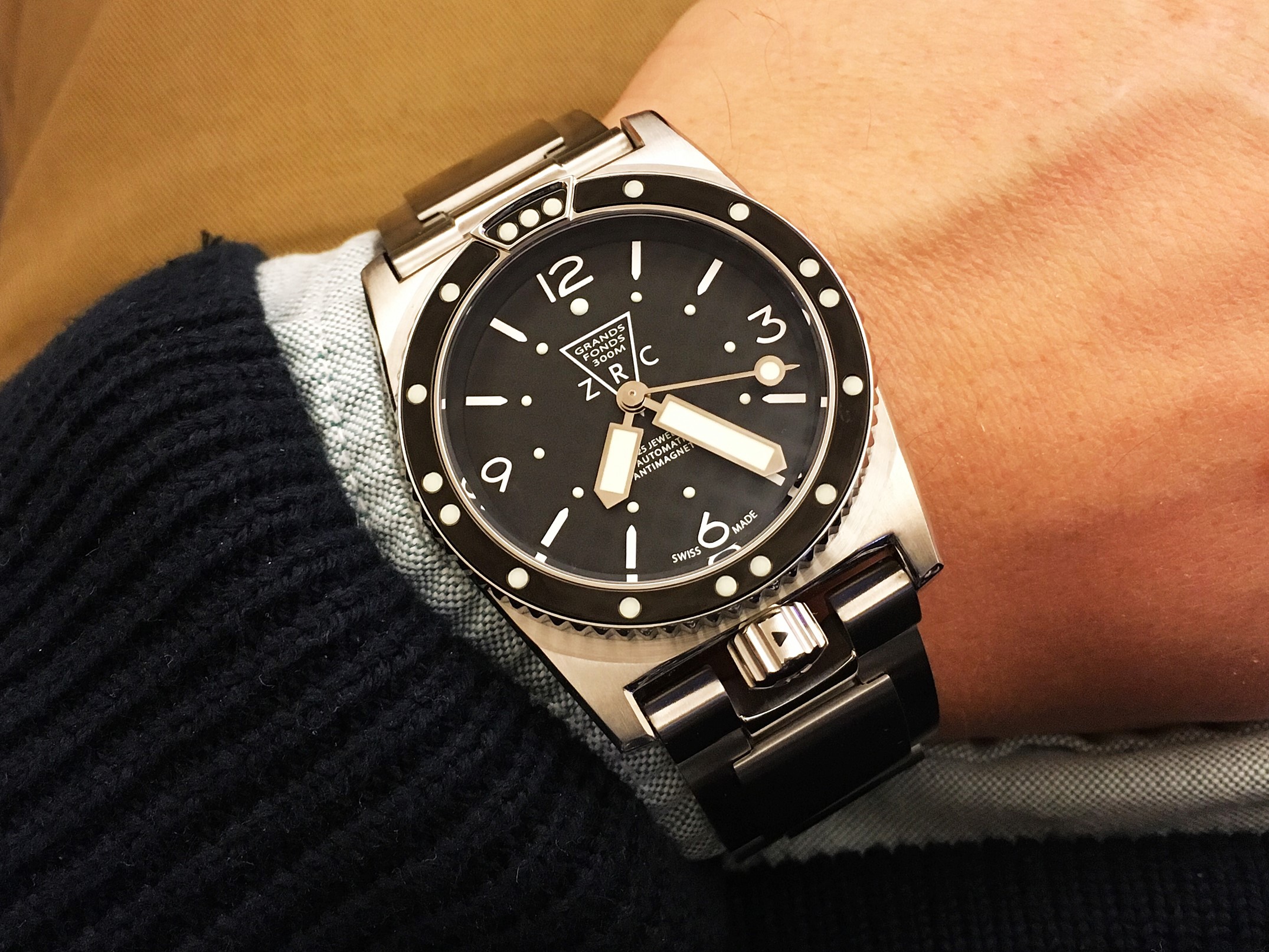 On the wrist at last!
I find the two most striking details about this watch to be the hands and the position of the crown. The hands are extra-large and full of luminova. Unlike many other dive watches you can actually tell which hand is which in really poor light conditions and even when the lume has faded quite a bit. Not being able to tell the hands apart is something I've had real problems with concerning other dive watches but not anymore thanks to the Grands Fonds. The crown located at 6 o'clock leaves both the wrist and the upper arm unharmed and will cause minimum risk of getting caught in something. It is fantastic to wear and even though many may find it rather ugly I can rest my eyes on it for a long time. I can only see beauty in this beast. OK, I will admit that I'm not a big fan of the design of the bracelet and I will probably order the endlink adapter which gives you the option of wearing it on other straps.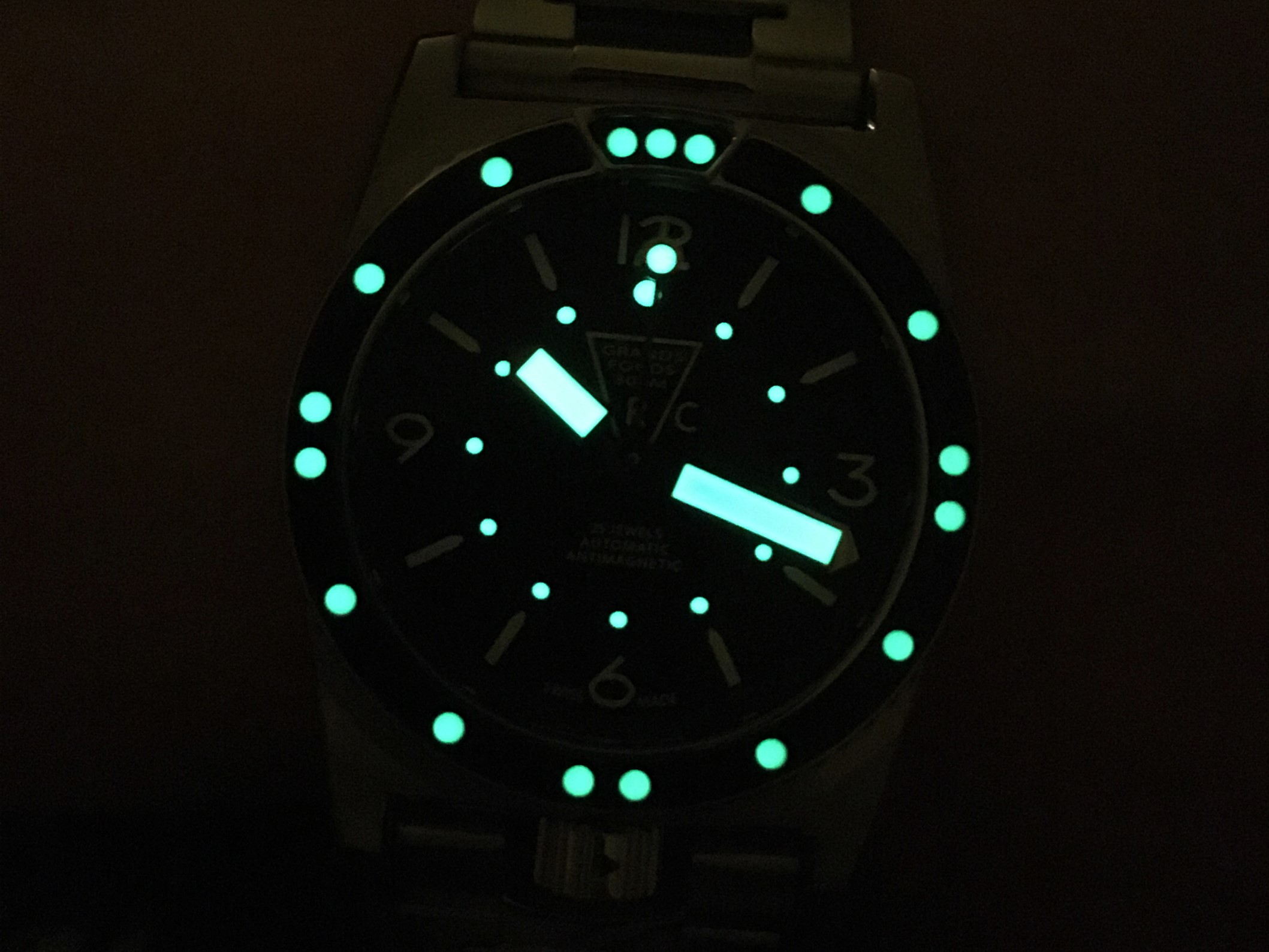 Insane lume!
To summarize it all this watch is fantastic. One of the best watches I've ever had. The size of 40,5mm is perfect. The lume is bright and strong. The matte dial is awesome. The case design is a work of art. The bezel action is the best I've ever felt. The legibility is excellent. I would say its only weak point is the bracelet. I know it's supposed to be true to the original and look like it did in the 60's and that's why I accept it. Perhaps I will learn to love it over time.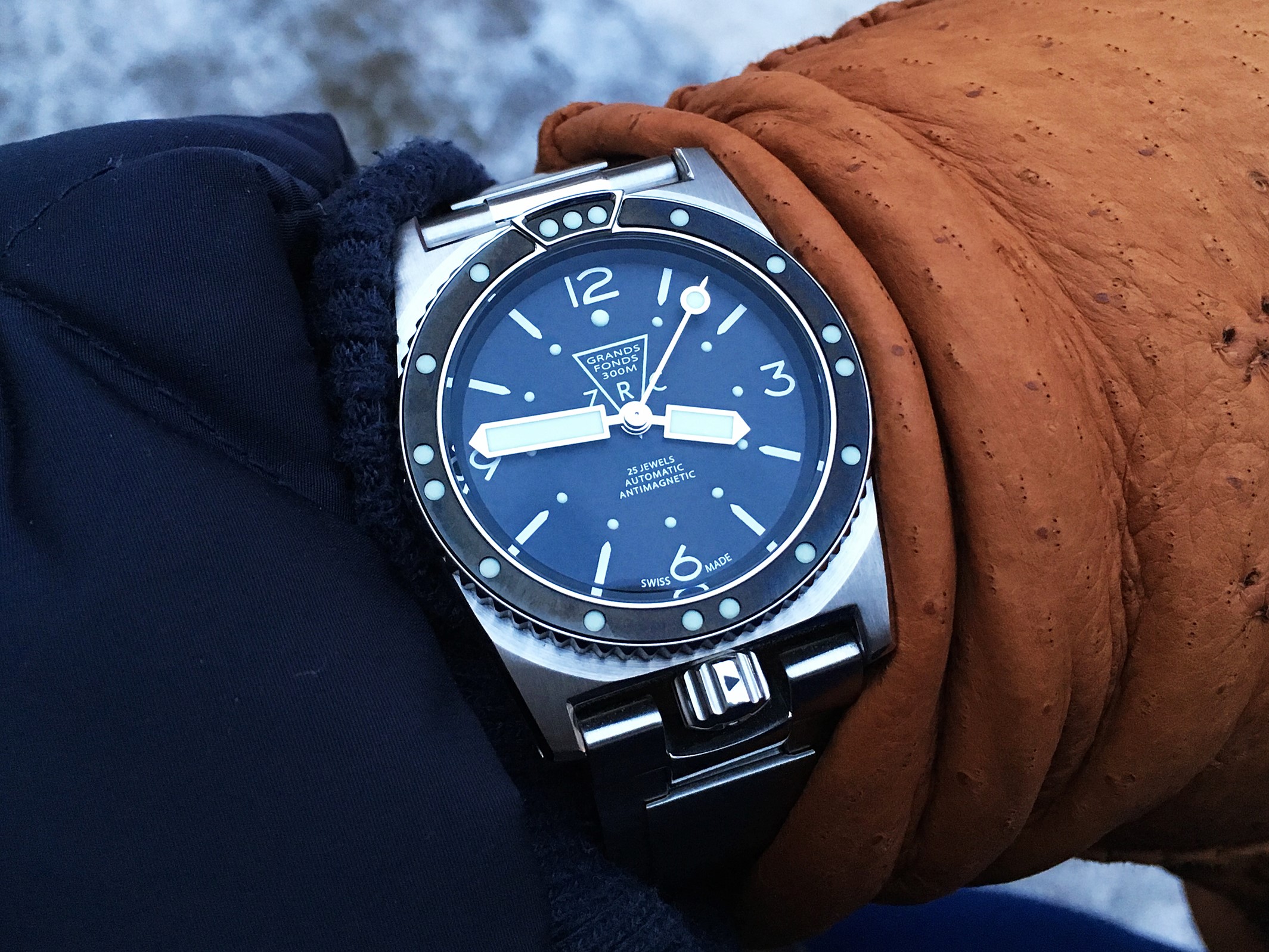 At the bus stop.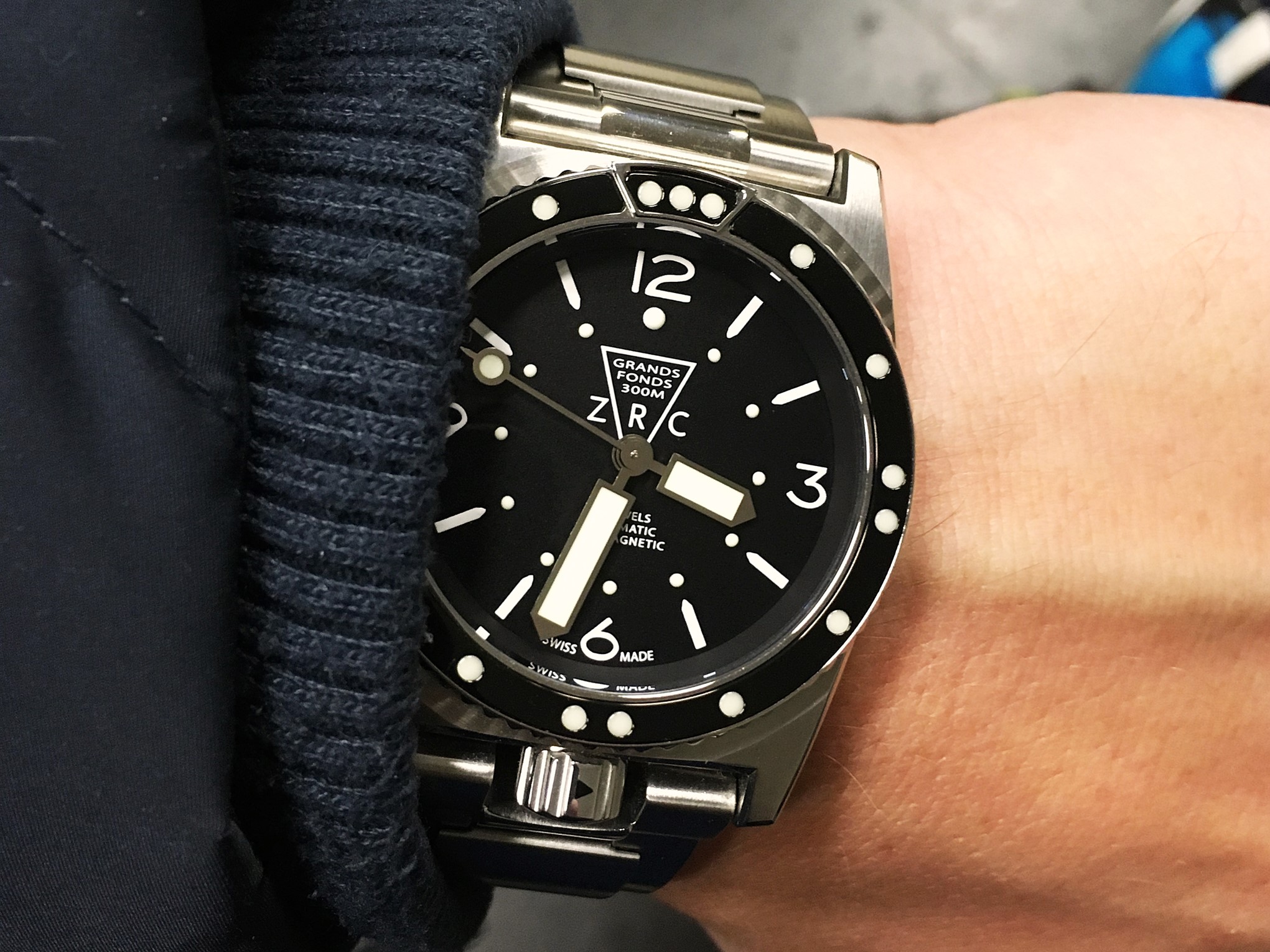 Down in the subway.
© All pictures by a Watch Flipper's Diary unless noted.